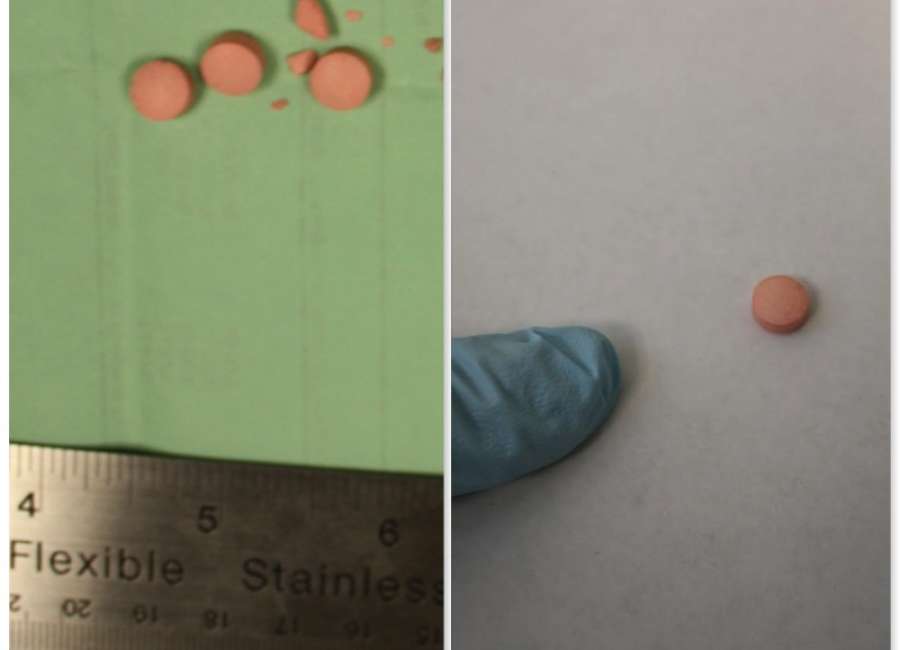 A local teenager is in jail after allegedly selling narcotics that sent three of his friends to the hospital and may have contributed to the untimely death of his father.
Coweta authorities have put out a warning about the pills, some of which remain unaccounted for. The round tablets are dark orange and have no identifying markings.
Jacob Eugene Baswell, 17, is currently charged with six counts of narcotics possession with intent to distribute. He's currently being held at the Coweta County Jail on a $20,000 bond. 
Baswell reportedly ordered a drug known as 'clonazelam' from an online chemical company. The drug is an extremely potent benzodiazepine – a category of drugs commonly used as sedatives and muscle relaxants.
Prescription benzodiazepines include Xanax and Valium.
Sunday afternoon, deputies from the Coweta County Sheriff's Office responded to a call about a physical altercation on Newton Road.
Upon arriving, the father told deputies he had been fighting with his son who appeared to be under the influence, according to Chief Deputy James Yarbrough with the Coweta County Sheriff's Office.
The son admitted to deputies he had taken pills that weren't prescribed to him. Investigators learned three other people were at the residence during the fight, but left before officers arrived.
While deputies were still at the home on Newnan Road, Coweta 911 received a call regarding two potential overdoses on Burnham Road.
One 16-year-old victim was found lying in the bed on his back and was administered Narcan by EMS personnel.
The 16-year-old and a 17-year-old victim – who were identified as two of the teens who had earlier been at the home on Newton Road –  were taken to Piedmont Newnan Hospital.
A 21-year-old victim, who had also been at the home on Newton Road, was interviewed at the hospital by investigators and admitted to purchasing several 1 mg clonazepam pills – not clonazelam – but refused to say where he obtained them, according to Sgt. Mark Callahan.
However, the other two victims admitted to obtaining the pills from Baswell, and believed he ordered them from a country outside the United States, Callahan said.
The drugs were reportedly obtained through an Ann Arbor, Mich.-based chemical company, according to Callahan.
While interviewing the victims at the hospital, investigators learned Baswell was on the fifth floor in the Intensive Care Unit where his father was on life support.  
Late Saturday night, a call was made to Coweta 911 from the Baswell residence. The caller advised his father was breathing but unconscious, and had overdosed on sleeping pills, according to 911 Assistant Director Arlene Whisenhunt.
Baswell's father, identified as Shawn Eugene Baswell, was admitted to the hospital early Sunday morning and died later that day. His cause of death is unknown, pending autopsy and toxicology test results, said Coweta Coroner Richard Hawk.
After speaking with several witnesses at the hospital, investigators were able to place Baswell under arrest for the sale of clonazepam. He was taken into custody shortly after his father was taken off life support, Callahan said.
In Baswell's backpack, investigators were able to locate the bottle containing the pills obtained by Baswell.
Hospital staff confirmed the pills were a derivative of clonazepam, known as clonazelam – an experimental drug that's approximately 10 times stronger than prescription medication known as Ativan.
A bottle of liquid Metizolam, a sedative/hypnotic drug, was also discovered in Baswell's backpack.
In a subsequent search of the Baswell home, investigators reportedly uncovered a small amount of suspected marijuana in Shawn Baswell's room, along with an envelope with the word "clonazelam" written on the side.
The investigation remains ongoing and authorities with the sheriff's office have sent out a warning regarding the pills.
According to the crime suppression unit of the sheriff's office, a trace amount of a Schedule 4 drug was found in the makeup of the drug.
"It maintains the same chemical structure as clonazepam, but it's tweaked and renamed," Callahan said. "It does the exact same stuff to the human body, but it's ten times as potent and dangerous."