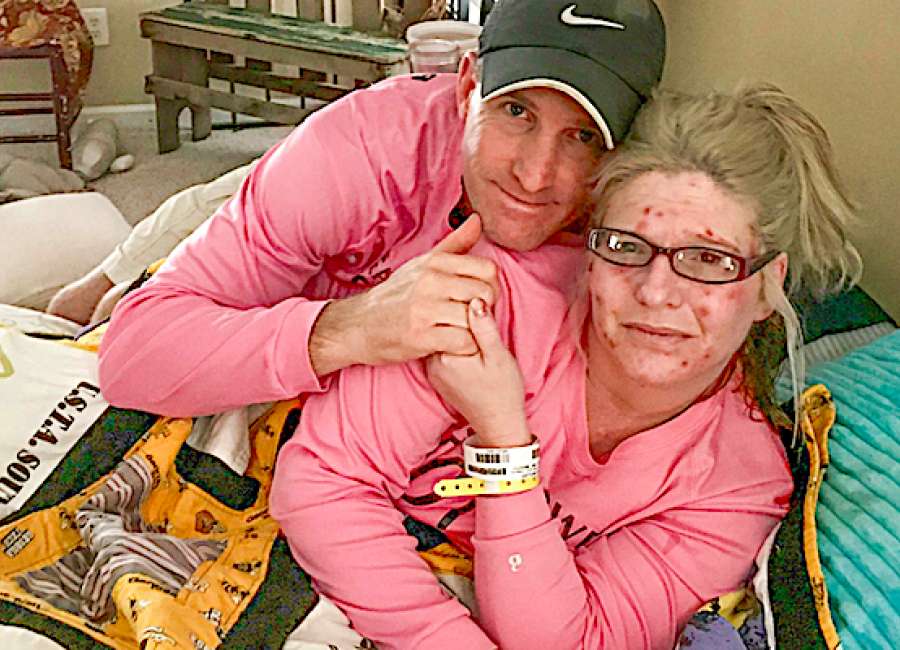 Forty-year-old Gina Beldon is racing against the clock in hopes of beating an infection that is ravaging her body.

It's a 'competition' the once healthy, athletic and fit mother of five would have easily won four years ago.   
But a dangerous combination of rare yeast strains and the bacterium Clostridium difficile, or C. difficile, has invaded her bloodstream, leaving Gina weak and in chronic pain.
"I just want to be 'Gina' again - the mom, the wife and friend," she said through tears. "But my body won't allow it. I'm literally fighting for my life."
The infections are becoming resistant to antibiotics and other medications - and are slowly eating away her internal organs.
"I have nothing left inside to lose - except my life," Gina said.
The Sharpsburg woman's condition is so rare, it has no name - and doctors are not sure how to treat it.
A Medical mystery
To fully comprehend the extent of Gina's illness, one must turn back the hands of time to the year 2014.
By all accounts, the miraculous birth of Gina's youngest son Bryce should have been a joyful occasion.
Almost three years earlier, Gina and her husband Todd decided they were done having children.
The Sharpsburg woman had tubal ligation, also known as "having your tubes tied."
According to Gina, instead of cauterizing her fallopian tubes, her physician placed metal clamps on them.
Two years later, searing abdominal pain sent Gina to the emergency room, where doctors discovered she suffered a tubal rupture.
The metal clamp had wedged itself between her stomach and uterus.
"They weren't sure how I was even alive at that point," Gina remembered. "Then they told me I also had high levels of HCG (Human Chorionic Gonadotropin) in my system."
Gina was pregnant, which meant surgery to remove the metal clamp was not an option.
After a difficult pregnancy, Gina delivered a healthy baby boy and physicians took out the clamp.
Despite the operation, harmful bacteria took over Gina's body. In order to treat the ongoing infection, doctors pumped the mother of five full of antibiotics.
According to Gina, those medications caused dangerous strains of yeast to grow throughout her body and eventually enter her bloodstream.
"No one could figure out why my body was holding onto the infection, so they just kept throwing medications at me," Gina said. "But it was really just like putting band-aids on the problem. The infections never totally went away."
She remained in constant pain and was in and out of the hospital for two years before she was finally referred to an infectious disease specialist at Emory.
By then, her female reproductive system was riddled with tumors and disease. She had a full hysterectomy.
Gina endured 12 more abdominal surgeries the following year, including operations to remove her appendix and gallbladder.  
But infections continued to attack her body.
Infectious Disease Specialists at Emory reportedly told Gina they had exhausted all treatment options, and referred her to the Mayo Clinic in Rochester, Minnesota.  
"I'm not really living. I'm just existing," she said tearfully.  
The news at Mayo wasn't much better.
The years of taking antibiotics and pain medications had taken its toll on Gina's body.
According to Gina, physicians discovered she is going into renal failure and the lining of her intestines is destroyed.
Doctors also found a major fracture separating her pelvis and back bone. The break is causing spinal fluid to leak in to Gina's body - and creating more infections.
C. difficile continues to attack her intestines and bloodstream. Sores cover Gina's face where the infection has broken through her skin.
Her only hope is a 'bone fusion' surgery, which would merge the fractured joints back together.
Only two things stand between Gina and the potentially life-saving operation: Her health and money.
Faith, family and friends
The four years of recurrent infections attacking Gina's body have also taken their toll on the entire Beldon family - hitting them physically, emotionally and financially.
Health insurance has barely made a dent in Gina's skyrocketing medical bills.
"We had to sell our home. We couldn't make the payments on it anymore," she said tearfully.
The family of seven relies solely on Todd's salary to keep a roof over their heads, food on the table and to keep Gina alive.
Todd is a teacher and head coach of both soccer and ninth-grade football at East Coweta High School. He's worked tirelessly at the school for 23 years.
"My husband takes the brunt of having to provide for us," Gina said.
Gina's chronic illness has also taken a toll on her five children, especially her transgender daughter, 10-year-old Brandi Blaze.
"I'll be resting and Brandi will lift up one of my eyelids and say, 'Mom? Are you still here?' I need to be here for my kids. I want to be here for my kids," Gina said as tears rolled down her face. "The focus should be on Brandi …. She's going to need hormones and surgery. She's going to need me to help her navigate all that."
Jolie Roquemore Vigh agreed.
"My children will graduate with two of her children. She needs to be there to see that," Jolie said.
Jolie, Gina and Alison Newman attended East Coweta High School together. They graduated in 1996.
When Allison and Jolie learned how ill Gina was, they established a GoFundMe page. The money helps with medical bills and costs associated with Gina's illness. It's titled, "Gina's Fight For Her Life."
They also provided the family with meals and other services during Gina's many trips to the hospital.
"They are truly angels walking on this Earth. God aligned them to be here for my family," said Gina. "They know how hard it is for Todd and I to ask for help. They didn't even ask any questions, but stepped up and took charge to help us."
The friends are hoping to raise enough money to cover costs for Gina's next upcoming bone fusion surgery.
She is scheduled for more tests at the Mayo Clinic in Minnesota on March 16.
"I finally feel like I see light at the end of the tunnel," Gina said. "I want to be on the other side of this and give back to everyone who has given their all to my family."
Alison and Jolie are also coordinating schedules for transporting the Beldon's children and providing meals for the family.
"This isn't about us, it's about her," said Alison. "Whatever needs to be done, we'll do it for her."
To volunteer support for the family, contact Jolie Roquemore Vigh at 678-416-6579 or email her at j_vigh@bellsouth.net.