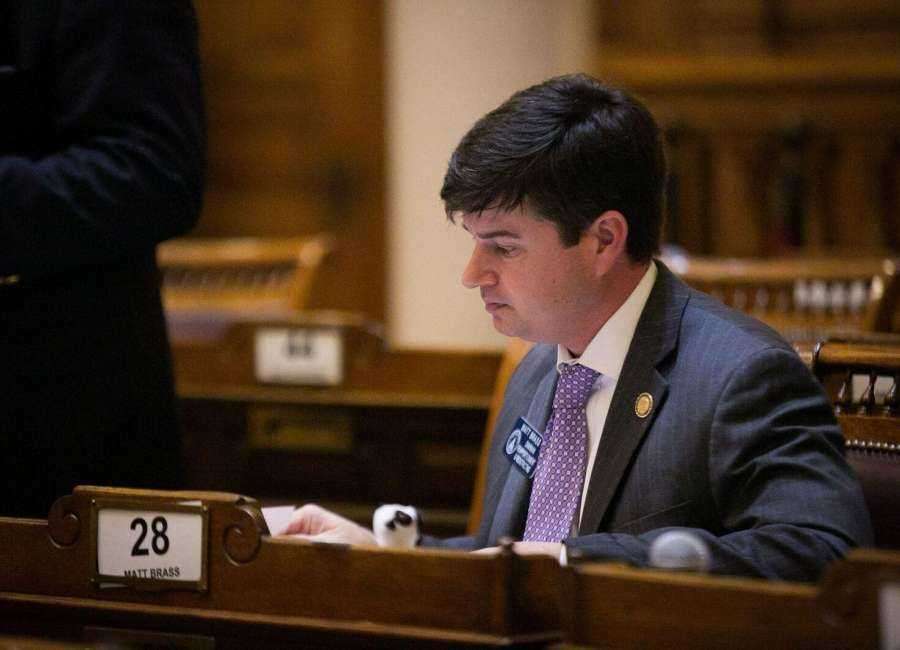 While a bill to allow Georgians with Post Traumatic Stress Disorder or intractable pain to use low-THC cannabis oil appears to have stalled in the Georgia Senate, the Senate is backing the creation of a joint commission to study how to give Georgians access to the oil.

Under state law, Georgians who have certain conditions and a doctor's recommendation and register with the state are allowed to possess and use the oil, which is high in cannabidiol (CBD) a component of marijuana. But there is no way for Georgians to legally obtain the oil – it must be smuggled into the state illegally, or produced inside the state illegally.
Though CBD oil without THC can be bought freely in Georgia, those with a medical card are able to use oils that contain up to 5 percent THC, the main psychoactive ingredient in marijuana, or an acid of THC, known as THCA.
It's only produced legally in certain states, primarily Colorado. Oils with THC and THCA have a higher therapeutic value for many conditions than ones with only CBD.
Sen. Matt Brass, R-Newnan, introduced Senate Resolution 983 last week. An identical resolution has been introduced in the Georgia House of Representatives. Brass said that there is some debate over whether the resolutions have to abide by the "Crossover Day" rules. If they are, they were introduced too late to pass this year. However, Brass said the language could be added to another bill.
If approved, the joint commission would be the third group formed to study how to regulate medical cannabis in Georgia.
The Joint Study Committee on Prescription of Cannabis for Serious Medical Conditions was created in 2014, after the failure of House Bill 1/HB 885, the first attempt to legalize some use of medical cannabis in Georgia.
The Georgia Commission on Medical Cannabis was created in 2015, after HB 1 was approved. That commission was made up of legislators, state agency heads, medical professionals and law enforcement professionals. It was tasked with making recommendations for creating an in-state growth and distribution system to provide access to the drug for Georgians.
Bills to create or expand medical cannabis program passed the House overwhelmingly in 2014, 2016 and this year, but all stalled in the Senate.
"We've already had one study committee and one commission already. Now the Senate has an interest?" said Cowetan Jillian Bramlett, whose son Aiden takes cannabis oils for the seizure disorder Dravet Syndrome. "Of course they do, it's an election year after all."
Bramlett said she isn't opposed to another commission but she's not hopeful that anything good will come out of it – because of the actions of Lt. Gov. Casey Cagle and Senate leaders. They have been "very vocal about their opposition to any expansion and/or cultivation bills. I hope people don't see this and become too hopeful," Bramlett said.
Cagle is running for governor and is considered a frontrunner in the race. A new lieutenant governor will take over leadership of the Senate in 2019.
The commission would consist of three senators and three House members, and four Georgians, two appointed by the House and two by the Senate.
Brass said he would like to see one Senate appointee be a patient advocate and one be someone with law enforcement ties.
"The sole purpose of this commission is to examine the best practices from around the country for providing safe, legal access for these critical treatments," Brass said. "To figure out a way for these patients, for these families to be able to get something that is working for them."
Federal law has to be taken into account, especially with the stance that U.S. Attorney General Jeff Sessions has taken against state marijuana laws.
"You can't ignore that," Brass said.
But the commission will look at other states that allow for their residents to have access to cannabis oil for medical treatment.
"We've got to do it the right way," Brass said.
Some people think allowing in-state cultivation of marijuana is the only way.
"And it may be, but in my mind cultivation really should be our last option," he said. "But it has to be on the table."
Brass said he supports medical use of cannabis for illnesses that it can work for, but doesn't support full legislation allowing marijuana for recreational use.
In a press release about the proposed commission, Cagle said that "Georgians understand that many families depend on medical cannabis oil to treat otherwise debilitating illnesses. We are taking a major step to ensure that our state is doing everything possible to provide patients with the most effective treatments through a safe, reliable and accessible system."
Cagle further said that he wants federal leaders to "step up and support our efforts by clarifying the law to ensure that no family is denied medication that could drastically improve their lives."
As of Thursday afternoon, Rep. Allen Peake, R-Macon, who began the drive for medical cannabis in 2014, posted on Facebook that it appears that HB 764 won't get a hearing in the Senate.
The bill is sitting in the Senate Health and Human Services Committee, chaired by Sen. Renee Unterman, R-Buford. Unterman refused a hearing for another bill in 2016.
However, she's a supporter of the commission.  


"By fighting to ensure that this medication is available for our patients, we are eliminating barriers to health care and providing Georgia's patients with easier access to the treatments they need," Unterman said in the press release.
If the Senate is interested in helping patients, "then why aren't they allowing a hearing on HB 764?" Bramlett asked. "Our lieutenant governor has never had support for anything related to medical cannabis expansion/cultivation, and he even laughed at crying parents in the Senate gallery four years ago when he and Sen. Unterman killed HB 885," she said. "Some of those parents had their kids die that year."
Georgia's Hope, an advocacy organization for medical cannabis, is hosting its annual lobby day and press conference at the state capitol Monday. The lobby event begins at 10 a.m. and the press conference is at 1.
HB 764 defines eligible intractable pain very specifically, as "pain for which… the full range of pain management modalities appropriate for the patient has been used for a period of at least six months without adequate results or with intolerable side effects."
Though some politicians, including Gov. Nathan Deal, have voiced opposition to expansion of the medical cannabis program, Georgians overwhelmingly support it, according to multiple surveys and polls.
In January, the Atlanta Journal-Constitution reported that a poll of 940 registered voters conducted by the University of Georgia's School of Public and International Affairs found that a whopping 77 percent of Georgians favor expansion of Georgia's medical cannabis/marijuana program. That's an increase from 73 percent in 2016 and 71 percent in 2017.
When asked about legalization of marijuana for recreational use, 50 percent of respondents were in favor, compared to 46 percent last year.