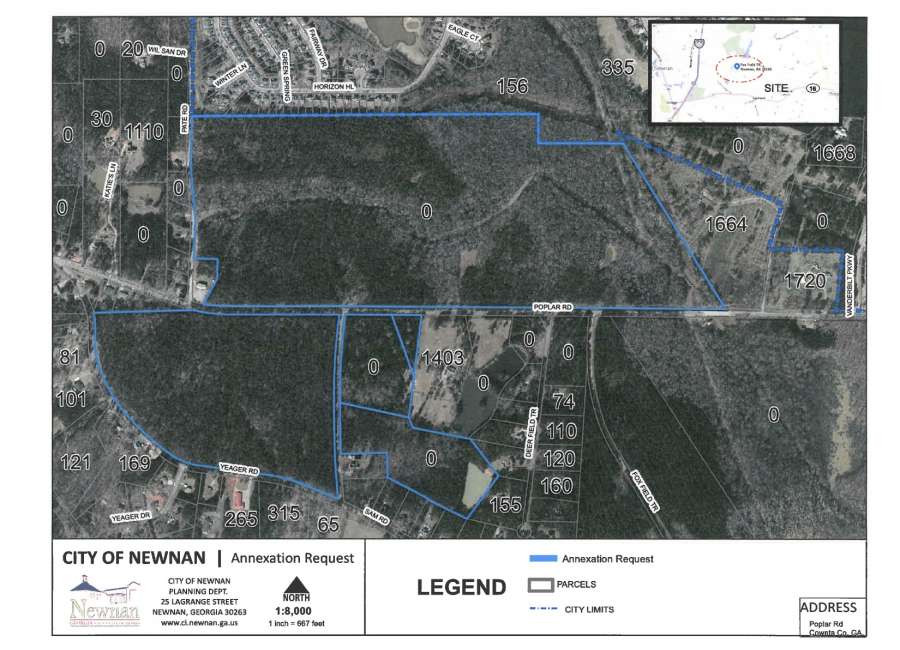 This Thursday, the Newnan City Council will consider the annexation of a 223-acre parcel of land for what could be possibly be one of the city's largest residential developments yet.

The land, located at the intersection of Poplar Road and Yeager Road, would include  light office construction along with approximately 596 single-family homes of varying sizes, according to the information submitted to the city council by D.R. Horton Planners and Engineers Collaborative.
The development, currently named "Poplar Road Crossing," would rank as one of the single-largest new residential projects in metro Atlanta in recent years, according to the Atlanta Business Chronicle.
"Poplar Road Crossing" would be directly accessible off Interstate 85 upon the completion of the Poplar Road interchange. The minimum lot size for residential construction is 6,000 square feet, and lots range from 50 to 70 feet wide.
The development would also include two parcels for future development of 75,000 square feet of office space, according to plans filed with the city.
According to the developer, D.R. Horton, the community would provide more than housing – promising not only to strategically protect large contiguous wetlands and vegetated areas, but also preserving open space through greenways, pocket parks, recreation space and pedestrian walkways.
The land is currently owned by Duke Cole Blackburn Jr., Lynn H. Blackburn, Blackburn Properties, LLC, and Robert M. Blackburn. A rezoning / annexation fee was submitted to the city in the amount of $3,930 on February 28.
The Newnan City Council will meet to discuss the matter this Thursday, March 15, at 2:30 p.m. at City Hall.
A detailed map of the development can be found here.
Should the council agree to begin the annexation process Thursday, the application will be sent to Coweta County for review where a decision will be made whether to file an objection or to request mitigation measures.  
The application will also undergo a Development of Regional Impact Review (DRI), which will also likely require mitigation measures.  This review is coordinated by the Three Rivers RC http://www.threeriversrc.com/planning-dri.php.
A typical annexation process takes 90-120 days but this one will likely take longer due to the DRI process, according to City Manager Cleatus Phillips.  
After the city receives the information from the county and Three Rivers, the Newnan Planning Commission will hold a public hearing, review the application, and make a recommendation to the city council who will then hold another public hearing and then make a final determination on the application.