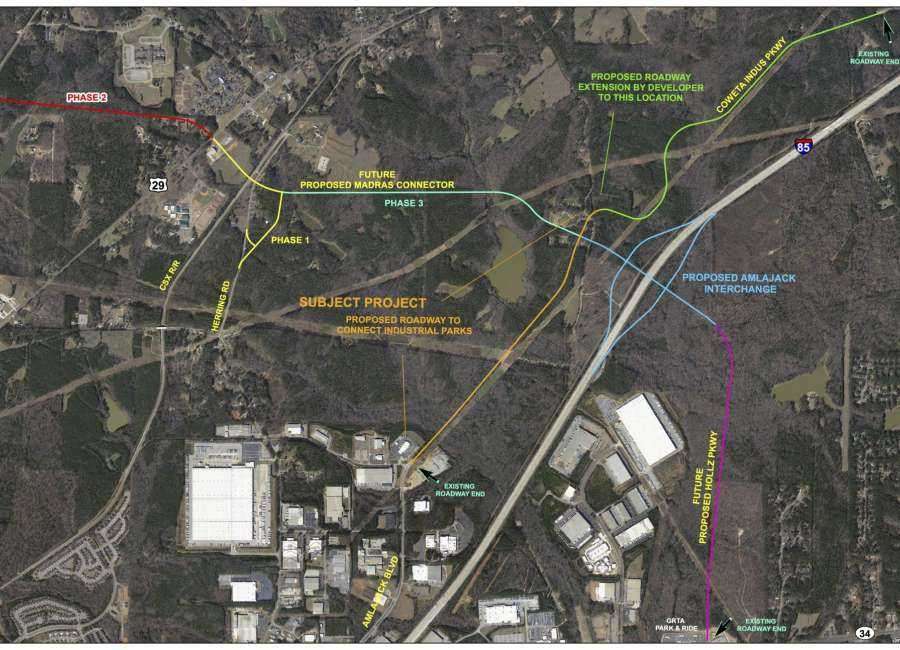 Phase II of the Madras Connector has been put on the back burner, and Coweta County will instead work toward funding other portions of the connector project, which is designed to create a road network to serve a future interchange on Interstate-85.
Phase I of the connector project is in the works, and will be a realignment of a portion of Herring Road. The new road will include a bridge over the railroad and will come into U.S. 29 at Madras Parkway, the road that serves the fire station.
Phase II would have continued across U.S. 29 to the intersection of Happy Valley and Hal Jones roads.
Because of funding differences, there was a possibility that Phase II would have actually been constructed first, with Phase I close behind.
But now, the county will go from Phase I to Phase III, which will tie into an extension of Amlajack Boulevard. The master plan is for the extended Amlajack to connect to an extension of Coweta Industrial Park Boulevard, which serves the Coweta Industrial Park on Hwy. 154. Phase IV of the Madras Connector would be the bridge over I-85, which would connect with an extension of Hollz Parkway.
In late February, Coweta County Commissioner Bob Blackburn, who represents the Madras area, asked for consideration of delaying construction of Phase II until a traffic analysis shows it is truly needed. At the time, Blackburn said he would still want the county to complete the planning and buy the right-of-way, but delay actual construction.
At Tuesday's commission meeting, Blackburn made a motion to cease all work on Phase II and "in its place begin the engineering for Madras Connector Phase III and the Amlajack" extension.
The motion passed unanimously.
Blackburn said that he thinks Phase III and the connection with the industrial park, will help alleviate the heavy truck traffic on Herring Road. Herring is not set up for the kind of heavy truck traffic that it currently gets, he said.
During public comment, Steve Threlkeld of Wesley Woods spoke against Phase II, which will cut very close to the cottages at the retirement community.
Blackburn said after the meeting that he had spoken with more people about the issue. Most are against the road.
"It looked to me like another approach was the allocation of those resources toward the main objective," he said.
"The appropriation of those scarce and precious taxpayer dollars need to go toward the prize, which is the interchange."
Having Phase III and the Amlajack Extension will be a "huge pressure-relief valve," Blackburn said.