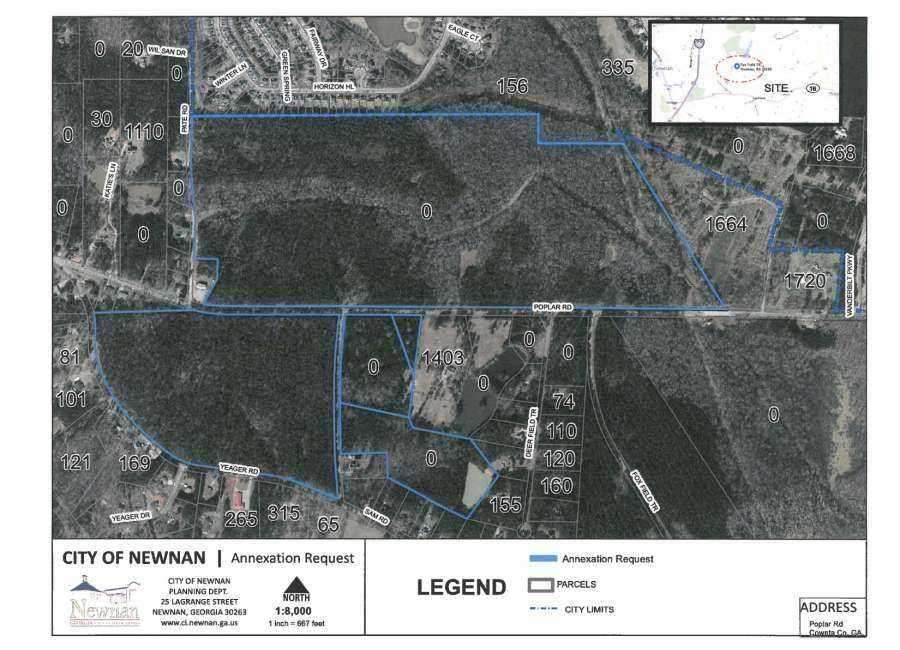 Editor's note: this story has been corrected to reflect that D.R. Horton Inc., not the Blackburn family, has applied to have the property annexed into the city of Newnan. 
Residents of Yeager Road came to Tuesday's Coweta County Board of Commissioners meeting to express their opposition to a proposed annexation of property at Yeager and Poplar roads by the city of Newnan.
The annexation proposal from homebuilder D.R. Horton is for 596 homes and a small commercial area on 223 acres straddling Poplar Road. Coweta Commissioner Bob Blackburn is one of the property owners, and Blackburn excused himself and went to the back during the discussion.
According to the "Atlanta Business Chronicle," the project is one of the largest residential developments proposed in the metro-Atlanta area in recent years. 
"We want to see it developed as a low-density residential area, and we don't want it annexed into the city," said Sylvia Yeager.
State laws regarding annexation have changed quite a bit, said Commissioner Tim Lassetter, and under current law there is very little that the county can do to stop it. Lassetter asked Planning Director Robert Tolleson to give some information on annexation procedures.
Under previous laws, counties could object to an annexation that would result in more than a 25 percent density increase. Now, the proposed zoning must be substantially different than the proposed zoning under the county's land use plan. The area is already recommended for residential use. The county could also object for infrastructure reasons, but those aren't relevant in this case.
The county could object anyway and go to arbitration, Tolleson said.
Opponents of the annexation could best make their voices heard by going to Newnan City Council and Newnan Planning Commission meetings, according to Tolleson.
The project will be reviewed as a "development of regional impact" by the Three Rivers Regional Commission, and then will go before the Newnan Planning Commission, which will make a recommendation to the city council.
Though the county doesn't have grounds to object, the county can make requests of the city for various conditions.
"About all we have been able to do is make suggestions," said Lassetter.
"No matter how much good planning we do for the county, the cities can annex the land and change the whole picture," said Commissioner Paul Poole.