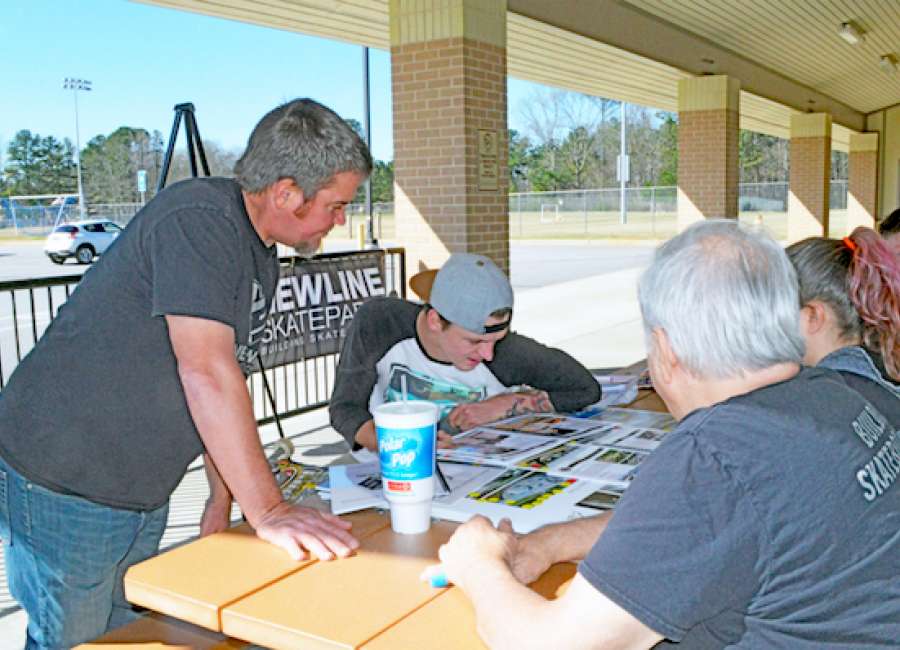 Liability isn't an issue with public skate parks, despite common perceptions, according to the skate park designer who spoke recently to a group of Cowetans hoping to bring a concrete skate park to the county.
"One of the common misconceptions is that councils here believe there is a liability issue with having a skatepark," said Tony Misiano of New Line Skateparks.
To the contrary, Georgia has a law that encourages cities and counties to set aside land for "inherent risk activities," Misiano said.
"If you're taking part in an inherent risk activity, you use at your own risk. No one can be held liable for you hurting yourself in a skatepark," he said.
That applies as long as there is no admission fee and the skatepark isn't monitored. If there is a fee or a government employee is monitoring the skatepark, there can be some liability issues.
Before visiting Coweta to give the presentation, Misiano looked at satellite images of various parks in Newnan and Coweta to find sites at existing parks that could be future skateparks. Because skateparks take up little space – about a quarter of an acre or less – he found plenty.
The meeting was held at the Central Soccer complex, and Misano said there appeared to be three places at the complex that a skate park could be built, without taking away from any of the soccer facilities.
Ideally, a skatepark would be built at an existing county or city park, so there wouldn't be the need to spend money on bathrooms or parking.
Misiano also counted up the number of sports fields in the county – 40 baseball and softball fields, 13 soccer fields and five mixed-use fields.
There are a lot of facilities for kids who play baseball, softball, soccer or football, said Julie Crooke, whose 17-year-old son skateboards. But if you're not into those sports, you're pretty much out of luck as far as public facilities go.
Crooke remembered skateboarding herself in the 1980s. "There was no place for me to skate either," she said. Skateboarding has become more popular over the years – it's not going away, she said.
Georgia ranks 48th in the nation in the number of skateparks, with only 35 skateparks, Misiano said. That makes projects in Georgia prime candidates for grant funding and sponsorship opportunities.
It's recommended that a community have one skatepark for every 40,000 people, according to publicskateparkguide.org. Coweta currently has a population of around 140,000.
The city of Riverdale has a new skatepark, and more skateparks are in the works in Peachtree City and LaGrange.  
Local skater Kurtis Kornacki, who is heading up the local skate park movement, said the LaGrange park will be one of the nicest in the state. Based on the plans he's seen, he expects skaters to travel quite a ways to visit LaGrange, who recently received a $10,000 grant from the Tony Hawk Foundation to help with construction.
There are different types of skatepark construction, including wood, prefabricated ramps, precast concrete, and poured-in-place concrete.
Wood skateparks are high maintenance and don't do well outside. Prefab ramps come with long warranties, but communities have to spend time and money each year tightening screws and repairing welds, Misiano said. Precast concrete is OK, but extremely expensive.
"Poured in place concrete parks are the way to go. They are pretty much maintenance free," Misano said. "Cities don't really have to worry about anything."
Misiano presented a display board with several different types of skatepark designs pictured, and after the presentation, those in attendance were given colored stickers to put on their favorite designs.
An "organic flow" design was the overwhelming favorite.
He also showed examples of how sponsors or donors can be recognized in the design of a park.
The cost of skatepark construction depends primarily on the size of the park. A concrete skatepark can range from $100,000 to several million. Misano said that a good-sized park, in the 5,000- to 7,000-square-foot range, could be built for between $200,000 and $250,000.
Misiano also spoke about the benefits of community skateparks.
"They have the tendency to break down barriers of gender, race and age," he said. "It doesn't matter who you are, where you're from. If you're on a skateboard you're part of the brotherhood or sisterhood."
Skateparks get kids, teens, and adults "outside and doing something active – not just looking at screens all day," he said. "And there's of course the lifelong enjoyment of riding something, of getting out and doing it."
Skateboarding will be part of the Olympics in 2020 and with it an Olympic sport, there will be a need for places where skaters can train.
"You could have the next Tony Hawk here," Misiano said.
The recent public meeting was the third one held in the last few months, and Kornacki said he was pleased with the turnout and the information shared.
"It's inspirational that Kurtis has been doing this for so long to try to get a skatepark for the community," said Marcus Zuniga.
For more information or to keep abreast of future meetings, visit the Newnan-Coweta County Skatepark page on Facebook or contact Kornacki at thekornacki23@gmail.com.