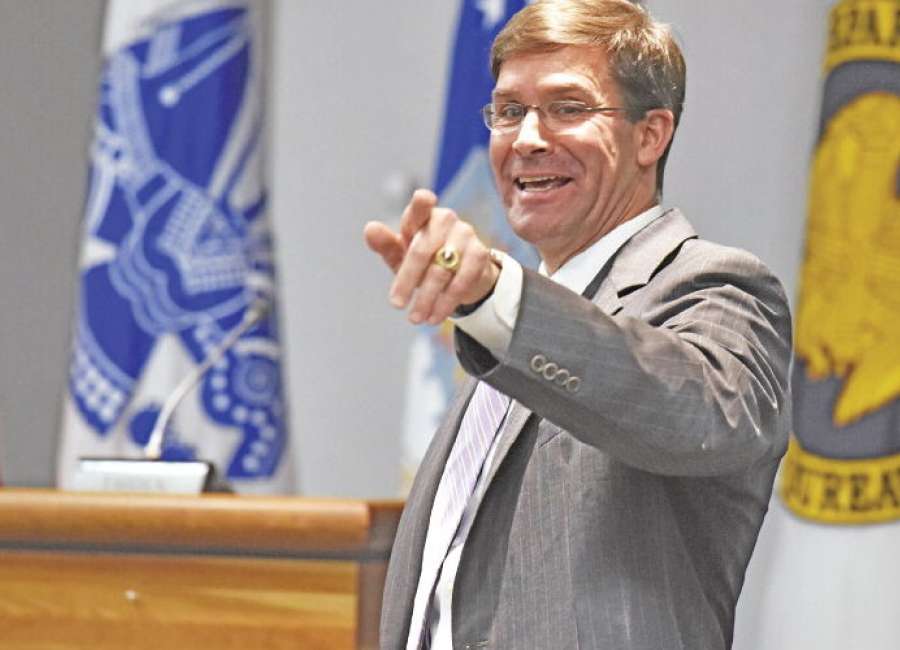 A reorganization of the U.S. Army holds the potential for economic growth in Coweta County.
The Army Futures Command, a new command aimed at modernizing America's fighting force, is being created this year. That action has spurred U.S. Rep. Drew Ferguson, who represents Coweta County and Georgia's Third District, and other federal legislators from Georgia to push for the command headquarters to be located in the Atlanta area.
Candace Boothby, president of the Newnan-Coweta Chamber of Commerce, said the addition of Futures Command to the metro area would give Coweta's economy a boost.
"It would be wonderful to have the U.S. Army Futures Command come to the Atlanta region," Boothby said. "Because of Coweta's proximity to Atlanta, we stand to benefit as we continue to work on balanced and positive growth."
Many factors would affect the overall impact of Futures Command on Coweta County. A location on the south side would make it easier for Cowetans to commute and for Coweta firms to provide services to the base. Locating north of Atlanta location still would create jobs and generate dollars that would end up in local cash registers, officials say.
"These types of new opportunities dovetail nicely into our efforts to work on securing new offices and industries and lead to new leadership and new ideas that help the community thrive," Boothby said.
"Our complete package of high education, health care, shopping, housing and recreation would be attractive. These are the things that make Coweta such a successful community and reflect on the quality growth and balance we are already experiencing," she added.
Ferguson put his signature on a letter with the other members of  the Georgia congressional delegation urging the Pentagon to consider Georgia as a home for the new Futures Command.
The letter was sent to U.S. Secretary of the Army Mark Esper. Esper testified before the U.S. Committee on Armed Services late last year, stating the future success of today's soldiers depends upon the Army's efforts to reform and modernize now.
Last year, the Army announced it would begin to focus on six modernization efforts to improve its performance to better combat modern-day threats. This modernization effort includes a Futures Command to lead the restructuring of how the Army researches, develops and procures new equipment.
The Army also has acknowledged that the home of the new command must be a city with access to academia and business expertise.
The Georgia delegation's letter emphasizes that Atlanta, as the largest hub for the private sector and innovation in the Southeast region, is home to an array of advantageous assets to the U.S. Army.
"Members of Congress from Georgia are dedicated to supporting our servicemen and women, and in doing so, we urge you to fully consider the numerous resources available to Futures Command in Atlanta," the letter stated.
In addition to Ferguson, the letter was signed by Senators Johnny Isakson (R-Ga.) and David Perdue (R-Ga.) and Congressmen Buddy Carter (R-Ga), Sanford Bishop (D-Ga.), Hank Johnson (D-Ga.), John Lewis (D-Ga.), Karen Handel (R-Ga.), Rob Woodall (R-Ga.), Austin Scott (R-Ga.), Doug Collins (R-Ga.), Jody Hice (R-Ga.), Barry Loudermilk (R-Ga.), Rick Allen (R-Ga.), David Scott (D-Ga.) and Tom Graves (R-Ga.).
In February, Esper said the new command will have eight cross-functional teams, or CFTs, to provide the unity of effort and command needed to reduce the requirements development process from 60 months down to around 12.

Each CFT will consist of leaders from the requirements, acquisition, contracting and sustainment communities, who report directly to the under secretary and vice chief of staff of the Army.

The CFTs' primary focus will be on the Army's six modernization priorities, Esper said, which include the development of improved long-range precision fires, a next-generation combat vehicle, future vertical lift platforms, a mobile and expeditionary Army network and air and missile defense capabilities.
Reducing soldier deaths is also a priority.

"Mindful of past failures, the Army will ensure that technological solutions are mature before we begin a program of record," Esper said. "This includes a threat-based strategy that has aligned 80 percent of the Army's science and technology funding requests against the six modernization priorities."

The process of getting requirements met will be streamlined, he said, with prototype development, demonstration and testing and evaluation being specific segments.

If the evaluation results in failure, then that three-step cycle will be repeated until a successful outcome is obtained, followed by production and fielding decisions, he said.


Esper spoke in the Senate chambers on Dec. 7, the anniversary of the attack on Pearl Harbor which brought the United States into World War II.

"We were caught off-guard at Pearl Harbor," he said. "But in a few short years we re-energized industry and the American people to fight and win that war. We need to take that same sense of urgency to the challenges we face today."

Coweta residents offered varying viewpoints on the possibility of Futures Command being nearby. Linh Wight said she loves the idea.
Bette Hickman, whose son is a chaplain at Yokosuka Navy Base in Japan, reflected on the impact a military installation can have on a nearby community. In the Yokosuka area, the U.S. Navy is "the number one employer for civilians," she said.
"The entire town revolves around the base," she said. Futures Command in the region would offer "exciting possibilities for our growing city and county," Hickman said.
More growth, however, is what makes Verna Funk less than enthusiastic. There is "too much traffic in the Atlanta area," she said, adding the Fort Benning near Columbus "has space" for such a project.
"The greater Atlanta area is too congested," Funk said.