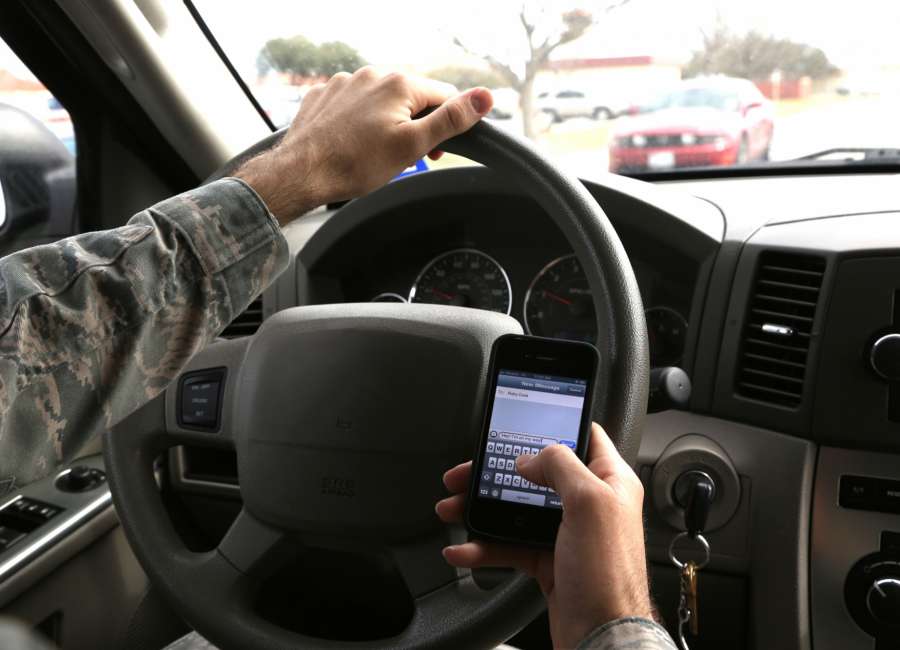 The "Hands Free Georgia Bill," House Bill 673, which Lt. Gov. Casey Cagle had said would have an "uphill battle" in the Senate has roared back to life, and was set to be voted on by the Georgia State Senate Tuesday.

Tuesday was the 39th day of the 40 day legislative session. The final day will be Thursday. The Senate made changes to HB 673 to lessen the fines for violations and to make exceptions for smart watches used for voice communications.
The bill would prohibit drivers from holding or supporting phones, computers, cameras, or other devices with their bodies while driving, and would prohibit reading anything on a phone or other device while driving, unless the information is being used for navigation. Hands-free or voice-to-text use would be allowed. The law applies even if a motorist is stopped at a red light or stop sign or in traffic.
The bill was on the Senate calendar for Tuesday but had not been heard as of 7 p.m. If it passes, it will go over to the House which can agree to the changes, add more changes or insist on its version. Before a bill can become law, both the House and Senate must agree on identical bills.
A bill to create a study commission on access to medical cannabis was also expected to go before the House Tuesday.
On Friday, the Senate voted to approve its own version of HB 65, which was introduced last year and would have increased the conditions that can legally be treated with cannabis oil containing cannabidiol (CBD) and low amounts of tetrahydrocannabinol (THC), two components of marijuana.
The Senate stripped that language from HB 65 and replaced it with language from Senate Resolution 983, which created the joint commission. A similar resolution was introduced in the House. Because the resolutions were introduced late in the session, their chances of passing were very slim.
Though the oil has been legal to use since 2015, there is no way to legally obtain it. It has to be smuggled illegally from other states or produced illegally in Georgia.
An amendment added during debate on the Senate floor Friday would change the way that new conditions are approved for treatment with the oil.
The amendment, added by Sen. Ben Watson, R-Savannah, states that the Georgia Composite Medical Board shall annually review the current conditions, and "recommend additional conditions that have been shown through research to be effectively treated with low-THC oil." The recommendations should include recommended dosages for particular conditions, patient responses to treatment and potential drug interactions. The recommendations must be made to the general assembly by Dec. 1 each year. The legislature would presumably still need to approve those recommendations.
Earlier this session, the House passed a bill that would add intractable pain and post traumatic stress disorder to the list of approved conditions, but that bill has languished in the Senate Health and Human Services Committee without a hearing.
On the Senate floor Tuesday, an amendment was proposed to be added to an unrelated bill that would have added PTSD to the list of conditions, but the amendment was ruled "not germane" and was not approved.
"For years, the families have been frustrated with having to discuss medical issues with legislators that are not medical professionals," said Troup County parent and advocate Dale Jackson in a Facebook post. "No longer will the families of Georgia be used as political pawns at the capitol thanks to the amendment."
Medical cannabis advocacy organization Georgia's Hope posted on Facebook that "we feel like this could be a good thing but it is too soon to know if it would work in the best interest of patients."
If the bill is approved, the commission would be made up of three senators, three state representatives, and four citizen members, two appointed by the House and two by the Senate.
Language of the bills states that the commission shall study the in-state access of medical cannabis/THC oil, "including but not limited to the security and control of all aspects of the process from acquisition and planting of seeds to final destruction of any unused portion of the plant, quality control of all aspects of the manufacturing process… and all aspects of dispensing the final product…"
The commission is charged with studying and identifying how to ensure proper security safeguards and systems for evaluating qualifications of potential licensees and contain a plan to ensure that THC oil is readily available in all parts of the state at an affordable price to patients and caregivers who are properly registered in the state.
Lt. Gov. and President of the Senate Casey Cagle, who has generally been opposed to expansion of the state's medical cannabis program, made strong statements in support of in-state access in a press release issued Friday evening.
"We must make certain that government does not stand in the way of what patients and their physicians agree will improve their quality of life," Cagle said in the press release. "I fully support implementing a safe, secure, and reliable in-state system for patients to access low-THC medical cannabis oil. This legislation will provide a path to make that a reality. It also erases politics from the process that qualifies conditions for doctors to prescribe this medication."
"We simply have to find a way for patients to legally obtain this medicine," Brass said in the same press release. "The amendment to this legislation is brilliant as it helps remove politics from the process. I thank my friend and colleague Senator Ben Watson for introducing it."