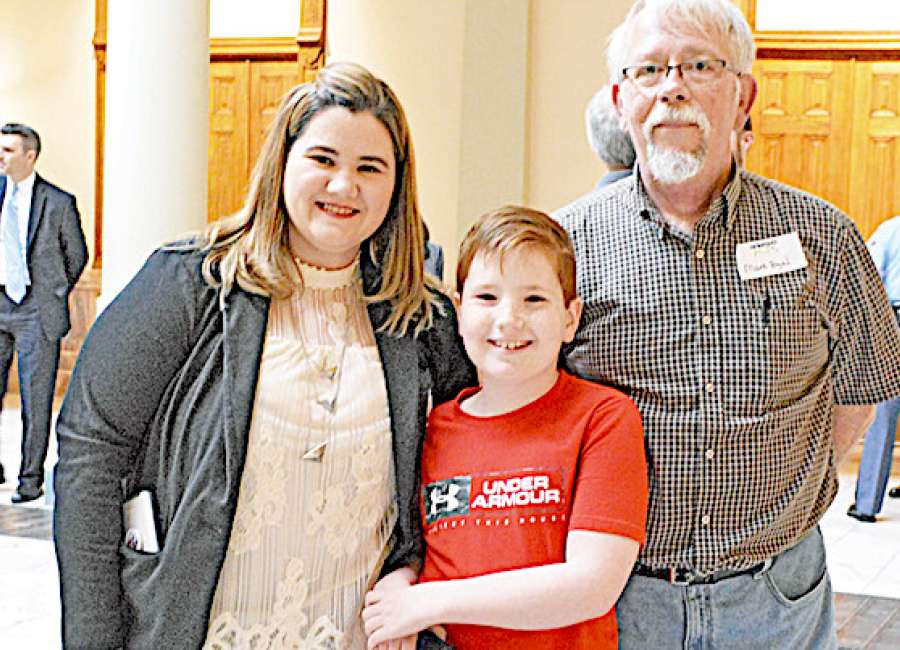 Allowing chronic pain patients access to cannabis oil could significantly help reduce the epidemic of opioid addiction and overdoses, medical cannabis advocates said Monday at the Georgia State Capitol. 

"There are people who are dying every single day," said Rep. David Clark, R-Buford. 
Clark is sponsor of House Bill 764, which would add Post Traumatic Stress Disorder and intractable pain to the list of conditions that qualify Georgians for a card that allows them to possess medical cannabis oil. The oil is low in THC, the main psychoactive ingredient in marijuana, but also contains cannabidiol and an acid of THC. 
HB 764 passed the Georgia House of Representatives overwhelmingly - with yes votes from all of Coweta's representatives. But it's being held up in the Senate, where the Health and Human Services Committee refuse to give it a hearing. There are only a few days left in the 2018 session.
States that have allowed the use of medical cannabis for chronic pain have seen opioid usage and overdoses going down, Clark said. 
"We can be the generation that ends the opioid epidemic," he said.
"If we were really serious about opioid addiction, the Senate would allow a hearing and passage of HB 764," sad Rep. Allen Peake, R-Macon, who began the drive to allow Georgians to use cannabis oil in 2014. 
Sen. Renee Unterman, R-Buford, is head of the Health and Human Services Committee and has denied hearings to medical cannabis bills in the past, as well. 
Unterman said she'd rather concentrate on a proposed joint commission to study how to give Georgians access to the oil. Currently, there's no legal way to get the oil or make it. Instead, it has to be smuggled in or made illegally in Georgia. 
Cowetans Mark Royal, and Jillian Bramlett and her son Aiden Whitley attended Monday's press conference put on by Georgia's Hope, which advocates for medical cannabis in Georgia. 
Royal has been taking cannabis oil for peripheral neuropathy. Before he began taking it, doctors recommended knee replacement, surgery on his shoulder, and were about to fit him for a cane. Now, Royal said he doesn't have problems with his knee or his shoulder and has stopped taking his blood pressure medicine. 
Whitley has Dravet syndrome, which causes frequent seizures, and the oil has greatly reduced the seizures and their side effects.
"What we need from Casey Cagle and the Senate is a little bit of compassion," said parent Sebastien Cotte, referring to the lieutenant governor and gubernatorial candidate.
Holly Faris of Lawrenceville spoke eloquently to the crowd about her experiences with debilitating pain, brought on by Loin Pain Hematuria Syndrome, a kidney condition that makes it feel like she is constantly passing a kidney stone. She has to take large doses of opiate pain medication every day. 
Many of those opposed to expansion of medical cannabis are Christians, Faris said. "Part of Christian compassion is the alleviation of suffering. Please have some compassion for us," she said.
Those who are worried about a slippery slope to recreational legalization don't need to be worried. Medical cannabis will be tightly controlled, Faris said. 
"We shouldn't confuse the two and use straw man arguments to pit one against the other – because they are not the same," she said of medical and recreational use of cannabis. 
Faris has to balance her pain with the side effects of opioids – including cloudy thoughts. As she gets older, the pain is getting harder to fight. 
People who oppose medical cannabis for pain don't understand chronic pain and don't have compassion for those who suffer from it, she said. 
"There is no reason at all, no rational reason" to keep the medication from people who need it, she said. "Other than forcing morality on other people or forcing world views on other people. We're not about that in America. We're about freedom."
Fairs doesn't know if medical cannabis oil will help her pain, but feels she deserves the chance to find out. 
"To restrict something like that because of politics is not only cruel, it's inhumane," she said.
And the end of the press conference, patients, parents, politicians and members of the news media followed Cotte to Cagle's office, where he wanted to ask the lieutenant governor, who also serves as president of the Senate, why there won't be a hearing on the bill. 
The group was told that Cagle wasn't available, but suggested calling back to set up a meeting before the end of the session. 
Tuesday was Faris' first trip to the capitol, and she hadn't planned on speaking. She lives in Unterman's district, and spoke to her before the press conference. 
"She was very generous. She listened to me, she smiled and laughed with me," Faris said. 
They found they have a mutual friend from Faris' school days. She said Unterman seemed very interested that Faris was on opiates and that medical cannabis could be a replacement for them and could help get the opioid epidemic under control. 
Faris said Unterman was also surprised that Faris doesn't think she qualifies under the definition of intractable pain currently in HB 764.