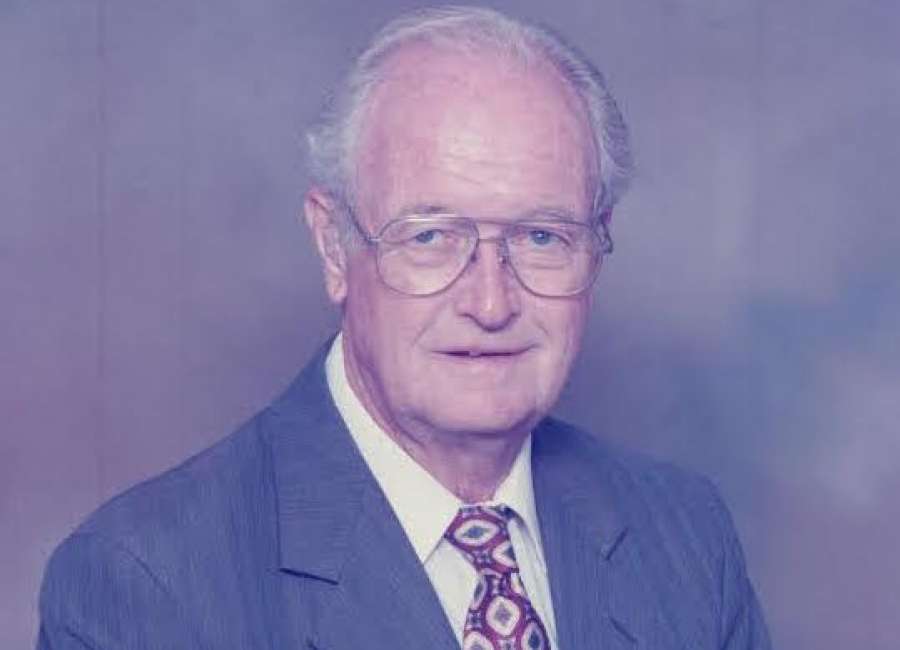 Another of the Great Generation has gone to be with the Lord. 
On February 6, 2018, Mr. Richard Fickett Brown, who would have been 92 years old on February 22, greeted Betty, his wife of 63 years, and the many who went before him. He passed into eternity in the home he designed and built in 1970, surrounded and bathed in love from his daughters and many caregivers. What a blessing it is to know, without a doubt, he is sitting at the feet of Jesus.
Richard served in World War II as an Army corpsman in the Pacific Islands on the carrier, U.S.S. Barnstable. This ship was one of the first to enter Japan after the devastation of the atomic bombs that ended the war. He has many pictures of the Japan harbor and other pictures of his time in the Navy. He had many war stories to tell; he was the only soldier to carry a gun when they landed on the beaches after the battles were over; this was to protect "his doctor."
After World War II, he came back to Atlanta and began a life as an electrician. It is during this time he met and married our mother. When he was building their first home, mother gave birth to their first daughter, Dianne. Thinking it a good way to earn extra money for his family, he joined the Air Force Reserve, only to be called up for active duty in the Korean War. Thankfully, he served his duty on Ramey Air Force Base as an electrician, where his second daughter, Christine, was born.
The family of four moved back to Atlanta. After coming home he realized his gift from God was to become a developer and contractor. He went on to build home after home in Cascade Heights. In the home he built there for his family, mother had two more daughters. She wanted to give our father a son, but as daddy said, "I have another piano player."
Richard also was involved in the community in Cascade Heights. He was a member of the Cascade Heights Kiwanis Club and served as treasurer during the years 1960-1966.
In the 1970s, he decided it was time to branch out into Coweta County, where he purchased large tracts of land. He went on to design and develop several subdivisions in Sharpsburg, which was quite isolated at that time. He arranged to have gas run from Newnan to the subdivision, which was a real victory, but the water company was not willing to go that far. For this reason, he designed his own private water system with five artesian wells and a private 100,000 - gallon storage tank. He loved this system and spent his later years taking care of it and making it the best the EPD Mountain District had seen.
Richard loved his country and his Lord. He served as a deacon, and on many other boards, at the Cascade Baptist Church for many years. When he moved to Coweta, he did the same at First Baptist. In later years, when it became hard to drive, he joined Grace Baptist Church, which was closer to his home.
He spent his life providing for his family sacrificially and always jumped in to help those in need. He was a true southern gentleman who would give you the shirt off his back.
He is survived by his four daughters; Dianne Templeton (Rick), Christine Toperzer (Martin), Suzanne (Harry) and Sharon. He has eight grandchildren and five great-grandchildren. Honorary members of his family were his caretakers; Jasmine, Shakira, Brikel, Shonnie, Chad and Tonya. We could have not gotten through many difficult situations without them and daddy loved every one of them.
As he requested, a private service was held at Forest Lawn Memorial Park. He was laid to rest next to our dear mother; together for eternity.
As his girls often said, "Anyone can be a father, but it takes someone special to be a daddy, " and he was our daddy. What a great man, what a great father, what a great father-in-law, what a great granddaddy and great-great granddaddy. He will be so, so missed.
Condolences can be expressed online at www.mckoon.com
McKoon Funeral Home & Crematory (770) 253-4580