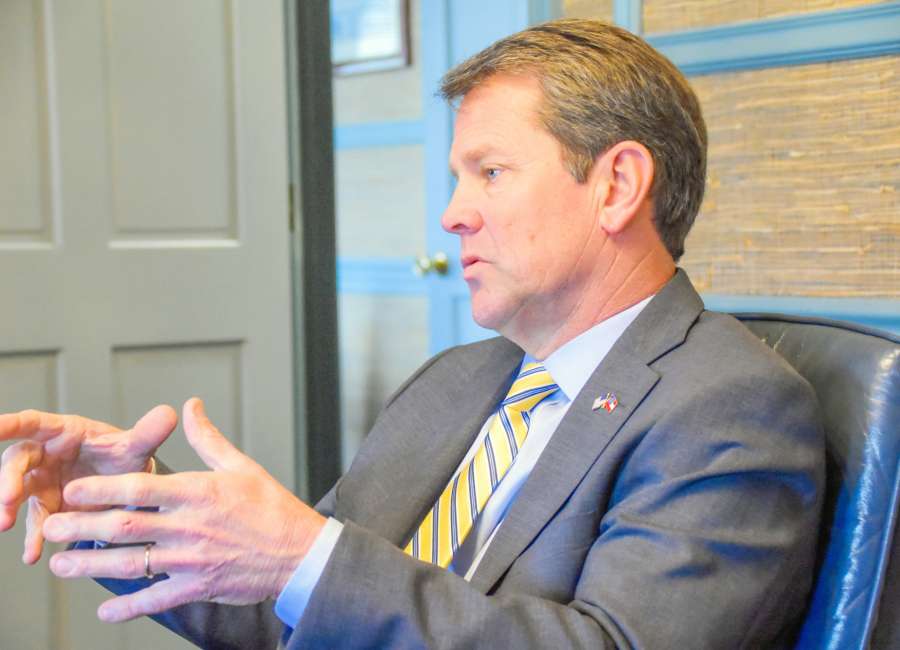 Georgia Secretary of State Brian Kemp says Georgia's election process has not been hacked, and that the system is not likely to be impacted by computer hackers.
Kemp was in Newnan on Friday – sitting down for an interview at The Newnan Times-Herald and speaking to the Newnan Rotary Club at Newnan Country Club. He talked about a range of topics during his interview – economic development and broadband expansion in rural Georgia, medical cannabis and the elections process.
He focused on the elections process during his speech to Rotary.
"We have not been hacked," said Kemp, who is running for governor as a Republican. He said the computers that handle Georgia's elections are not connected to the internet, and therefore not easily hacked. "The conspiracy theorists out there are off-base."
He gave Coweta County as an example, saying someone would have to break into the elections office and – with a degree of expertise – dismantle machinery to access any elections data.
"That is not logical for that to happen," he said. "I was never worried about our voting system being hacked. It's not on the internet."
Kemp said he has been working on making sure the process is secure for more than four years. When he took office, there was no cybersecurity officer or rules in place.
"After hiring three chief information officers and trying to restructure our IT department, I finally realized I'm never going to be able to hire someone at a government salary to restructure our IT department like we needed to," he said.
"I went out and hired a private consulting firm," he said. The company completely reworked the Secretary of State's office computer system and acted as head of the office's IT program for six months.
The firm did an assessment of the staff, as well as the network and systems. "Then we reorganized," Kemp said.
All of the IT staff were let go and had to reapply. Only two of the 16 original employees were rehired. "It was literally the best decision I've made as secretary of state," he said.
A business would have immediately attacked all the issues associated with a large computer system, but government offices – receiving money to operate in yearly chunks and without a tax advantage for spending more in a given year – had to prioritize and then work through the various issues.
"We started closing holes in our systems," Kemp said.
The voter registration process does have an online component. The state's voter list is monitored continually. Information can be reset and saved "if we ever get attacked, if we ever get pinged," he said.
Kemp has taken some flack for not inviting U.S. Homeland Security officials to work with his office on cybersecurity, but said it would have taken nine months for Homeland Security to get to Atlanta. But more importantly, the assistance offered was related to things Kemp's office was already doing.
Kemp said he is continually looking to make sure his office's computers are secure. "We've had multiple different sets of eyes coming in. We're always constantly looking at the next thing we need to do," he said.
"We've had some of the smoothest, best state elections we've ever had in the past few years, even with record turnouts," Kemp said.
Kemp also talked about the push for a new voting system in Georgia that would create a paper trail. He said the cost for such a system will be $75 million - $100 million. He said a new process will also require time for training voting officials across the state.
"You need to be sure its a system the public likes," he added.
Kemp talked about a pilot project done recently in Conyers. When a voter finished at the voting booth, he hit a button that instead of casting the ballot, printed out a ballot with that voter's choices. The voter then reviewed the paper ballot and deposited it in a locked ballot box.
The paper ballots could then be scanned. "You have an electronic count, and you also have that paper record," he said.
While the state's election system has not been hacked, government databases are always being targeted. "Everybody's fighting that battle," he noted.
He also said that Russian meddling in the election has largely been work aiming to sway voters – using social media. "That has nothing to do with the elections system being hacked," Kemp said.
Kemp is undertaking a 50-county bus tour. He spent time in Athens, Dahlonega, Ellijay, Dalton, Chickamauga, Columbus, Meriwether County and Fayetteville in the days leading up to his visit to Newnan. Later Friday, the State Bar of Georgia Forum in Atlanta was on his itinerary.
Metro counties are on his list for the coming week, and he has plans to visit Dublin, Warner Robins and Augusta after that. "It's truly a statewide tour," Kemp said.