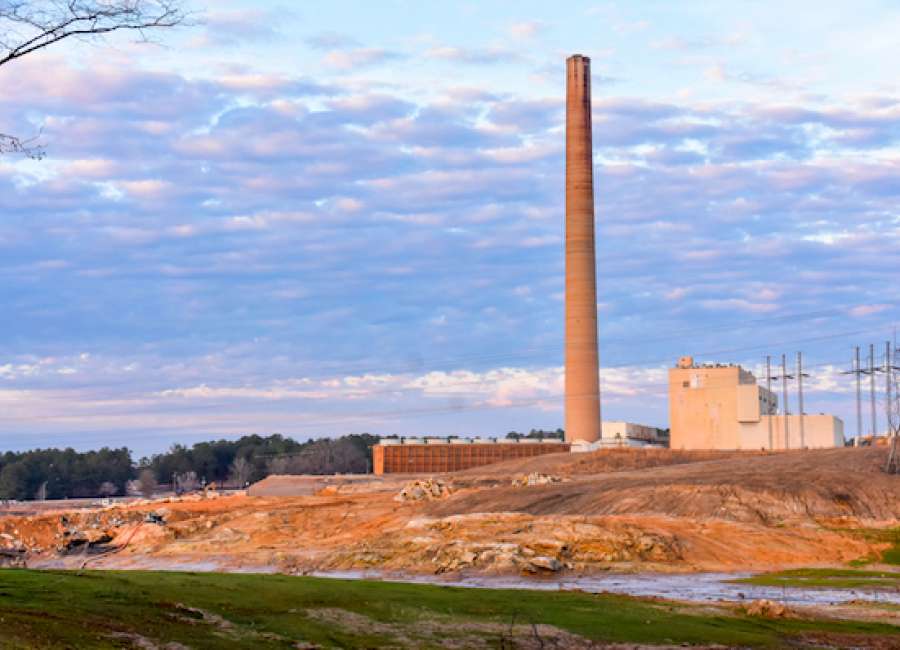 Georgia Power is making strides in the closure of its coal ash ponds across the state, including the seven at Plant Yates in Coweta County.

But some critics say what is being done is not enough.
Coal ash contains chemicals that can be dangerous to humans. Chris Bowers, senior attorney with the Southern Environmental Law Center, said Georgia Power should transfer all the coal ash to modern, lined landfills rather than capping any existing ash pits.
The Southern Environmental Law Center is a nonprofit team of attorneys that works at the local, state, regional and national levels, in all three branches of government, to defend and strengthen environmental protection laws and policies.
"By 2019, we hope to stop use of all ash ponds," said Aaron Mitchell, general manager of environmental affairs for Georgia Power. The company quit using the ash ponds at Plant Yates in 2015 when Units 6 and 7 were converted to burn natural gas and Units 1-5 were decommissioned.
Based on publicly disclosed information, the company intends to remove ash from the three remaining ponds and add it to a second on-site landfill. 
Currently, Plant Yates has one sealed landfill in place, with the other being added at an adjacent site, both of which can be seen from Highway 16 and Dyer Road. 
After a dewatering process, the last pond will then be "capped in place" with what the company describes as advanced engineering methods, which include a type of impermeable plastic commonly used to cover landfills. 
Georgia Power has not yet finalized the designs of those enclosures, according to Mitchell. He said each ash pond is different and the methods of enclosing will be different. Cover system enhancements such as terracing and artificial turf are being considered.
The landfills only contain ash from the plant's three closed ponds, and Mitchell said no ash has been brought from other plants for disposal. 
"We're just dealing with what's sitting there," he said. 
The dewatering plan for the ash ponds is being reviewed by the Georgia Environmental Protection Division, said Jeff Cown, chief of the EPD's land protection branch. A plan hasn't been submitted yet for the landfill/cap in place design, Cown said. 
For the dewatering process, water in the ponds is drained off and filtered or allowed to evaporate, then the ash is removed. If a pond is capped in place, the water will be removed before the cover is applied. The cover will be designed to prevent any rainwater from getting into the covered pond, according to Cown. 
Regardless of cover systems and other engineering methods, ash ponds are not lined to prevent leaks from below. 
According to Mitchell, Georgia Power began monitoring its groundwater for contaminants before testing was made mandatory by the Environmental Protection Division. He said groundwater monitoring will take place for at least the next 30 years around the sites. 
However, Georgia Power only tests groundwater from the 45 monitoring wells within its property lines. Plant Yates sits on approximately 2,500 acres in Coweta County along the Chattahoochee River. Ash ponds occupy approximately 200 of those acres. 
Mitchell said coal ash by-products could potentially go to an ash marketer or be stored in a landfill. The ash is used as an ingredient in concrete, drywall and fertilizer, but no ash has been marketed at Plant Yates since Units 6 and 7 were converted to gas and units 1 through 5 were retired.
Groundwater monitoring
Although Georgia Power officials say the company ensures safety and transparency, some environmentalists still have questions – especially regarding the possible contamination of rivers and streams. 
Bowers said Georgia Power is reviewing several rounds of groundwater testing results from each plant where coal ash is located within Georgia, including Plant Yates. 
"Beryllium and selenium are two toxic pollutants commonly associated with coal ash waste, and each has been detected in groundwater at this plant in concentrations above state reporting thresholds based on initial reports alone," Bowers said. "We anticipate learning more concerning Georgia Power's groundwater monitoring at Plant Yates soon, and as early as March of this year."
Craig Bell with Georgia Power confirmed the detection of the two substances at Plant Yates. 
Bell said based on the groundwater testing completed to date, the company has identified wells at Plant Yates where selenium and/or beryllium were detected. He said the contaminants are contained on the company's property based on the sampling results. 
"As the company continues working to close these ash ponds and landfills, Georgia Power commits to continue monitoring and testing around them, even after they are closed, as required by federal and state regulations," said Bell.
Under state rules, when a regulated pollutant is discovered in soil or groundwater, a property owner must determine whether the concentration exceeds a reportable quantity assigned to that pollutant. If so, notification is provided to state regulators. 
"At Plant Yates and all of Georgia Power's plants, groundwater samples are collected by qualified, independent third-party contractors and analyzed for more than 20 substances in compliance with federal and state laws and regulations," Bell said. 
"Groundwater samples are analyzed by independent laboratories that are accredited by National Environmental Laboratory Accreditation Program and certified by the state of Georgia to perform analyses. 
The collection of groundwater samples is performed by independent third-party consultants under the direction of geologists and engineers licensed in the state of Georgia," Bell said.
Most of the residential areas surrounding Plant Yates are or can be served by the Coweta County Water Authority. However, there is no water service to Sol Bridges Road, which has a handful of homes and borders Plant Yates.
Bell said the company's advanced engineering methods for ash disposal enhance groundwater protection, and they insist Georgia Power is in compliance with all federal and state laws and regulations applicable to Plant Yates. 
According to Bowers, many of the pollutants found in coal ash are already in their elemental states. Coal ash can contain traces of mercury, cadmium, arsenic, barium, beryllium, boron, chromium, thallium and selenium, which will not break down into less toxic substances.
"Because of this, the long-term storage of coal ash, which can contain several types of toxic pollutants, must be adequately protective of the environment forever," Bowers said. 
"The only viable means of accomplishing this is through offsite storage in a modern, fully lined and permitted landfill away from our groundwater, rivers, lakes and streams. So in terms of 'decontamination,' when it comes to coal ash storage, an ounce of prevention is very much worth a pound of cure."
Bowers said Georgia Power has committed to excavate and remove about 10 million tons of its coal ash at various plants across the state to landfill storage. Georgia Power already has excavated several ash ponds at Plant Yates and moved the contents to a sealed landfill on site.
"This demonstrates that (Georgia Power) is financially and technically capable of preventing further contamination problems in the future at these storage sites," Bowers said. 
"The company should apply that same excavation and offsite storage approach to its remaining coal ash pits at Plant Yates, rather than taking partial and inadequate measures by closing these pits in place."
 
For more information, visit www.georgiapower.com/environme... 
Sarah Fay Campbell and Beth Neely contributed to this story.