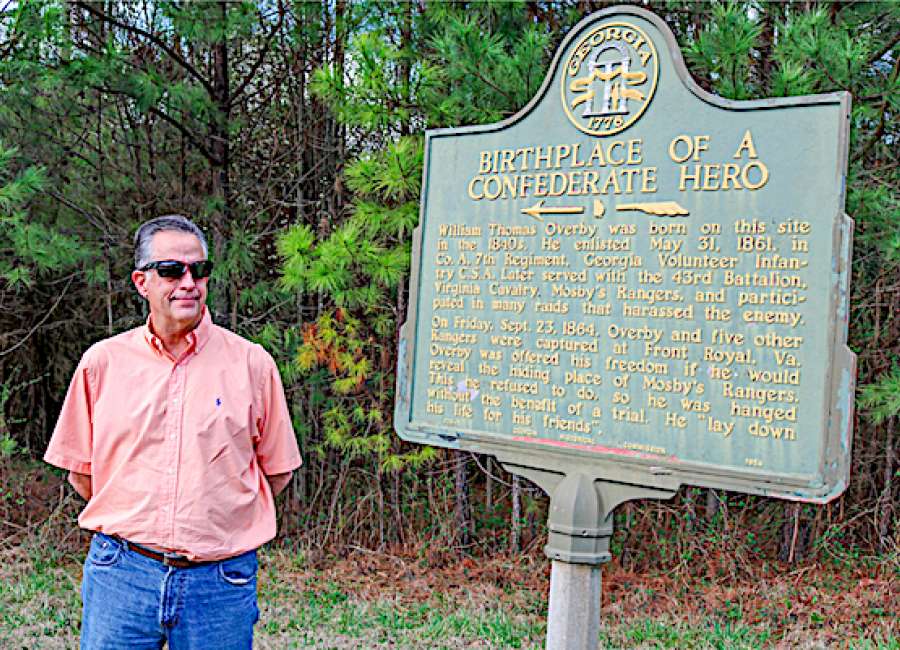 By TAYLOR ROBINS, taylor@newnan.com
The Coweta County Commission has approved rezoning that will allow building on a tract that was part of the Overby family plantation, but nearby resident Mike Christie says the area should be checked for graves and historic artifacts first.
The commissioners recently voted to rezone the last undeveloped portion of the William H. Overby Plantation on Jan. 23. Christie, who lives nearby, said he finds nails and other items when he is gardening and that he fears the tract may include the graves of slaves who lived and worked on the plantation before the Civil War.
"If they find nothing, I'm sorry for raising a stink," said Christie. "But I still think it's the right thing to do, to bring in professional archaeologists who have the technology to determine what's there. Are we going to be cementing over the possibly enslaved that might have been buried there?"
The land has a state historical marker that incorrectly describes the property as the birthplace of William Thomas Overby, who has been called "the Nathan Hale of the Confederacy." Currently what is left undeveloped of the original 300 acres is, according to "William Thomas Overby: Proud Partisan Ranger" author Carolyn Cary, a privately owned lot that belongs to a current Newnan resident.
Cary authored the book that was published in 2004 about William H. Overby's son William T. Overby. The book gives an insight on how the Overby family relocated from Virginia to Newnan in 1837. The Overby patriarch is described as a farmer and his son was a Confederate war hero.
"It's not historic in the sense that George Washington slept there," said Cary about the land. "It's historical in the sense that it's precious land to Coweta County. And it's probably not a whole lot left there. It's worth saving historically but is it worth historically in the term of money? No."
Cary is also the county historian in Fayette County.
According to 1850 and 1860 United States Federal Census, 15 slaves lived on the Overby property. An article on ABCNews' website stated slaves were commonly buried in pine boxes on plantation land, usually in graves that were not marked.
According to the Coweta County Planning Department, they are not familiar with any burial grounds on the property. Coweta County does not allow a grave to be disturbed. The department consults "Coweta County Georgia Cemeteries," published in 1986 by the Coweta County Genealogical Society.
For the property, the Coweta County Planning Department only has building permit documents that dates back to 1963.
"All I'm asking for is a second look here. I think we owe it to Cowetans living today and the future, the lessons that we can garner from that. Either if it's great lessons or sad lessons. We still need to capture them and learn from them," Christie said.
"I am a little shocked that this was a slam dunk rezoning on a historical property," Christie said, adding that he is "dismayed and disappointed, to tell the truth."
Christie, originally from Virginia as well, describes himself as a "history nut" and a "devoted gardener" who finds old bricks, nails and other old materials in his garden. His home borders the recently rezoned land.
Christie attended the county meeting when the land was approved to be rezoned. He said he would like for the land to be turned into an educational or historical center.
According to Coweta County Commissioner Rodney Brooks, since the land is private property, there is nothing that the county can do.
"I don't want to stop the progress or the developments," Christie said. "I would just like for someone to do their due diligence and send in some type of archaeological study and find out if there is a graveyard back there."