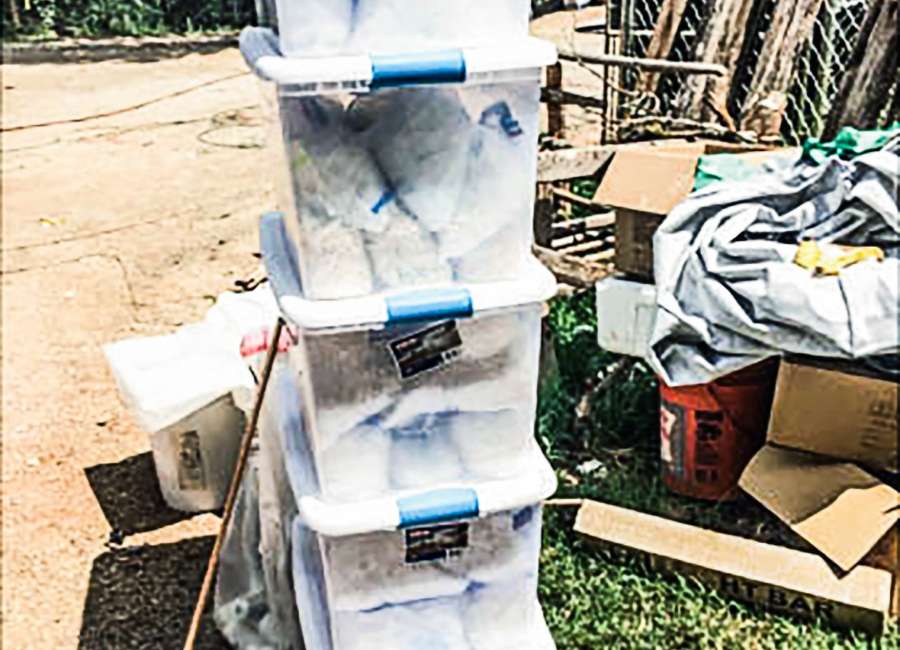 Ramiro Hermosillo-Salazar has been sentenced to 30 years in prison for violations of federal drug and firearm laws.

Law enforcement uncovered a methamphetamine "superlab" containing approximately 400 pounds of crystal and liquid methamphetamine at Hermosillo's residence in Palmetto. Several loaded firearms were also found.   
Following a multi-month DEA investigation, agents identified Hermosillo-Salazar as a likely member of a methamphetamine trafficking organization.  On June 15, 2017, DEA agents, aided by the Coweta County Sheriff's Office S.W.A.T. team, executed a federal search warrant at Hermosillo's residence in Palmetto.
Law enforcement encountered the defendant in the residence and arrested him.  They discovered that Hermosillo was also living at the residence with his three minor children, ages 5, 8 and 9.
During the search, agents discovered a methamphetamine "superlab" in a separate building several yards from the house.  The lab contained approximately 300 pounds of highly pure crystal methamphetamine, as well as several gallons of liquid methamphetamine.
The liquid, if converted to its crystal form, would have yielded an additional 100 pounds of the drug, according to  U.S. Attorney Byung J. Pak.
"Methamphetamine is the most trafficked illegal drug in Georgia, and it has devastated the lives of many of our fellow citizens," Pak said.  "Hermosillo produced hundreds of pounds of the drug in a 'superlab' in his home where his young children resided."

"The dangers this lab presented to those children that had to live in this and also to the surrounding community was without a doubt a senseless, selfish criminal act by someone who has no conscience for anyone and flaunts the law," Coweta Sheriff Mike Yeager said.
"I am proud of the officers, both local and federal, for the tremendous job they did getting this person and the poison he produced off the streets and out of our neighborhoods. Our job is to provide security and safety to our citizens and this was a job done well," the sheriff added.
Inside the residence, agents also found a second, smaller methamphetamine lab in a room next to the kitchen.  There they discovered several more kilograms of crystal methamphetamine and more than $12,000 in U.S. currency.
Hermosillo had placed three loaded rifles at points throughout the home, one of which was equipped with a high-capacity magazine, Pak said.
Other evidence of Hermosillo's drug trafficking included a bulletproof vest and a video surveillance system to monitor the property.  A search of the stored surveillance video revealed that Hermosillo had been operating the "superlab" for at least several months.
On Oct. 4, Hermosillo pleaded guilty to the following charges: Conspiracy to possess methamphetamine with intent to distribute; possession of methamphetamine with intent to distribute; possession of methamphetamine with intent to distribute on premises where minor children resided; and possession of firearms in furtherance of drug trafficking crimes.
U.S District Judge Timothy C. Batten Sr. sentenced Hermosillo-Salazar, 30, to 30 years in prison to be followed by five years of supervised release.  He also was ordered to pay restitution to the government for the cost of dismantling the superlab.
Following his term of imprisonment, Hermosillo, a citizen of Mexico, will be deported from the United States. Assistant U.S. Attorney Trevor C. Wilmot prosecuted the case.
"Thanks to the U.S. Drug Enforcement Administration and local law enforcement partners, this cache of drugs is off our streets," Pak said. "Our effort to aggressively confront the methamphetamine problem continues, and we will seek lengthy sentences for those who peddle this poison."
"The dangers associated with meth remain one of the most significant drug threats facing our community," said DEA Atlanta Field Division Special Agent in Charge Robert J. Murphy.  "In that regard, DEA Atlanta will continue to work with our law enforcement partners fighting drug trafficking organizations such as this to keep this poison off our streets."