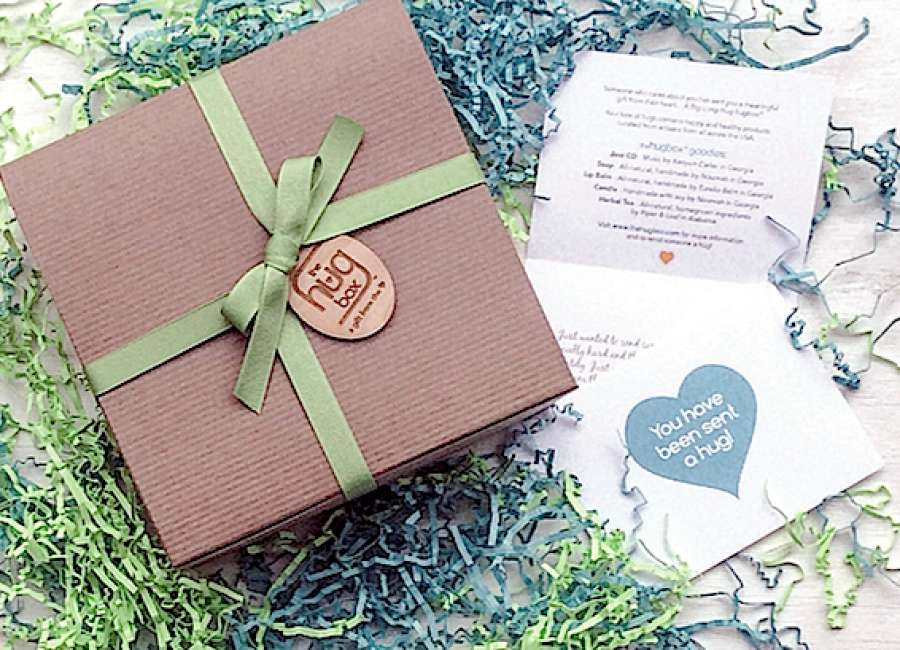 Hugs come in all shapes and sizes and can take on any form, but the best hugs come from the heart, according to Vicki Sanders.
She should know. Sanders is the "Chief Hug Officer," or CHO, for her company, The Hug Box.
The online business ships gift boxes to folks all across America, created and packaged from the comfort of Sanders' home in Newnan.
"It's about sending a hug when you can't be there in person," Sanders said. "My clientele are usually several states away from their loved ones. They want to send something that says, 'I'm here for you and I wish I could be with you.'"
Sanders, who is also a graphic designer, built her business after losing her job in 2014. She conducted research and cost analysis, found artisans and products, designed the company's website and created her sales and marketing strategy, among other things.
She officially launched her new venture online in 2015, right after she moved to Newnan with her husband. She said losing her job was actually a blessing in disguise, because it gave her a chance to flesh out an idea that had been germinating since 2004.
"I always loved giving gift baskets, finding things to put in it, designing it and wrapping it up," Sanders said. "When I lost my job, I started to reflect (on my career) …  I really wanted to have my own business and give back in some way. I looked back at my journals and it just all came together. It was eye-opening. The year 2014-2015 was so amazing for me."
Sanders said her goal was to create a product that supports the local community and is environmentally friendly.
The entire gift – from the box, ribbon and packing paper to the goodies nestled inside – are made from recycled products. Sanders said she looks for items that are handcrafted, organic, vegan, fair trade and / or cruelty-free.
The unique merchandise in Hug Boxes is mainly designed by artisans from Coweta County and the surrounding area, said Vicki.
"People get a taste of something they wouldn't normally find in another store," she stated. "I try to find some unique products, like a cocoa-scented candle and chocolate lip balm from Rinse Bath and Body. Or organic, roasted coffee from Savage Boys Coffee Roasters in Newnan."
Hug Boxes contain gifts for special occasions like birthdays and graduations or boxes created for anyone from new homeowners to pet lovers. They include items like candles, and bath and body care, jewelry, CDs, coffee and candies, all nestled in vibrant packaging.
Each Hug Box has a different theme such as "Hang In There Sweet-Tea," "For The Love Of Chocolate," "Beach Be With You" and "Chocolate and Wine, Life is Fine." Sanders also creates custom orders.
Inside each hug box is a personalized notecard with the names of the creators of that Hug Box's items.
"People can see what these artisans can do and put their passion into," Vicki added. "The boxes show them healthy alternatives and products and give back to the community."
In addition to supporting local artists, proceeds from some of the boxes help nonprofit organizations such as Best Friends Atlanta, a no-kill animal shelter. Ten percent of the proceeds from each gift box goes into a fund for the "Hug-A-Child" campaign, which Sanders said eventually will help children in need.
"I'm meeting such wonderful people in this community," she stated. "I love the small-town community. It's so peaceful and everyone works together as a team. There's so much kindness in everyone's heart and that goes along with what I want to do."
A brick-and-mortar store could be on the horizon, but for now, Sanders said her business is a work in progress.
"I learned a lot this last year about what people are liking and buying and what artisans are working well," Vicki stated. "I often change up the items inside the boxes because I get in new stuff. Once I find what people like, I usually buy in bulk."
But it is the reaction of Hug Box recipients that is most rewarding, according to Sanders.
"People can look down at their Hug Box and say, 'Someone is hugging me, supporting me and thinking of me," she said. "When people tell me what happened when they get their hug box, they're usually in tears and say, 'You brightened my day.' The fact that I helped someone make someone else smile is ultimately what I'm going for."
For more information, visit www.thehugbox.com .