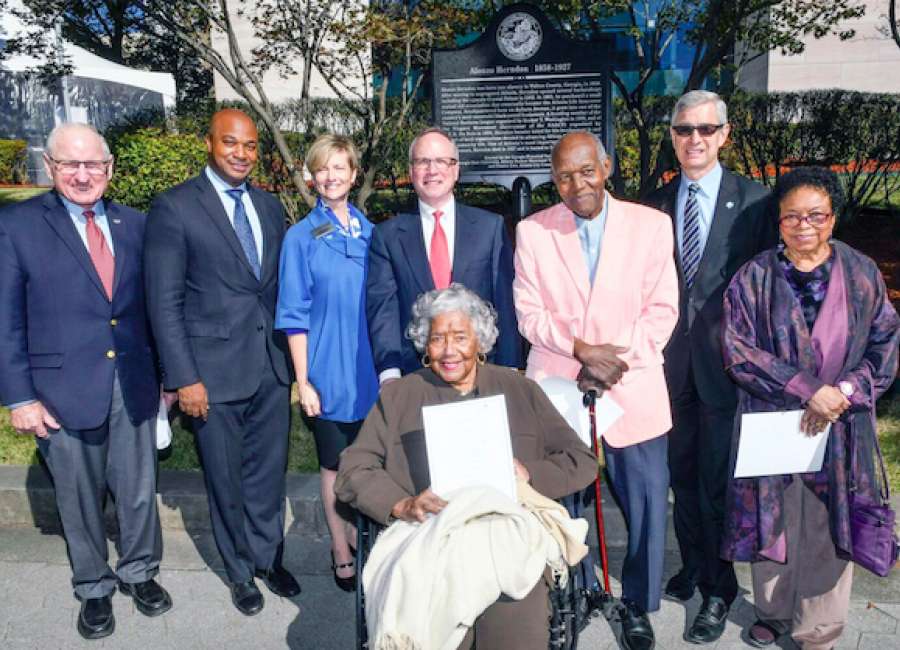 Alonzo Herndon, who got his start cutting hair in Senoia and became Atlanta's first black millionaire, has been honored with a historical marker.

The Georgia Historical Society unveiled a new historical marker as part of the Georgia Civil Rights Trail. A press release from the society described Herndon as a "barber, entrepreneur and founder of the Atlanta Life Insurance Company."
Speakers for the dedication included Vince Dooley, chairman of the Georgia Historical Society board of curators; Dr. Mark Becker, president, Georgia State University; Lonnie C. King, Jr., Atlanta Student Movement veteran; Kwanza Hall, Atlanta city councilman, District 2; Dr. Sarah Cook, Honors College, Georgia State University; and Dr. W. Todd Groce, president and CEO of the Georgia Historical Society.
"The epicenter of the civil rights movement was situated in Georgia," Groce said.
"So it's appropriate that the Georgia Historical society has created the Georgia Civil Rights Trail as a way to encourage the public to learn more about the vital role that our state and its people played in securing full citizenship for African Americans. It's a legacy we all share as Georgians," Groce said. "Anytime one group gains its civil liberties, we all are that much more free."
"The recognition of this great man is long overdue," said Lonnie King. "Alonzo Herndon succeeded against all odds and to see him honored by the Georgia Historical Society and the leadership of of Georgia State University is very fitting."
The Georgia Civil Rights Trail focuses broadly on the economic, social, political and cultural history of the Civil Rights Movement by guiding audiences to the sites where history happened, inviting them to stand on the ground where struggles and events took place, and providing a foundation upon which to build and cultivate a deeper understanding of the past and its relevance to the present.
The Alonzo Herndon historical marker is located in front of the Georgia State University Honors College at 100 Auburn Ave.
The historical marker reads:
"Alonzo Herndon
1858-1927
Alonzo Herndon was born into slavery in Walton County, Georgia, in 1858. After moving to segregated Atlanta, Herndon opened several barbershops including the upscale Crystal Palace in 1902. In 1905, he purchased a small mutual aid association that eventually became the Atlanta Life Insurance Company. 
Headquartered here on Auburn Avenue, it grew into one of the country's most successful black-owned businesses. A founding member of the National Business League organized by Booker T. Washington in 1900, and of the Niagara Movement (forerunner of the NAACP) organized by W. E. B. Du Bois in 1905, Herndon became noted for his involvement in and support of local organizations devoted to advancing African-American business and community life. One of Atlanta's most important twentieth-century entrepreneurs, Herndon died in 1927 and is buried in South-View Cemetery."
Herndon's residence is already a tourist destination and historic site in Atlanta. The Herndon Home, 587 University Place NW, is an ornate Beaux Arts house built in 1910. The house was built exclusively by African American craftsmen and largely designed by Herndon's first wife, Adrienne.
The house contains the original furnishings as well as those acquired later in the century by Alonzo's son, Norris. Norris Herndon, the second black graduate of the Harvard Business School, traveled extensively throughout Europe and Africa where he collected antiquities and decorative arts.
The Herndon Home was designated a National Historic Landmark in 2000.
Alonzo Herndon learned the barbering trade while living in Senoia in 1878. After leaving Senoia, he ran a barbershop in Jonesboro before moving to Atlanta in 1882.
Funding for the Alonzo Herndon marker, which was dedicated Oct. 27, came from the Georgia Historical Society, Georgia State University, Atlanta Student Movement Veterans of the 1960s and District 2, Atlanta City Council.