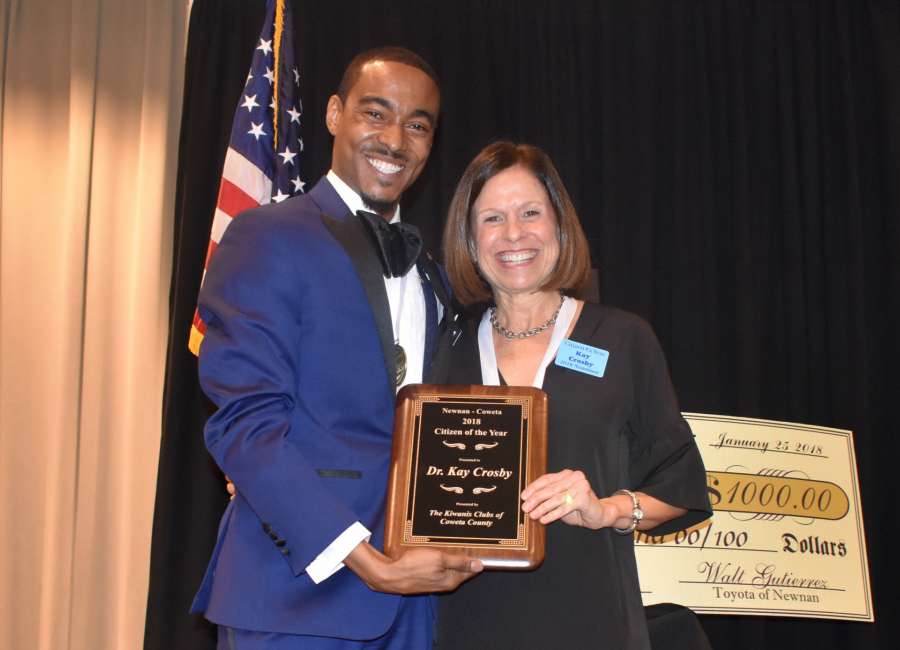 Dr. Kay Crosby, founder of the Coweta Samaritan Clinic, was named the 2018 Coweta Citizen of the Year at a gala banquet Thursday at the Newnan Centre.
The night saw record attendance with more than 300 members of local organizations, clubs, businesses and the community out to see who would be awarded one of Coweta County's highest honors.
The night was hosted by Coweta Kiwanis Club member Nancy Walden, who introduced the nominees. Certificates of appreciation were presented to each nominee by the 2017 Citizen of the Year, Pastor Tamarkus Cook.
"We have eight very deserving nominees tonight to honor, and it's because of them and the wonderful support in this community that we have such a wonderful crowd here tonight," Walden said.
Walden said the event hailed "renewing friendships and fellowship."
Crosby's Coweta Samaritan Clinic brings quality health care and support to the uninsured and medically underserved in Coweta. Crosby currently serves the clinic as a volunteer physician, medical director and chairman of the board. In addition to her work at the clinic, she currently has ancillary medical staff privileges at Piedmont Newnan Hospital.
A member of Newnan Presbyterian Church,  she has served as Sunday school teacher for adults and youth, stewardship chairman, elder and outreach chair. She has participated in 10 mission trips to Mexico, administering health care to the local communities.
Crosby also received a $1,000 donation for the Samaritan Clinic at the banquet.
"I'm so honored,"Crosby said. "What an amazing group of people here tonight. I just appreciate it so much. This is a celebration of the Coweta Samaritan Clinic, not Kay Crosby, and all of those who have contributed. All of those that dreamed it into existence."
Crosby said the clinic was comprised of volunteers and divinely placed employees. She thanked the medical community and community at large for its support for the clinic.
"I love how God uses ordinary people to carry out his purpose in this world, and I'm so glad He invited me to be able to serve through the Samaritan Clinic," Crosby said.
The doctor said she feels that she was preparing to begin the clinic all of her life. She said she has been blessed and had her eyes opened not just to those dealing with health issues, but poverty as well. She said she was so thankful and grateful the clinic exists now and there's a place for the uninsured to go for health care in Coweta.
"It never stops blowing my mind and breaking my heart," she said.
Crosby described the clinic in four words: Faith, hope, love and joy, which she said was inspired by Corinthians.
She invited everyone to visit the clinic.
"Amazing things happen there," she said.
The annual gala was hosted by the Newnan, Grantville, Coweta County and White Oak Golden K Kiwanis Clubs of Coweta County. Choosing from a number of nominations submitted by friends, family and fans, past Coweta County Citizens of the Year selected eight outstanding Cowetans as this year's finalists – Crosby, Ginger Queener, David Watts, Shelly Smith, Garnet Reynolds, Christi Estes, Angie Whitlock and Nelda Boren.
Newnan-Coweta Chamber of Commerce 2018 Board Chair Andy Miller commented that Coweta County is a great place to live. Miller said one thing that struck him was that the biographies of the nominees all mentioned the word "service."
"They're serving children, they're serving adults, animals, businesses," Miller said. "We all should be looking for opportunities to serve. It's the work they do that makes this such a great community to live in."
Bob Coggin, 2016 Citizen of the Year, said this year's event was by the far the best program. He also said "that without charity, you have nothing."
The Citizen of the Year recognition program dates to 1992. Previous Citizens of the Year are Bill Williams, Scott Wilson, Joe Crain Sr., Mike Barber, Lindsey Barron, Sally Bowen, Jim Hardin, Dennis McEntire, Don Phillips, Bill Loftin, Bernie Parks, Harold Barron, Gene Tyre, Bill Headley, Willie Boyd, Bobby Welch, Robin Tornow, Don Chapman, Annie Joe Berkowitz, Blake Bass, Steve Mader and Bette Hickman.
The three most recent Citizen of the Year winners are Pastor Tamarkus Cook (2017), Bob Coggin (2016) and Walt Gutierrez (2015).
A video highlighting past Citizens of the Year was also played during the event, including a  tribute to the late Scott Wilson, who was the 1993 Citizen of the Year. Wilson passed away in 2017.