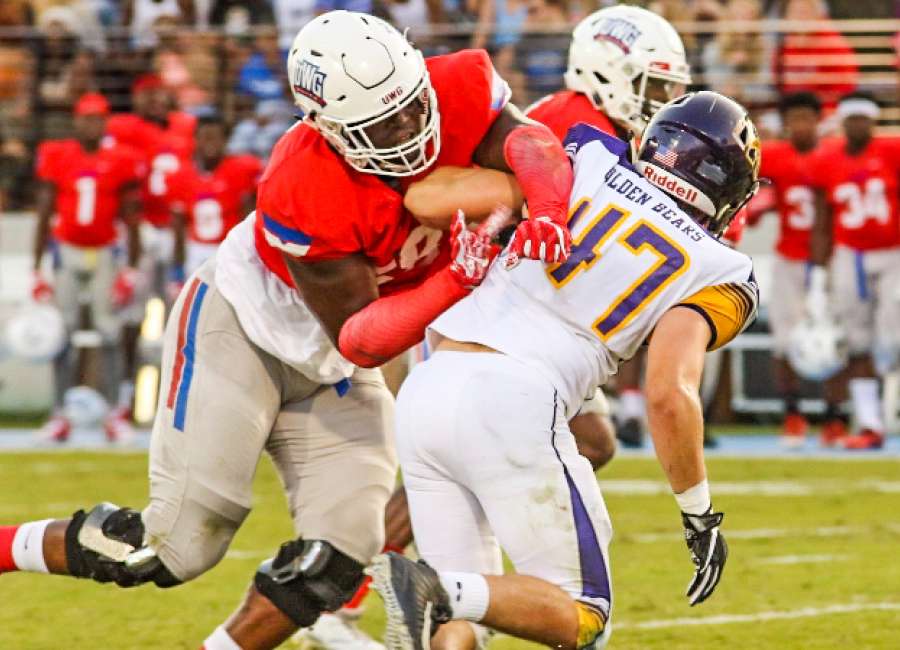 Courtesy of West Georgia

A UWG Wolves football standout will play in the nation's most prestigious postseason all-star game.
Desmond Harrison has accepted an invitation to play in the Jan. 27 Reese's Senior Bowl in Mobile, Ala.
Harrison, an offensive tackle from Houston, Texas, is the first ever UWG player invited to the annual showcase game.
Harrison was voted as a first team member of the 2017 All-Gulf South Conference Team last month. He was named a second team member of the D2CCA All-Super Region 2 Team, and is a strong candidate for additional postseason honors.
The Reece's Senior Bowl is unique among collegiate all-star games. The teams are comprised of the nation's best senior football players and National Football League Draft prospects. 
The teams represent the North and South and are coached by the full coaching staffs of NFL teams. Also, coaches and front office personnel from every NFL team closely observe the game and all practice during week leading up to the contest.
Harrison was also named Wednesday to first team member of the 2017 AFCA Division II Coaches' All-America Team.
Despite missing time with injury, Harrison was a dominating force at left tackle for UWG during the 2017 season.
He has drawn attention from a variety of scouts and front office personnel from throughout the National Football League. He helped lead the Wolves to a 9-4 record, and a trip to the second round of the NCAA Division II Playoffs.
The AFCA's Division II All-America Selection Committee is made up of three head coaches from each of the AFCA's seven districts, one of whom serves as a district chairman, along with another head coach who serves as the chairman of the selection committee. 
The coaches in each district are responsible for ranking the top players in their respective districts prior to a conference call between the district chairmen and the committee chairman on which the teams are chosen.