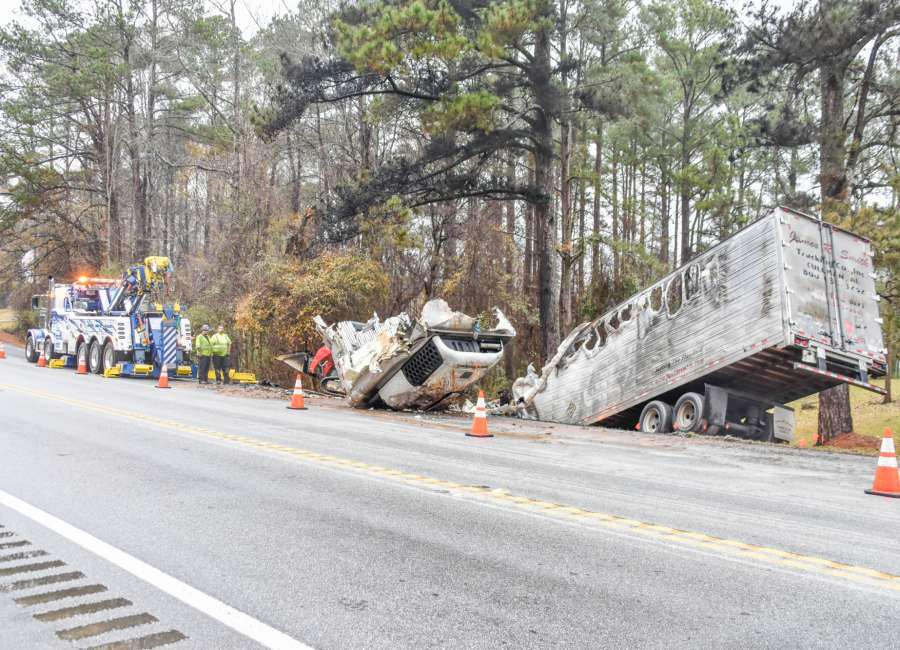 A Sharpsburg man remains in critical condition after a serious car crash closed West Highway 16 overnight.

Austin Lanford, 22, was transported to Atlanta Medical Center after the truck he was driving collided with a semi-truck near Ashley Woods Drive, according to Trooper Chris Davison with the Georgia State Patrol.
The accident occurred just before 1:30 a.m. Lanford was traveling eastbound on Hwy. 16 in a GMC Sierra when he crossed the center line and struck the semi-truck head on, Davison said.
Witnesses reported the collision caused an explosion and they saw the tractor trailer travel off the roadway and strike a telephone pole and a mailbox before it jackknifed – coming to rest with the cab of the truck on fire.
James Doggrell and Nyki Pastuszka arrived at the scene of the accident only minutes after the collision.
Doggerel said they heard someone calling out for help, but the roadway was too treacherous to walk through, so they circumvented the wreckage and went through the woods to get to the front of the semi-truck.
"We found the driver of the semi-truck sitting a few yards away from the burning cab," Doggrell recalled. "We were able to carry him another 20 yards away. He was terribly distraught, and kept repeating, 'Why did they go in front of me?'"
Pastuszka said she ran to the pickup truck to check Lanford's pulse.
"I could see he was breathing, but he was hunched over with the engine almost entirely in his lap," she recalled. "I stayed with him until another bystander with medical training came to assist."
Members from Coweta County Fire Rescue arrived and were able to remove Lanford from the interior of the truck within ten minutes, according to Commander Craig Sherrer.
The truck fire was extinguished in about 25 minutes but crews remained on scene to provide lighting and extinguishing hot spots for about two hours, Sherrer said.
Both Morse and the driver of the semi-truck sustained serious but non-life-threatening injuries and were transported to Atlanta Medical Center.
The passenger of the pickup truck, identified as Joshua Morse, told authorities they were returning from Carrollton and he had allowed Lanford to drive the truck, which belonged to him, according to Davison.
The area of the roadway was covered in diesel fuel and oil and required the closure of Hwy. 16 until 5 a.m., according to Davison.
An investigation is underway by the GSP Specialized Collision Reconstruction Team (SCRT).