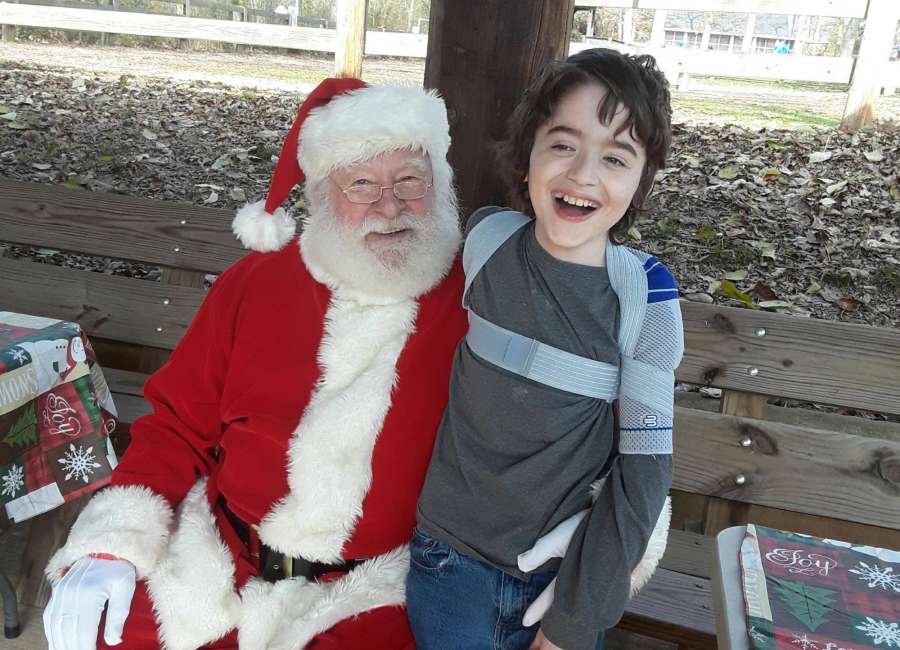 Early Sunday afternoon, the McKoy family of Coweta received some excellent news.

The oral chemotherapy treatment for 9-year-old Mattie McKoy, which had been denied by his insurance company, was now approved.
Mattie has neurofibromatosis, a genetic disease that causes fibrous tumors to grow in the body. In Mattie's case, those tumors grow on his spinal cord, inside the vertebrae. His most recent surgery in September resulted in a spinal cord injury that caused paralysis in his shoulder and weakness in an arm and leg – and most of the largest and most-aggressive tumor still in his body.
A story about the denial was published in Friday's Newnan Times-Herald.
Over the past several years, the McKoy family has explored many options for treating their youngest son. After the failure of the surgery in September, the family sought a second opinion from the University of Alabama in Birmingham and was going to travel out of state for another opinion.
However, Mattie's team of doctors were in agreement that Mekinist is his best option to stop the tumors from growing – and possibly shrink them.
Mekinist is an approved treatment for melanoma, and is used "off-label" for neurofibromatosis.
"This is the only medicine on the market that is available to him," said Mattie's mother, Katie.
Katie McKoy said that she was contacted Friday by someone with the appeals department of CVS Caremark, which handles pharmaceutical benefits for the family's insurer, United Healthcare.
"They said they had an initial appeal review that they denied because they did not see enough evidence," she said. The decision was made by a doctor who is not an oncologist and has no expertise in the field, McKoy continued. She was told the next step would be a "peer-to-peer" review, in which Mattie's doctors would speak with an oncologist with CVS.
"They were telling me we would hear back from them by the end of next week," she said.
Sunday morning, McKoy decided to search the internet to "look up every single executive for CVS Caremark leadership. I dug through SEC filings and court reports and anything I could find to find email addresses and I found them. I emailed them and I shared with them my son's story, and I made sure they understood just how crucial this was."
At 11:04 Sunday morning, she got a response – from a high-level executive with CVS Caremark. The official told her that the initial review suggested the evidence was insufficient, but that doctors had submitted supplementary information and an external review was underway. The executive told her there should be some information on Monday and that he was impressed by the information the doctors had submitted.
At 12:39, the executive emailed back to say the medication was approved.
"I screamed," McKoy said.
When she sent them, "I was thinking those emails were going into a black hole somewhere. I felt like it was the last-ditch effort to try to help my child because I felt powerless."
On Monday, Mattie's doctors were working on the final prescription, which will be filled by a specialty pharmacy.
"We should have it by the end of the week," McKoy said.
Mattie has an appointment with his oncologist next week, and after that appointment and meeting with his other doctors at Children's Healthcare of Atlanta, he'll start the medicine.
"The community support that we got throughout this difficult time was overwhelming," McKoy said Monday.  
"It also… it helps us to not give up on my kid, knowing that my kid had a community who cared. It helped us to keep going and pushing…
"So we're very, very thankful for that."
Novartis, the company that makes Mekinist, was also working to help Mattie get his medicine. The company has a patient assistant program that provides free medication to those who can't afford it, but isn't able to give free medication to patients covered by government insurance. 
Mattie has Medicaid, under the Katie Beckett Waiver program, as his secondary insurance. Novartis reached out to the McKoys.
"If we got a lot of denials, they were planning to start a clinical trial just for Mattie – they were calling it an individual clinical trial," his mother said.
Katie McKoy has a message for others who might be facing a similar situation: "Don't give up. Don't accept 'no' for an answer. Keep pushing, keep digging.
"Keep fighting for your loved ones. No matter how many doors slam in your face, just keep knocking."