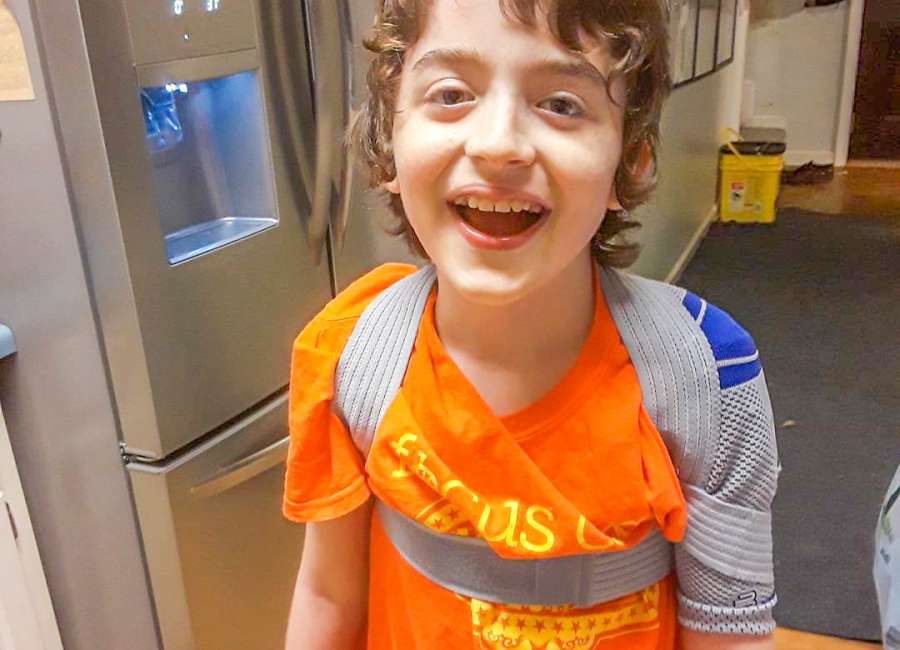 The surgery to remove 9-year-old Mattie McKoy's spinal cord tumors left him with paralysis in his shoulder and weakness in an arm and leg – and the tumors still in his body. A future surgery could be even more dangerous.
That's why McKoy's medical team wants to try to shrink his tumors with an oral chemotherapy medication, Mekinist.
But because Mekinist isn't specifically for Mattie's condition, neurofibromatosis type 1, (NF1) both of his insurance companies have denied coverage.
Mattie is covered by UnitedHealthcare through his father's employer and by Georgia Medicaid through the Katie Beckett Waiver program.
"This is the only medicine on the market that is available to him," said Mattie's mother, Katie McKoy. "If he had melanoma or skin cancer he would be totally covered for this."
McKoy said she has spoken to the drug's manufacturer, Novartis. Novartis has a patient assistance program for those without insurance. But because Mattie has insurance, he's not eligible, she said.
"We've been in touch with some of their corporate PR people and we're hoping that they will bend it," she said. "If feels like such a battle just to keep my kid walking."
Without the chemotherapy, the only other option is a surgery that could be life-threatening, according to McKoy.
After his last surgery in September, the family obtained multiple second opinions.
"Everybody agreed that (another) surgery is what they want to do as a last resort," she said.
Doctors – including the expert on NF at the University of Alabama at Birmingham – want to start Mattie on a low-level of Mekinist and then try to increase the dose and "see if we can keep the tumors from growing, and hopefully shrink them," McKoy said.
"If they would just stop growing, that would be totally fine."
Alabama Medicaid automatically covers Mekinist to treat NF, McKoy said.
It's possible after many months of denials and appeals, one of the insurance agencies might finally approve the medication, but that's time that Mattie doesn't have.
Neurofibromatosis is a genetic disorder that can sometimes lead to the growth of tumors in the brain, on cranial nerves or on the spinal cord.
In Mattie's case, he has plexiform tumors along the spinal cord. The tumors are inside his vertebra and press on the spinal cord.
Mattie's worst tumors were in the vertebrae in his neck and were severely compressing his spinal cord. Because of that, he had surgery in 2016.
The surgery went well.
"We thought everything was pretty OK, and we had at least a few more years," McKoy said. They hoped that the tumor would grow back slowly – or maybe even not grow at all.
Instead, within eight months the tumor was bigger than it had been before the surgery. It was compressing Mattie's spinal cord enough to impede his movement, his ability to breath, and his body's ability to regulate his heart rate and blood pressure.
So another surgery was scheduled.
The tumors are entwined with the nerves of the spinal cord, and during the surgery Mattie sustained a spinal cord injury. Further attempts to remove the tumor stopped, but doctors were able to repair most of the spinal cord injury.
Mattie now has paralysis in his shoulder and problems with his left arm, as well as effects on his left leg and his diaphragm.
Mattie's NF is complicated by his mitochondrial disease. It's a disorder of the mitochondria, the compartments in cells that create energy.
"Mito complicates everything," Katie McKoy said. "It is going to complicate how he tolerates chemo. It complicates his surgery, his recovery."
His recovery from the surgery was tough.
Mattie developed pneumonia in his right lung and had issues with his blood pressure and heart rate. After nearly a week in the intensive care unit, he spent 22 days doing inpatient rehabilitation. Now Mattie and his mother travel daily to Children's Healthcare of Atlanta for more rehab work.
"He is making great progress. He is working really hard," McKoy said. "He wants to get that side back. But they are telling us that it is going to be long term, as far as this weakness goes."
Once the third-grader is well enough to return to Thomas Crossroads Elementary School, he'll will need a wheelchair.
Some of the tumor was removed during the surgery, and the spinal cord isn't being compressed as much as it was.  But the tumor is still touching his spinal cord. And the tumor has a history of growing back, rapidly.
"If the chemotherapy can shrink his tumors, he'll be able to go to school, run, play and just be a normal kid," McKoy said.
But if the tumors grow, she said his doctors have said he will likely become a quadriplegic on a ventilator, needing life long care.
Mekinist isn't cheap – but it's cheaper than surgery and lifelong care.
Since Sept. 13, the family is looking at $1 million in medical bills, according to McKoy. Mekinist can range from $2,000 to $10,000 a month.
The McCoy's are pulling out all the stops to get Mattie's medication, including a petition drive at http://bit.ly/2Bzc6bk
"I'm hoping someone can approve it. Someone, anyone. Just please, help my kid," Katie McKoy said. "All I want for Christmas is for my kid to get his chemo."