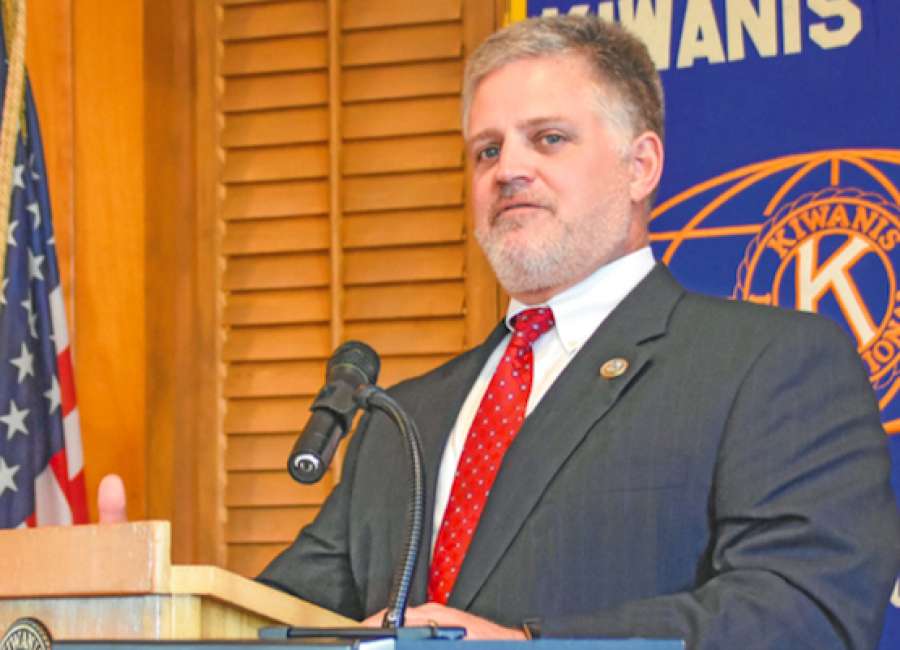 Drew Ferguson is finishing up his first year as a member of the U.S. House of Representatives and preparing for his second. 
Ferguson, of West Point, was elected in 2016 to succeed longtime Congressman Lynn Westmoreland, who decided not to seek reelection. 
Ferguson spoke to The Newnan Times-Herald about the recent tax overhaul and other issues in a short phone interview.
A major concern of local families is funding of the State Children's Health Insurance Program, also known as S-CHIP or simply CHIP, which funds state insurance programs including Georgia's Peachcare for Kids. 
Until last week, S-CHIP funding was set to run out at the end of the year. The temporary spending bill passed last week funds the program through March. 
"We're going to get that passed," Ferguson said of S-SCHIP funding. "I don't know of a Republican or a Democrat that does not understand the value of that and want to get it passed. I think there is a genuine commitment to make that happen. 
"I know it's an incredibly valuable program," he added. "We're going to fight to make sure that it gets funded."
While most states have enough state money to keep their insurance programs going when there is a temporary lapse in federal funding, "there are some states that are running out of money quicker than others," Ferguson said. 
S-CHIP funding comes up every year. 
"There is always this dire, gloom and doom story," Ferguson said, adding that it always gets funding. However, he said he'd like to see a more stable solution for S-CHIP funding. 
Ferguson spent most of the short interview discussing the recent tax overhaul package. He talked about why a Republican administration would propose a bill that adds to the deficit and the national debt. 
"I think it's really important to go straight at this particular issue," he said. "First of all, it provides real relief for middle class families." 
He said he heard from a single mom in West Point who told him the new tax plan would give her $4,000 more next year. 
"You're going to hear stories all across the nation and across the district," Ferguson said.
More importantly, it will change the way businesses operate, he said. In addition to lowering the corporate tax rate, there is a reform of the tax code. 
"That is something that is very different than what has been done in the past," Ferguson said.
It won't be a huge cash windfall for corporations, he said, but it allows corporations, small businesses, mom-and-pops and LLCs to make decisions on what is right for their businesses and employees, as opposed to making decisions based on tax liability. 
It will be a fundamental change in how business operates, Ferguson said. He said he thinks companies will bring back offshore investments to the United States. 
People who say that this is just a big cash windfall for businesses need to take some time and really dig down into the international provisions, he said.
Tax cuts for the middle class are important, Ferguson said. Just as important – or more important – are growing wages and a healthy economy. 
"We want people to have the opportunity to go for the careers and jobs they've really wanted," he said. 
Under the old tax code, "we wound up $20 trillion in debt," Ferguson said. "We have to do something to grow our economy so we can create additional tax revenue."
And the main driver of the expense side of the federal government is the non-discretionary spending, Ferguson said. Even doubling the corporate tax rate wouldn't cover that. 
"We've got to have a really honest conversation about those non-discretionary programs," Ferguson said. 
There's a need for reform of some of the programs that everybody qualifies for. It's not just welfare reform, Ferguson said, but even things such as the national flood insurance program. 
He said it's important to have an honest conversation that is truly bipartisan and truly engaged about what future generations can expect programs such as Social Security and Medicare to look like. 
But every time people raise the issue, Ferguson said, someone starts to say politicians want to cut Social Security and Medicare. 
"That is not the right conversation," he said. 
Ferguson's staff were asked if his constituents can expect a town-hall meeting next year. Ferguson didn't hold an in-person meeting in his first year. 
Staff members said that they haven't gotten that far along in planning for next year, but that any town hall events would be announced in the congressman's e-newsletter.