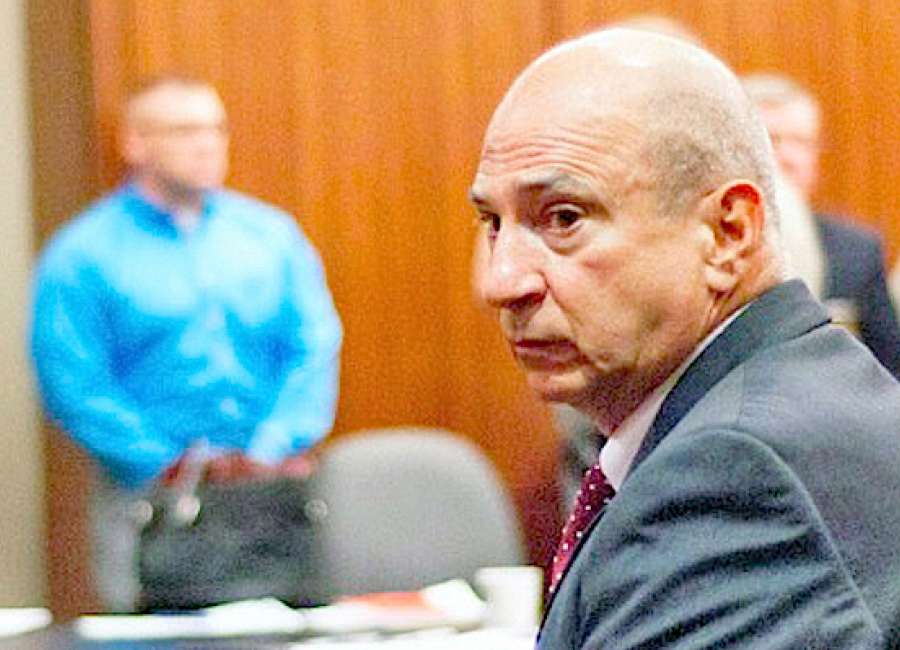 Pete Skandalakis has led the charge against some of the most heinous crimes committed in five counties. 

Skandalakis has been the district attorney for the Coweta Judicial Circuit for more than 25 years. The circuit encompasses Coweta, Meriwether, Heard, Carroll and Troup Counties. 
The DA has gone toe-to-toe with felons ranging from murderers to child molesters and has supervised more than 20 prosecutors as they prepared for cases and trials throughout the circuit.
He has also worked tirelessly with law enforcement agencies, plus numerous victim-witness programs and organizations to ensure their voices are heard in the courtroom and community. 
But on Jan. 4, after more than two decades in elected office, Skandalakis will trade one high-powered position for another as he becomes the executive director of the Prosecuting Attorneys Council, or PAC. 
"I've been involved with PAC for years. When the opportunity came up, I wanted a challenge that would give me a chance to interact with prosecutors across the state," he said. 
Skandalakis will work alongside six district attorneys and three solicitors general at PAC. His main goals will be to prepare and present a state budget to legislators, plus secure other funding for prosecutorial offices across Georgia. 
He will ensure proper training is in place for prosecutors, solicitors and law enforcement officers; as well as work with legislators and the governor on legislation that will impact Georgians and district attorney offices.  
The past
Those goals are the some of the same ideals Skandalakis fought for when he started as an assistant district attorney in the Coweta Judicial Circuit in 1984. 
 
After several promotions, Skandalakis was appointed as the interim district attorney for the Coweta Judicial Circuit by then-Georgia Gov. Zell Miller in the early 1990s. 
He decided to run for the office in 1992 in a contested election. He won and has been re-elected without opposition since then. 
 
"When I first ran, someone came up to me and said, 'No one will ever vote for someone with the last name Skandalakis.' I decided to prove them wrong," he said. "But I can't take credit. The success is due to the people I've surrounded myself with and I'm grateful for that." 
Since taking office, Skandalakis has been responsible for overseeing the prosecution of thousands of felony and misdemeanor cases. Some of those included cold cases, like the brutal murder of 8-year-old Amy Yates in Carrollton in April of 2004 and the mysterious disappearance of Fred Wilkerson in 1987 from LaGrange.
Wilkerson was eventually found deceased inside a well behind the Troup County home of a co-worker in 2003. 
The cases received national attention and Skandalakis was featured on three top-rated TV shows: "Dateline NBC," "48 Hours" and "A&E Cold Case Files."
Skandalakis is humble about his role in bringing these killers and others to justice. 
"We've been successful in major prosecutions. But I have to go back to the people who work for me. We have a staff who is maybe the best in state, if not the best in state … They're the ones who do all the work," he said. "I always look at the people who have come through my office as being a major achievement and the thing I'm most proud of. I've always been blessed, and I have a great staff. "  
The courtroom and beyond
However, Skandalakis' time in office has not been without its challenges.
The Coweta Judicial Circuit has one of the heaviest caseloads in the state. 
"The major challenge has always been resources," Skandalakis said. "We have a big circuit and a high caseload. I thought, 'Can I receive and keep sufficient resources to get the job done?' That was particularly hard when the recession hit. But we did it."
Skandalakis was instrumental in working with county commissioners throughout the Coweta Judicial Circuit and advocating for higher wages for his prosecutorial staff. 
He served as president of the District Attorney's Association of Georgia, served as chairman of the board of directors of the Georgia Prosecuting Attorneys' Council, was a member of the Prosecuting Attorneys' Council board of directors and served as chairman of Georgia's Basic Litigation Course for New Prosecutors. 
Skandalakis was a featured guest speaker at numerous conferences and training sessions across the country. 
His passion, dedication and hard work have not gone unnoticed. Skandalakis was presented with the Georgia District Attorney of Year Award in 2007. He was awarded the Outstanding Contribution Which Enhances the Profession by Deal during the 2015 Governor's Public Safety Awards. 
Skandalakis was also recognized by the Governor's Criminal Justice Coordinating Council with their Eagle Award for his exceptional contributions to victim services throughout Georgia.  
A commitment to the community
The district attorney's hard work and diligence wasn't limited to the courtroom. 
His work in the community may be one of the biggest legacies Skandalakis leaves behind. 
Skandalakis and his staff proudly showed their support for law enforcement agencies and victim's rights groups. The district attorney and his prosecutors were often seen at ceremonies and rallies within the community, such as observances honoring the victims of domestic violence. 
Skandalakis made sure his office gave back to the community as well. 
For the past two years, the district attorney, prosecutors and staff from all five counties in the Coweta Judicial Circuit participated in the Georgia Legal Food Frenzy. The group collected non-perishable food items and money for local food banks. In 2016, the court system accumulated the most pounds of food in the southwest region. 
Skandalakis and staff also partnered with community organizations during the "Backpacks 4 Kids" fundraiser. The group successfully collected and presented hundreds of school supplies and backpacks to children in need.  
"I love this job," Skandalakis said. "I love working with people, and I absolutely have the greatest admiration for law enforcement officers and public servants who dedicate lives to making the community better. I love their dedication and seeing people succeed."
The future
Skandalakis ensured cases and upcoming trials in the Coweta Judicial Court system will continue to move forward after he's gone. 
An interim district attorney will be appointed by Deal. That announcement had not been made as of Saturday. 
Skandalakis made recommendations on who his replacement should be, but would not comment openly about his choice. 
"I've spoken to the governor's people and made my feelings known," he stated. "I would prefer to keep those feelings private between myself and the governor's staff." 
A special election will be held in November 2018 for the district attorney position and again in 2020 to put the term back on schedule, Skandalakis explained. 
As Skandalakis reflected on his time in office, he admitted his promotion to PAC is bittersweet.
"I'm looking forward to this new job," he said. "But I know I'm going to miss the people in my office. Particularly, my Chief Assistant District Attorney Monique Kirby. We've been working together for 30 years. She's a successful prosecutor, talented lawyer and wonderful friend. She's been loyal to the office and loyal to me. It's hard to leave people like that." 
While Skandalakis and his family will maintain a home in Troup County, he said it will be difficult to leave behind his daily interactions with folks in the communities he served for more than 25 years. 
"I want to say thank you for believing in me and supporting the DA's office. Thank you all for the well wishes I've received … I've always had tremendous support from the defense bar, too. I've always appreciated their professionalism and courteous manner in which they've treated me," Skandalakis said.  
"When I moved to the circuit in 1984, I never could have imagined the path the good Lord had set out for me. But it's because of his belief that I've had has many successes as I've had," he continued. "I don't know what the future holds for me. I know I care deeply about the judicial circuit and will continue to do so from a state position. I think there is a possibility I will get involved again. I will not rule that out. The people of the Coweta Judicial Circuit have been good to me." 
Skandalakis' last day as district attorney will be Jan. 3.