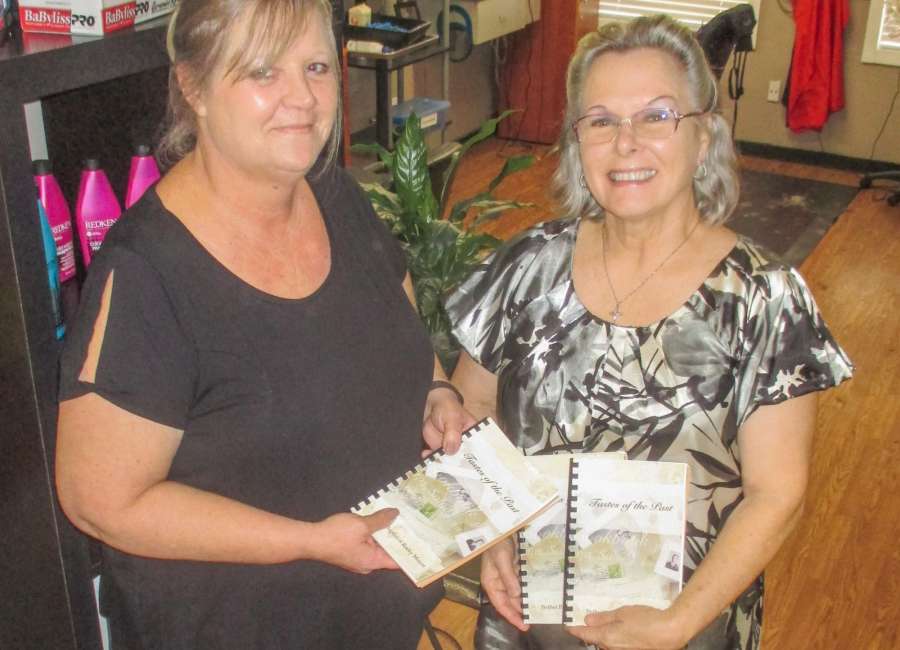 It was a busy Friday at Kandy's Kuts in Moreland.

Kandy Couch, the proprietor, was bustling – situating one customer under a dryer, getting a man into a chair for a quick haircut before her next coiffure appointment, answering the phone and writing appointments on a spiral-bound calendar.
Then everything came to a brief halt as Marie Burgess, a friend from church, stopped to pick up some cookbooks. It's getting close to Christmas time, and folks are wanting copies of "Tastes of the Past" to give to someone special.
Couch and Burgess are members at Bethel Baptist Church in the Rocky Mount community near Luthersville. The congregation was founded in 1829, and the current Victorian-style meetinghouse was built in 1902-1903.
Behind the church is a spring-fed baptismal pool. A note in the recipes relates that Annie Key was the first person baptized there. The pool is still used today.
A broad expanse of cemetery adjacent to the church has been visited by many a genealogist searching for their north Meriwether roots. Couch's great-great-grandparents, George W. and Nancy Hasty Whitten were buried there more than a century ago.
The "Tastes of the Past" cookbook includes a history of the church, the plan of salvation and where to look in the Bible for passages addressing certain topics.
The 80-plus pages of recipes include old and new recipes – with an abundance of recipes that go back several generations in one of Bethel's families. "Tastes of the Past" are $10 each.
Burgess, Couch, Robyn Heinzel, Cindy Rampley and Shirley Windom served on the cookbook committee. Copies of "Tastes of the Past" are available at the church, from church members and – in Coweta County – at Kandy's Kuts in Moreland.
Old Fashioned Teacakes
Annie Kee (1886-1982)
½ c. butter or shortening
¾ c. sugar
1 egg
½ tsp. vinegar
½ tsp. baking soda
2 ⅓  c. all-purpose flour
Cream butter and sugar thoroughly, add egg; beat well. Add baking soda dissolved in vinegar. Add flour gradually to make a stiff batter that will be rolled very thin. Add more flour if the batter is too thin to roll to cut out. Bake at 350 for 10-12 minutes.
Turnip Green Soup
Mary Burns
1 10 oz. frozen turnip greens
2 16 oz. northern beans
5 c. water
2 pkg. dry vegetable soup mix
1 lb. lite Polish sausage
Rinse and drain canned beans before adding to soup pot. Cut sausage into ¼-inch pieces. Combine items. Cook on medium heat for 25-30 minutes.
Chicken Casserole
Ethel Beamon
1927-2010
6 or 8 boneless chicken breasts
2 10 ½ oz. cans of cream of chicken soup
8 oz. sour cream
1 ½ stick margarine
1 pkg. Butter crackers, crushed
2 T. poppy seed
Boil and cook chicken until tender, cool. Shred meat into small pieces and place in 9x13 baking dish. Mix soup, sour cream; pour over chicken. Combine crackers, margarine; spread over top. Sprinkle poppy seed over topping. Bake at 350 for 30 minutes.
Lemon Pie
Kitty Smith
½ c. fresh lemon juice
1 sweetened condensed milk
3 egg yolks room temp
3 egg whites room temp
1 graham cracker crust
¼ tsp. cream of tartar
3 T. sugar
1 tsp. vanilla extract
On medium heat on stove, combine lemon juice, sweet milk and egg yolks until thickened. Pour into crust. Topping: add tartar to egg white, beat on high speed until thick and fluffy; add sugar and vanilla, and beat until firm. Spoon on top of filling. Bake at 400 for 5 minutes, until meringue is slightly brown.