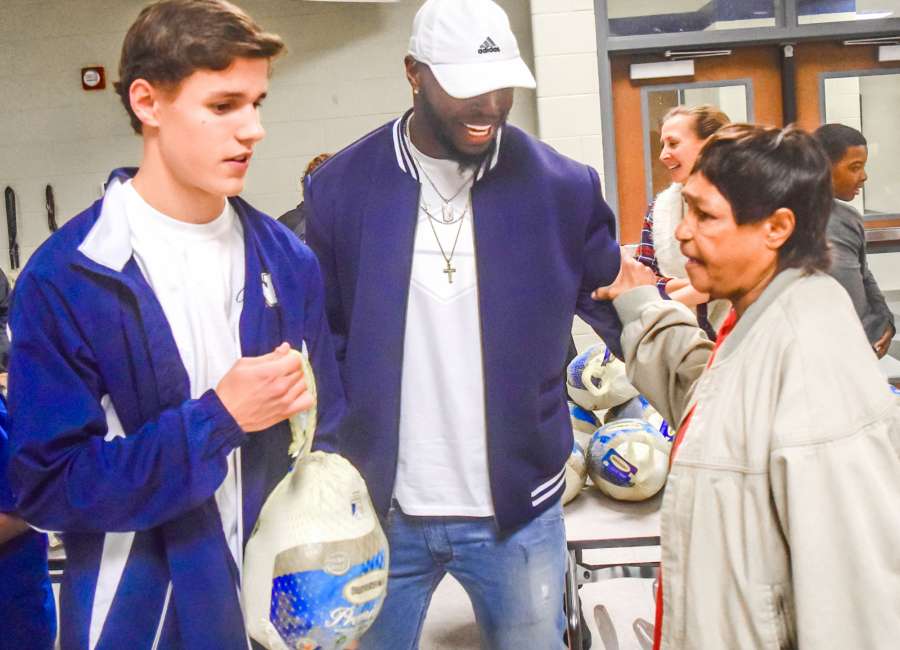 For the fourth straight year, former Newnan High football player Alec Ogletree has given back to the community he calls home.
Ogletree, the fifth-year linebacker of the NFL's Los Angeles Rams, flew home to Newnan Tuesday morning on his off day and by the evening, he held his fourth annual Alec Ogletree Turkey Drive at Newnan High.
Ogletree gave away 1,000 turkeys to community residents Tuesday, along with a wrapped package of Stove Top stuffing, canned corn and canned green beans. Ogletree stood at the end of the line, personally handing the turkeys to each and every person who came through the line. He was assisted by a local youth baseball team, and several Newnan High football players helped the elderly residents carry the turkeys to their cars.
"Doing this turkey drive means everything to me," Ogletree said. "I always told myself that when I got in position to make a difference in my community, I would. This is my home and I recognize several people who were there for me when I was younger."
Ogletree, whose twin brother Alexander is an assistant football and basketball coach at Newnan, said his family and close friends have helped him organize this event for four years. They first started the event by giving away 300 turkeys at Zion Hill Baptist Church and it grew so much that they started holding it at Newnan High. They gave away 500 turkeys the last two years and now they've reached 1,000 this year.
"I saw my older relatives do things in the community and this was something I had to do personally," Ogletree said. "I love to see the smiles on everyone's faces. It's been a dream come true for me and I hope I will inspire some kids to do the same thing when they're older."
Everyone was quick to praise Ogletree for his efforts to help the Newnan community.
"This is a great thing. It just shows Alec hasn't forgotten where he comes from and he has a big heart," said Ruby Mitchell Smith, one of the food recipients. "I'm sure this is one of many nice things he does for people. He doesn't mind helping everyone out."
"I really enjoyed this event. It's really good of Alec Ogletree to help out," said Newnan sophomore football player Zach Quick, who helped carry turkeys for the elderly. "As an NFL player, he doesn't have to be out here doing this. But he is a good guy for coming out and helping people."
After the line dwindled down, Ogletree signed NFL Play 60 posters featuring himself and several Rams players and watched a performance from The Diamonds, a youth step troup.
"This was an impressive event. It shows the kind of person Alec is and shows how much he loves this community to come out here in the middle of football season and do this," said Newnan High head football coach Chip Walker. "All of Newnan should be proud of him for doing this."
Alexander Ogletree said he's really proud to be a part of the annual turkey drive.
"This means a lot to us as a family; it's something you live for," Alexander said. "It's great to bless people with some food, and we love to help volunteer and organize everything. We want to push forward and keep doing this year after year."