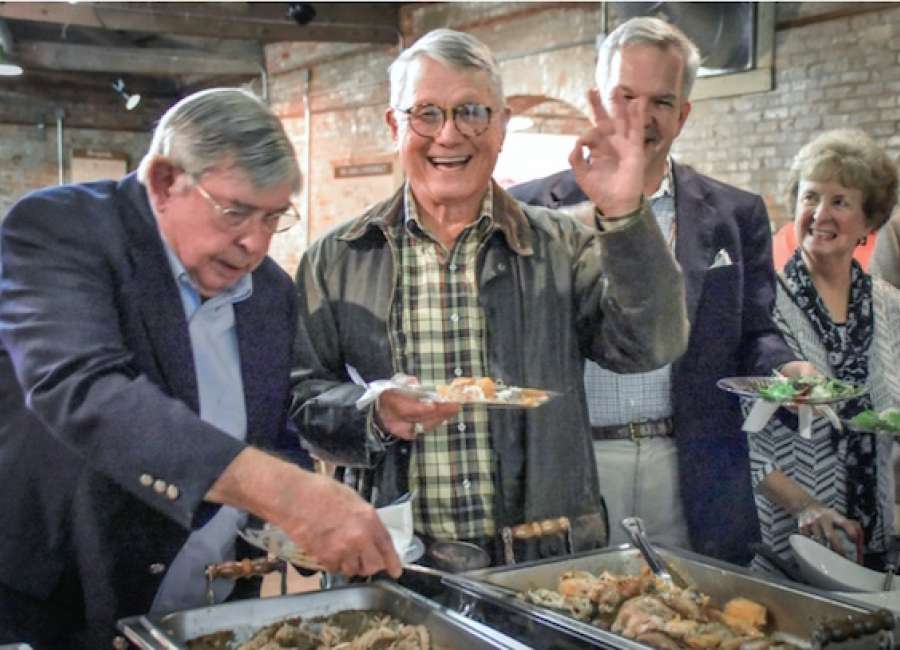 The possum – once the center of a political and social culinary tradition in Newnan – was at center stage again at the Newnan-Coweta Historical Society's train depot on Wednesday.

The society held a possum supper, recalling a tradition that began to give a local lawyer a leg up in his race for the governorship. A U.S. president also partook of the Coweta tradition in the early 1900s, though the dinner was transported to Atlanta for that event.
Wednesday night's dinner included stuffed possums as table decorations, a cake by Bonne Bedingfield that artfully and meticulously depicted one of the marsupials, and a dinner with possum and the trimmings. There also were stories about possums from decades past.
Youlanda Jenkins of Elegance Catering and Decorating prepared the food for the meal, including four possums. Most of the approximately 30 attendees tried some possum and several said it was quite tasty. Most of the succulent possum Jenkins prepared was gone when the dinner was over.
Retired teacher Bob McKoon shared tales of his experiences tending to possums being prepared for dinners when he was a boy. 
Jeff Bishop, Newnan-Coweta Historical Society director, dressed as William Yates Atkinson and acted the part. Coweta's possum dinner tradition began in 1890 when Atkinson, then a Newnan attorney, was planning to run for governor.
Yates was elected governor and served from 1894-1898. Not surprisingly, he was sometimes called "the Possum Governor."
When William Howard Taft was running for president, he sought to make the possum his trademark – following the trend of his predecessor, Theodore Roosevelt, who inspired the teddy bear.
Taft was feted with a possum supper in Atlanta, and the possum was from Coweta County. There was a brief "Billy Possum" marketing blitz with plush stuffed possums, as well as pins, postcards and other items.
Possum suppers had an element of tongue-in-cheek humor – serving a main dish seen as food for yokels by Yankees – but with elegance and style. The dinner became more famous during William Howard Taft's campaign for the United States presidency.
They continued in one form or another in Coweta County for decades. "A History of Coweta County, Georgia," published in 1988, mentions "the 34th annual Possum Eaters Convention … held at Bud Gay's Restaurant."
The revival of the possum supper is past – or at least playing dead – but there is still an exhibit about the Possum Eaters Convention at the McRitchie-Hollis Museum at 74 Jackson Street.