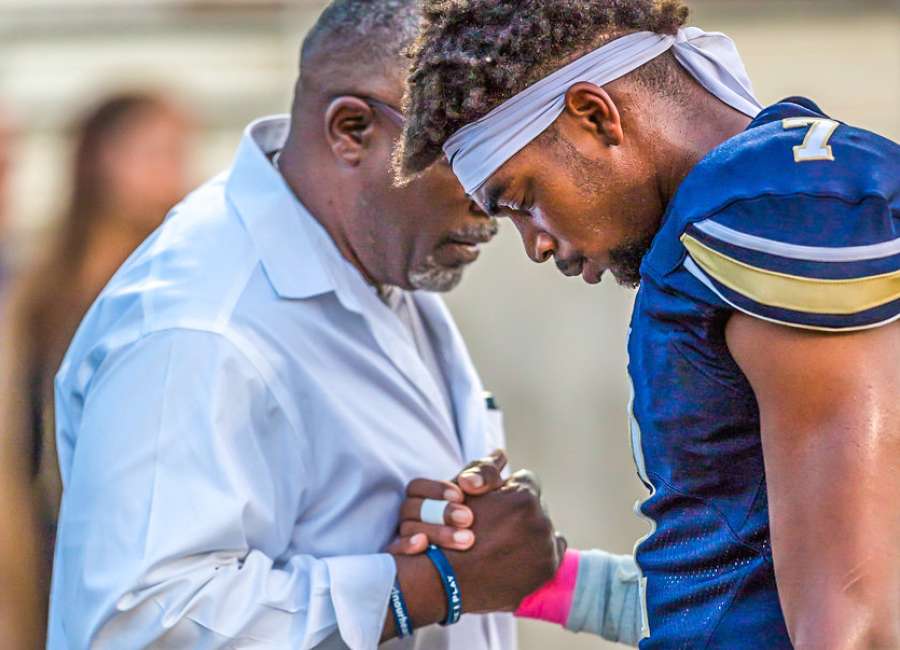 Friday night, members of the East Coweta High School football team exercised their right to pray before the ECHS-Newnan game at Drake Stadium.
Players lined up across the field and took a knee in prayer, to wild cheers from the bleachers. The players and cheerleaders later gathered in front of the visitor stands for another short prayer.
Newnan players also prayed publicly at the game.
Last week, national atheist organization the Freedom From Religion Foundation sent a letter to the Coweta County School System, alleging that ECHS Head Coach John Small had been leading his players in prayer, in violation of the U.S. Constitution. The organization said that a concerned community member had informed it of the issue, and referenced a video that showed Small and several other coaching staff praying with players at a recent game.
The letter called a coach leading the team in prayer a "serious and flagrant violation of the First Amendment" and asked the school system to begin an immediate investigation and to to take action to stop all school-sponsored prayer in school system athletic programs.
After receiving the letter, School Superintendent Steve Barker asked school board attorney Nathan Lee to put together a memo giving guidance on what is and isn't allowed, under the law, when it comes to school prayer.
The memo states that school employees and representatives can't lead prayer or even participate openly. Nor can they show approval – or disapproval – of student-led prayer, worship, or other religious activity.
Despite the allegations, Small, who is in his first year at EC, was not leading his players in prayer, according to school officials. Instead, a volunteer "community coach" was leading the prayer on the night in question.
Sometimes the community coach leads prayers, and sometimes players do. Neither Coach Small nor other employees have led the students in prayer, said Dean Jackson, public information officer for the school system.
While community coaches aren't technically school system employees, they are representatives of the school and shouldn't be leading prayers, either. "Community coaches would not be any different in my opinion," Barker said.
Though school employees weren't leading prayers, the video – which has since been removed from the local site where it was posted – shows ECHS football players kneeling with three adults, who appear to be members of the coaching staff, standing over them with bowed heads, their hands either on each other's shoulders or players' shoulders. One man – not Small – is then seen speaking.
That kind of overt participation in prayers, even if student-led, has been found unconstitutional in various court cases.
The issue of employee involvement in student prayer is the Establishment Clause of the U.S. Constitution, which forbids government establishment of religion.
There have been many social media comments in response to the issue that say no student was "forced" to participate and therefore there shouldn't a problem. But endorsement of religion doesn't have to rise to coercion to be unconstitutional. If a player who didn't want to pray felt like he was being excluded, or that he might not get put in the game as often if he didn't pray, that could be grounds for a lawsuit, based on information provided by attorney Hiram Sasser. Sasser is general counsel for First Liberty, a nonprofit law firm that works on religious freedom cases.
There has been an outpouring of support for the coach and team over the past week.
"I knew this was an amazing community here in Coweta County when I got here, but what's amazing is this situation has made this community even stronger and better," Small said in an email Friday.  "We have some amazing young people in our schools that desire to lead in many ways and through all of this we can already see the leadership of our students grow. The last time I checked, that is exactly what we all want is for the students to become better leaders for our future.
"We understand there are laws in place and we follow them to the best of our knowledge.  Are we perfect?  No, but no one is and we are always learning and trying to be better each day.
"Our county and the leadership from our Superintendent Dr. Barker is second to none here in this county.  We appreciate the support and guidance from our Superintendent on a daily basis," Small said.
When it comes to prayer, "our job is to support our players and if they choose to have a prayer then we are there to support them," he said. "No one is forced to do anything if they choose not to. They each get to make a choice on their own."
At the end of Friday night's game, ECHS players, coaches and others gathered on the field for an after-game talk, and a short prayer. As players knelt and prayed, Small stood near them with his head bowed.
The letter that the Freedom From Religion Foundation sent to the Coweta County School System can be viewed at https://ffrf.org/images/1Cowet...