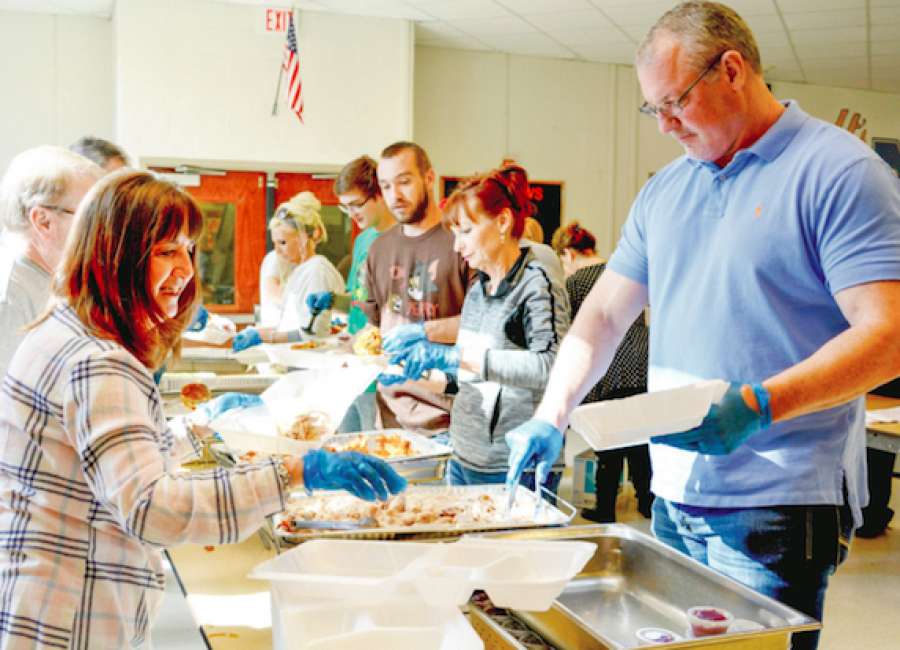 Thousands of Cowetans enjoyed turkey with all the trimmings from one of two community Thanksgiving meals held Thursday.

At Newnan High School, volunteers from Community Christian Church served more than 2,000 meals. Nearby at Mt. Sinai Baptist Church, The Willie Pritchett Foundation, together with the church and AMVETS Post 142, had meals for 200.
It was the first year for the Pritchett Foundation's dinner, with hopes of making it an annual event. The dinner ended early, as all the meals had been picked up or delivered, according to Robert Wood for the Willie Pritchett Foundation.
Wood estimated 75 to 80 percent of the meals were for delivery or takeout. The meal was very successful, Wood said. It's a great thing "when you can sit and look at your dream happening," he said.
Community Christian has been hosting the massive community meal for many years. For the past several years, the meal has been served at two locations – Newnan High and Arnco-Sargent Elementary School. This year it was decided to concentrate all the effort on one location, according to John Martin with Community Christian.
Between 60 and 70 percent of all the meals are take out or delivery – there were 1,450 deliveries this year, Martin said. At Arnco-Sargent, approximately 90 percent of people were getting meals to go, and most people who arrived at the school arrived in vehicles, not on foot.
So it made sense to concentrate efforts on one location, Martin said. All the food is cooked at Newnan High, and cooked food was then taken to Arnco-Sargent.
It takes some 350 volunteers to pull off the massive meal. And work starts on Tuesday, though the actual cooking doesn't start until Wednesday night.
"We've got it down to a science – it only takes five or six hours," Martin said. The school is very supportive in allowing use of the kitchen.
Dina Duckwall was busy coordinating the deliveries on Thursday. Duckwall said she never felt like she was particularly gifted for service, but, "I do have the gift of organization – I coordinate deliveries and get them going in the right direction."
There was also a clothing giveaway for anyone who needed it. By 1 p.m., nearly all of the clothing was gone.
In addition to the volunteers, plenty of other church members came to partake in food and fellowship.
"This is their Thanksgiving meal," Martin said. The meal isn't just for those in need – it's for everyone.
"I really appreciate that they do this each year," said Derrell Marchman, who was enjoying lunch. "Most people don't even care, but they do."