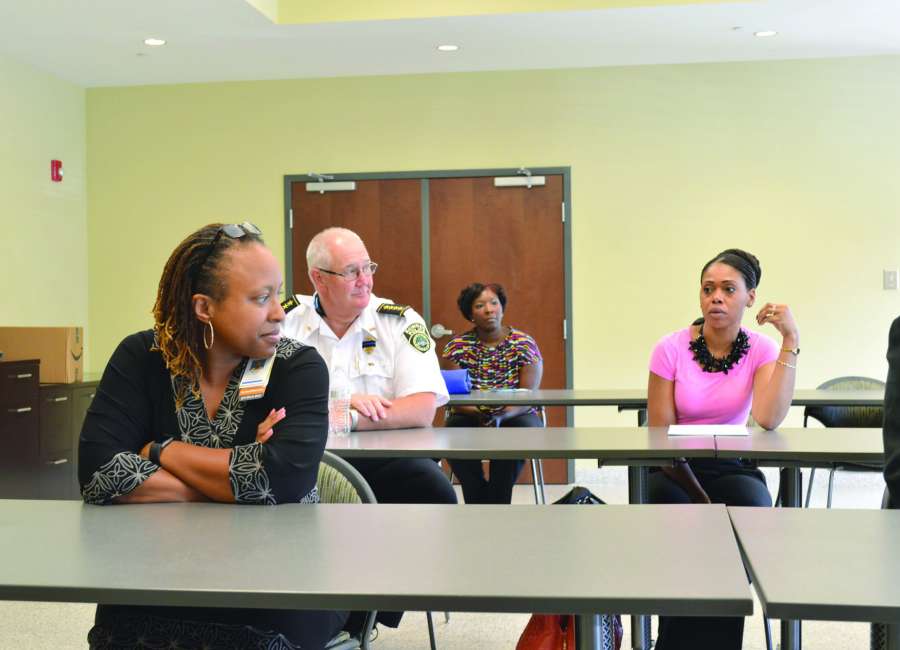 (Part one of a story looking at issues with responding to behavioral health emergencies that the newly formed Coweta Behavioral Task Force hopes to address. This story looks at how the initial response to a crisis is handled. In the next story, we will look at where patients end up.)
Nobody is happy with the way that behavioral health emergencies are handled in Coweta. 
In an effort to improve response and outcomes for patients and first responders, a group of representatives from multiple agencies have come together to form Coweta's behavioral health task force. 
The task force includes representatives from Coweta Fire Rescue, the Newnan Fire Department, the Coweta County Sheriff's Office, the Newnan Police Department, Piedmont Newnan Hospital, Pathways Community Service Board, Coweta 911 and Riverwoods Behavioral Health System. 
The group had its first meeting on Sept. 14. 
Assistant Chief Jeff Denney, who oversees medical services for Coweta Rescue, said he would hear from law enforcement officers with concerns about how medics were handling behavioral health emergencies, and would hear complaints from medics about how law enforcement would handle them. Many of the complaints seemed legitimate, Denney said. 
Denney said there have been multiple conversations between Coweta Fire Rescue and local law enforcement about the need to do things differently. In particular, Firefighter/Medic Eric Fusan and Newnan Police Chief Douglas "Buster" Meadows contacted Denney with concerns. And the task force was born. 
Law enforcement gets bombarded with behavioral health calls, Meadows said. There are issues with deciding which agency will transport patients. And regardless of who was involved, behavioral health calls tie up a lot of public safety resources.
Having a mental health emergency is not a crime, said Major Mark Fenninger of the Coweta County Sheriff's Office. "A lot of times we question our involvement in it," he said of responding to calls.
Their goal is to make sure people get the right help. But unless a patient is threatening somebody or has a gun, "a lot of time law enforcement doesn't need to be involved," Fenninger said. 
People involved in a behavioral health crisis often look at firefighters and paramedics as the heroes. But things change when law enforcement shows up. 
Patients can get aggravated. 
"We've got a cage in our car and they don't want to go to jail," Fenninger said. The arrival of law enforcement can often escalate a situation by introducing a gun where there might not have been a gun. 
Officers are trained to try to talk to and negotiate with a patient. But if the patient has a gun, "We don't negotiate that," Fenninger said.
He'd like to avoid that escalation. Law enforcement can stay in the background – maybe down the block – in case they are needed to protect first responders or friends or family members of the patient, Fenninger said. 
"If we're not going to put them in jail for being mentally ill, we should be a last resort, period," Fenninger said. 
"Everybody is going to blame law enforcement when someone dies. It's not going to be the paramedic. It's not going to be Piedmont," he said. "We're begging for help. We don't have the answer." 
However, medics are trained to call law enforcement if anything is unsafe. 
"It's a double-edged sword," said Denney. 
Firefighter/medic Fusan wants to see Coweta implement a system similar to Grady Memorial Hospital's "7170 van." 
The 7170 van is used to respond to behavioral health crisis. It's a fairly nondescript van, staffed by medics. It responds to patients having suicidal ideation or behavioral problems. 
Instead of fire trucks, ambulances and patrol cars showing up at someone's house with lights and sirens and drawing the attention of neighbors and everyone else, the 7170 van arrives quietly.
Denney and a few members of the task force hope to visit Grady in the next few weeks to see the van and learn about the program. 
Getting a similar van in Coweta is a big goal. 
"We think that this is a better answer. We're not reinventing the wheel," Denney said. There are some public safety agencies on the west coast that have done similar things. 
"It is definitely doable," he said. 
Loved ones of those having a behavioral health crisis often call 911, but there are other options. If the crisis is not urgent, a call to the Georgia Crisis and Access Line can help a patient get connected with resources. Callers can also talk to someone on the phone about their issues, similar to a suicide hotline. 
The number is 1-800-715-4225. 
There is also the Pathways Mobile Crisis Team, a short-term crisis intervention service for adults, children and teens in acute crisis with the risk of imminent harm to self or others. 
The team operates 24 hours a day, 7 days a week, and is an alternative to law enforcement involvement or the emergency room. Though the crisis team is always on call, arrival can take significantly longer than the arrival of police or EMS when calling 911. 
For Mobile Crisis Team services, call 877-566-5470.