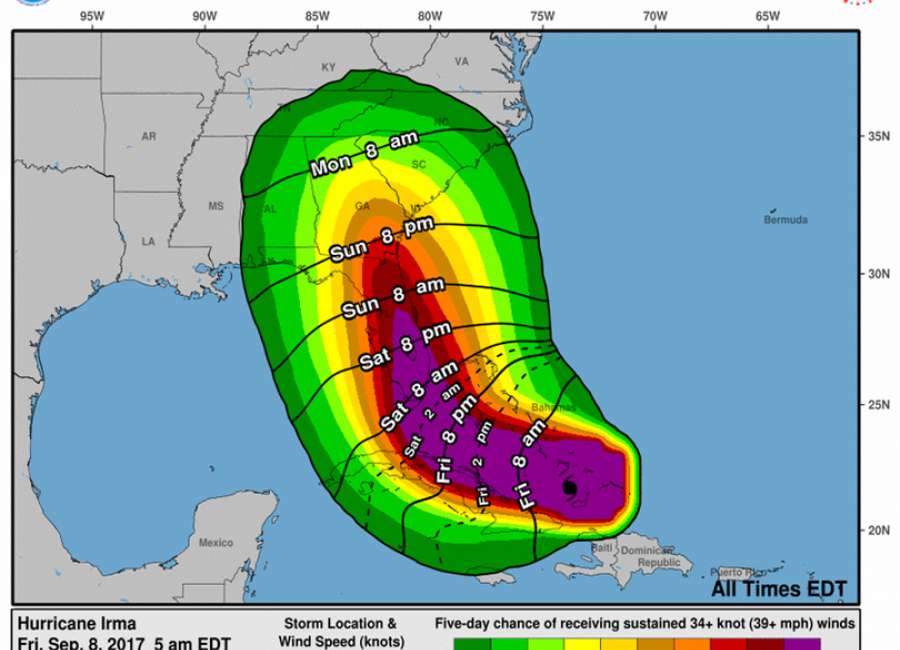 There's no need to panic – in Coweta, that is.
While Hurricane Irma is shaping up to be potentially devastating to coastal areas – wherever it decides to make landfall – the effect the storm will have on Coweta shouldn't be severe.
"It's way too far out to really pin down the impacts that it is going to have for this region," said Kyle Thiem, meteorologist for the National Weather Service in Peachtree City. "In general terms, we're probably going to have some pretty gusty winds going into Monday and Tuesday, and we're probably going to experience a good amount of rain."
As of Wednesday afternoon, the storm was tracking toward the east, putting Coweta on the western side of it. And the western side of a hurricane is the best side to be on.
"Being on the eastern track is a lot worse when it comes to both tornadoes and heavier rainfall potential," Thiem said.
Gulf Coast hurricanes have a higher potential for severe weather impacts on Georgia – such as the tornado outbreak that accompanied Hurricane Katrina in 2005.
The storm should reach Coweta late Monday and into Tuesday. "All we can do right now is kind of generalize," Thiem said.
The current forecast calls for an inch and a half of rain over a few days, and wind gusts of 20 to 25 mph, he said.
The National Weather Service held an online briefing for Georgia's emergency management directors Wednesday.  
Coweta Emergency Management Director Jay Jones said several groups came to attend the briefing in his office, including representatives from Coweta-Fayette EMC, Newnan Public Works, and amateur radio operators.
There will be more briefings as the storm approaches. "They do a really good job of that any time we have a storm," Jones said of the weather service's Peachtree City office, which covers 96 counties in Georgia.
Though nothing major is expected from Irma in Coweta, it's always a good idea to be prepared for emergencies and weather events.
"Everybody should prepare, whether it be a tornadic pattern or this hurricane," Jones said. He recommends Cowetans visit ready.ga.gov for information about making a preparedness plan and putting together a kit. Items that should always be kept on hand include water and ready-to-eat foods.
Coweta and the city of Newnan are well-supplied with extra fuel, Jones said, and public-safety agencies are always ready to respond.
"Everybody is ready. We just had a meeting today to coordinate that," Jones said. He'll be monitoring the storm and keeping in contact with local agencies throughout the weekend.