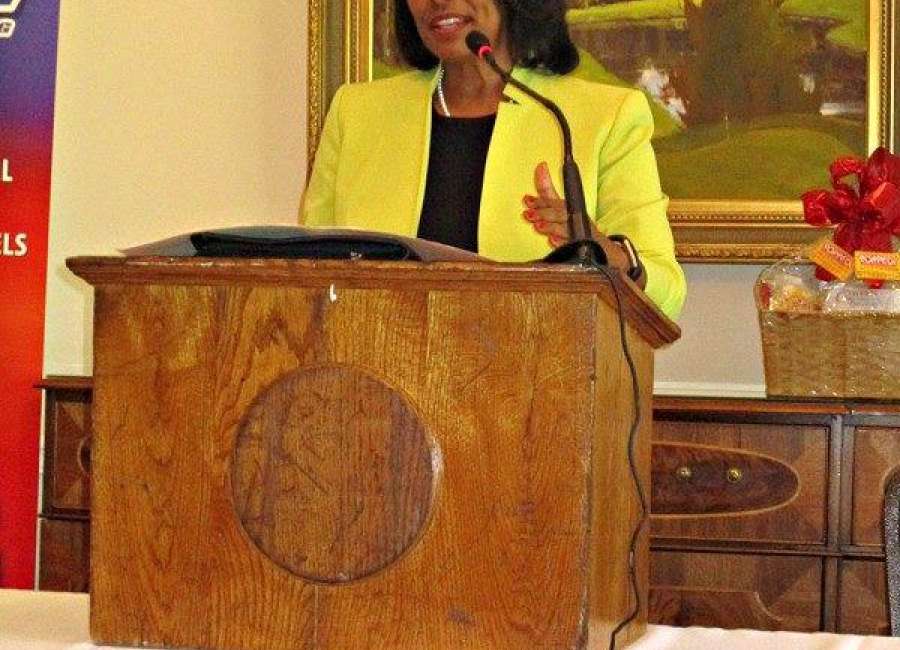 Although more women own businesses and try to master to work/life balance than ever, women still do not hold as many executive or senior level positions compared to men.

Women make up 44 percent of the overall S&P 500 labor force, but only 25 percent of those women hold executive and senior-level officer or management positions and only six percent of those position are CEOs, according to data from the The Center for American Progress-The Women's Leadership Gap.
The Center for American Progress is an independent, nonpartisan policy institute that is dedicated to improving the lives of all Americans, through bold, progressive ideas, as well as strong leadership and concerted action, according to its website.
Citizens Trust Bank President and CEO Cynthia N. Day spoke of her personal journey to leadership and the lack of women in leadership positions at the local Women of Prosperity Luncheon, hosted by the Newnan-Coweta Chamber of Commerce.
The luncheon, a networking event for women in Coweta, was held at the Newnan Country Club on Wednesday.
Named to Georgia Trend Magazine's 100 Most Influential Georgians of 2017,  Day joined Citizens Trust Bank, the largest African-American owned bank in Georgia, in 2003 as executive vice president of management services. Nine years later she assumed the position of president and CEO. During her tenure, the bank has achieved record earnings levels and has grown through acquisitions to an asset level of approximately $400 million. Day is the first woman to hold this position in the bank's history.
Citizens Trust Bank has locations throughout Georgia and Alabama.
Day said her journey began about 30 years ago working an entry-level position at an accounting firm, dominated by conservative black and gray suits. She said paid her dues by working long hours and living out of a suitcase.
"There were very few female managers in the firm and zero female partners in the office, so there was no visible inspiration for progress in my surroundings," she said.
After her tenure at the accounting firm, Day was hired as an audit manager and when brought to a meeting introduce herself in her new position, many thought she was just a secretary.
"I could have taken it personally or I could ignore and chalk it up to their lack of exposure to women in management positions," Day said. "I had a meeting to run and had one opportunity to show them why having me as a woman and their new audit manager was impactful and meaningful. This was one of the best things that happened to my career from many perspectives. I  learned how to navigate and operate in a male-dominant and fast-paced environment."
Day said in order to be successful and to climb the corporate ladder, she had to have a strong work ethic and decided to just be herself, set boundaries and stick to them.
"Be authentic and true to who you are," Day said. "You don't have to clone yourself as men. Don't be afraid to take your seat and lead."
The bank president also started the New Generation Advisory Board to help foster young women for senior level and executive positions.
"We have lots of work to do," she said. "Women lag behind men with leadership positions. It is important to share, inspire and encourage each other and our daughters to keep reaching for the limits, and it's important we keep supporting each other."
Box
Women in the Workforce:
In the legal field, women are 45 percent of the associates, but only 22 percent of partners and 18 percent of equity partners.

In medicine, women comprise 37 percent of all physicians and surgeons, but only 16 percent of permanent medical school deans.

Women earn almost 60 percent of undergraduate degrees and 60 percent of all master's degrees.

About 47 percent of U.S. workers are women.

Women own close to 10 million businesses, representing $1.4 trillion in receipts.

Women account for 49 percent of the college-educated workforce.
Data from the The Center for American Progress-The Women's Leadership Gap.