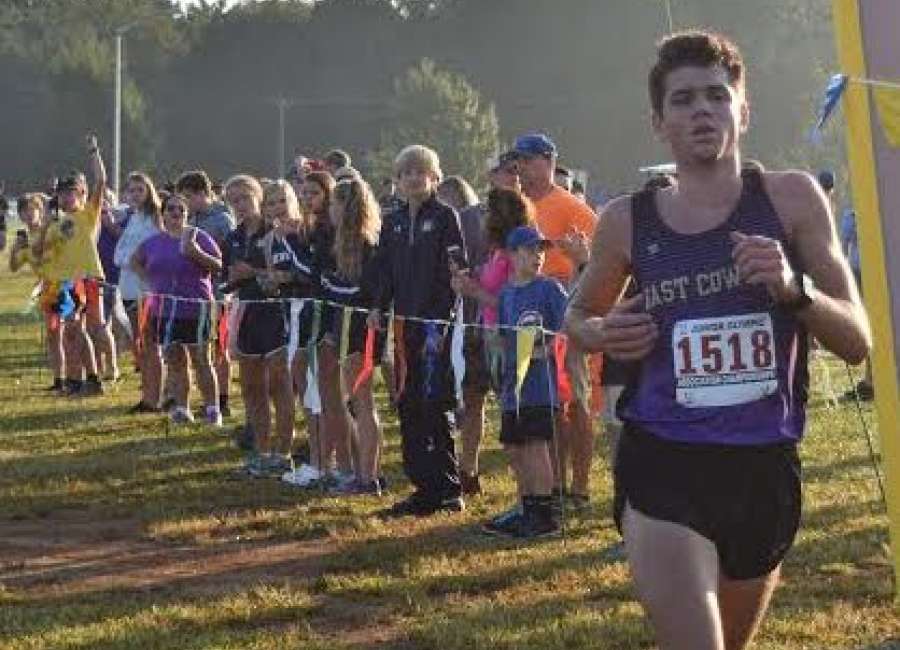 By the time East Coweta sophomore cross country runner Kyle Harkabus crossed the finish line at this year's Coweta Cup, it looked like he was simply out for a Saturday morning jog through the course that wrapped its way around the campus at Northgate High School.
Harkabus (16:27) ran out front almost the entire way, winning the event almost a minute ahead of teammate and second place finisher Branden Ray (17:22).
Ray's kick at the end of the race helped him edge Michael Nelson, who finished third.
Harkabus is confident his best meets are still in front of him as he gears up for state.
"I don't really feel like I had an opportunity to turn in a personal best yet," Harkabus said. "I just have to wait for the right opportunity and the right course."
The Individual girls title was much closer as East Coweta freshman Shannon Perry (21:42) edged teammate Miya Dean (21:43) with a sprint to the finish. The Lady Indians Holly Hind (21:49) was third.
"It's pretty exciting to win this as a freshman," Perry said. "I have never beat Miya, so this was a big race for me."
In the end, however, Harkabus' and Ray's one-two finish had little to do with ultimate outcome of boys team title, with Newnan scoring 39 points and beating Northgate by one point. East Coweta finished third.
The Cougars earned the team title after its first five runners finished in the top 10.
Newnan's Bo Palmer (17:45) was fifth, Bryson Houston (17:47) was seventh, Joshua DePeaza (17:52) was eighth, James Beck was (17:57) was ninth and Frederick Gray (18:09) was 10th.
Will Thomas (18:26) was 12th and Carden Greer (18:42) was 16th for Newnan.
Northgate placed three runners in the top five to earn its second place finish in the team competition.
The Vikings' Michael Nelson (17:22.33) was third, Matthew Hill (17:32) was fourth and Davis McIntyre (17:46) was sixth.
The final four runners for Northgate all finished in the top 20 with Chase Mathwig (18:29) finishing 13th, William Stephens (18:32) 14th, Sam Wessells (18:32) 15th and Russell Smith (19:03) was 19th.
For East Coweta, Konner Johnson (18:18) was 11th, Logan Ray (18:44) was 17th, Jack Cliett (18:45) was 18th, Jacob Smith (19:16) was 20th, and Alex Taylor (19:17) was 21st.
With the top three runners packing together in the girls competition, East Coweta easily dominated the team title scoring 22 points and beating Northgate and Newnan, who finished with 51 points each.
Also helping East Coweta girls to the team title were Eliza Kune (22:31), who was sixth, Riley Walsh (23:25) was 10th, Jasmine Park (25:00) was 14th and Caitlyn Moore (25:44) was 16th.
Northgate was awarded second in the team competition after a tiebreaker was used, reverting back to both the Lady Vikings' and Lady Cougars' sixth place runner.
The Lady Vikings' Meagan Ryan (25:48) helped break the tie after finishing 17th overall, while Newnan's Grace Shay (27:24) was 19th.
Northgate was led by Sydney Tuttle (22:02) who was fifth overall. Hannah Skiotis (22:31) was seventh, Claire Wathen (24:21) was 11th, Delaney Shaw (24:45) was 13th and Dalia Gibson (24:36) 15th.
Rachel Woods (21:55) had the best finish for Newnan finishing fourth. Alyssa Brauchler (23:20) was eighth, Sydney Hall (23:25) was ninth, Grace Smith (24:31) was 12th, Hannah Marriaga (27:03) was 18th, Grace Shay (27:24) was 19th and Megan Jackson (27:32) was 20th.