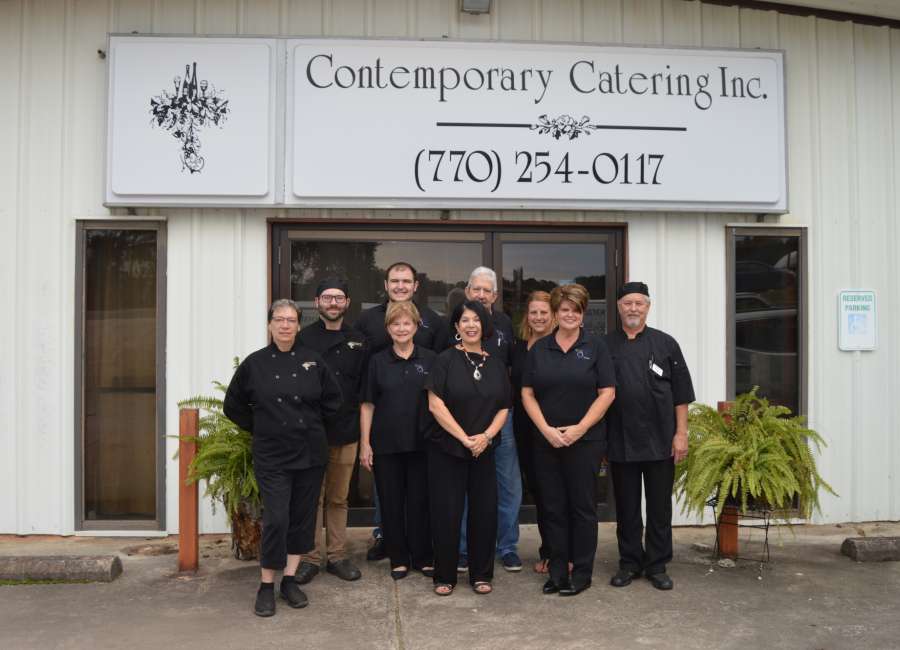 It was "organized chaos" inside the shop of Contemporary Catering off Herring Road on Wednesday. 
Chefs whipped up culinary cuisines in the store's kitchens, while delicate decorations were neatly stacked in the front lobby and on tables.
Jennifer Hanna, co-owner and vice president of the business, plus designers, chefs and staff were preparing for an important celebration: a party to honor the company's 25th anniversary in Coweta County.
The Newnan-Coweta Chamber After Hours bash is a proud moment for Jennifer, who runs the store with her brother, John. They said the soiree' is mainly to honor their staff, clients and the community.
 "It allows us to celebrate and thank them for their support all these years," Jennifer stated. "Our staff could not be more important to us. We love them truly … our philosophy is if you work for us, you're automatically a part of our family."
"We've had many people who went through culinary school and used us as a stepping stone to enhance their education," said John. "It is important to us to provide opportunities to our young people." 
Contemporary Catering is a full-service catering company that assists people with corporate events, weddings and parties. The shop provides freshly prepared cuisine, in addition to decorating and staffing services.  
Chef Caroline Carr, sous chef Brandon Doucette and baker Walter Bellisle are the "heart" of the Contemporary Catering kitchen. The crew prepares everything from scratch, Jennifer said. 
"That really isn't done in our industry anymore, but we do it," she stated. "We live in a time where there are different dietary needs. So we accommodate to our clients' needs –from a paleo to a vegan diet. Everything except kosher.
"What we do makes people happy. Food makes people happy," Jennifer continued. "Helping people with their events puts a smile on their face and makes them happy. There's a lot of gratification in standing back and seeing what you've produced for someone."
Continuing a family legacy
Ironically, Jennifer and John were on other career paths in the early 1990s.
Jennifer worked for the Coca-Cola company in Atlanta; John was about to retire from operating a local liquor store.
But a birthday party for their brother, George, changed the course of history.
Jennifer, who planned and cooked the entire celebratory meal, was approached by another family member to arrange a reception for a 40th wedding anniversary.
Word quickly spread about the Hanna's talents. The brother and sister team officially started the company in 1992 and catered from their homes, Jennifer said.
In 1996, the Hannas decided to officially incorporate their business. The moved Contemporary Catering to its current facility on Herring Road in 2000.
Jennifer and John sent letters to 300 people around Coweta County. Their phones were ringing off the hook within 48 hours, Jennifer remembered.
She left Coca-Cola a short time later and John came out of retirement. Contemporary Catering became their No. 1 priority.
"It was a hard decision, but not a decision I've ever regretted," Jennifer explained. "This business is what God wanted us to do. He brought us so many indicators … our talented staff  that have been with us for several years. The building has two kitchens ... for us to find that in Newnan within one building is unprecedented."
Jennifer handles the company's marketing strategy, while John manages the business.
The duo are following in their grandparents' footsteps. Ellis and Effie Mansour immigrated to Newnan from Lebanon in 1905, said Jennifer. 
The couple opened the Ellis Mansour department store off the court square in 1911. The store was a staple in the Newnan community for decades before closing their doors for good in 1992. 
Jennifer and John learned how to manage their company by watching their grandparents. That meant dealing with the highs and the lows, such as the economic recession from 2007-2010.
Contemporary Catering stayed open throughout it all.
"We are grateful to all of the people who supported us during that time and helped us over that hump. We are very thankful and grateful," John said. "The Mansour side of our family has been in business for 110 years in Coweta County. We want to continue that legacy here for a long time."
Catering for future generations
Contemporary Catering is embarking on a new adventure by working closely with the local film industry.
That includes planning, designing and assisting events  – to serving fresh food at area studios.   
No matter the client, Jennifer said two things will never change: baking their Southwestern cheesecake, a popular request since 1992, and providing professional and skilled services at events.  
"We plan events with a lot of care and concern with our clients," Jennifer stated. "We will fulfill our obligations and go above and beyond what is expected of us. That's what we've always done and that will never change."
A process that could not have been done without the local community, she added.
"Thank you to the people of Coweta," said Jennifer. "We've known many of them all our lives. We thank those with whom we've had the privilege of knowing through our business.  We would not have been able to sustain this long in the business without your support. We are grateful."
****
Melanie Ruberti: melanie@newnan.com