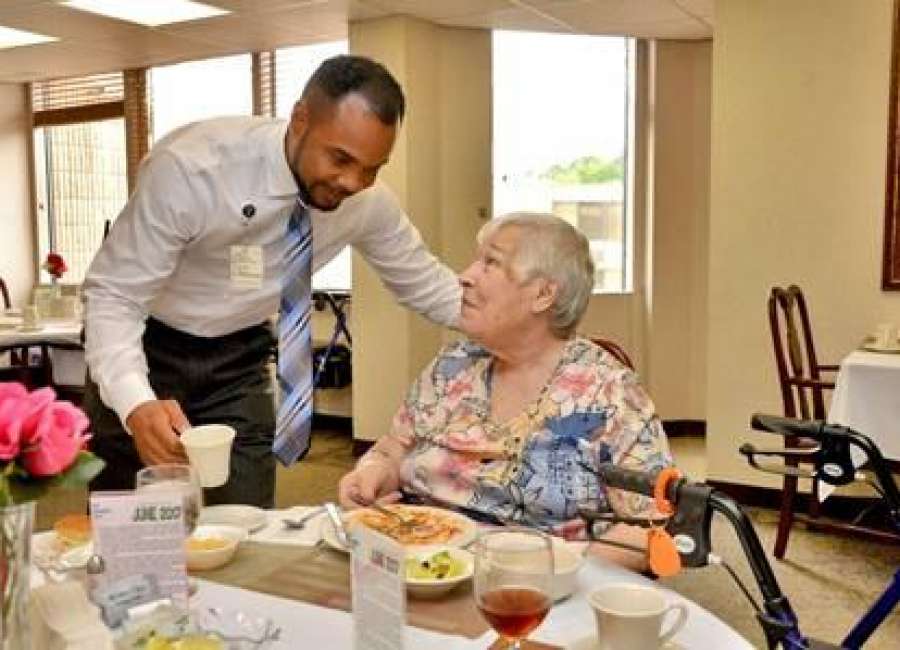 Hudie Langston, Administrator of Christian City Assisted Living Center was recently named 2017 Executive Director of the Year by the American College of Health Care Administrators (ACHCA) during the Georgia Health Care Association and Georgia Center for Assisted Living's (GHCA/GCAL) summer convention.
Langston is well-respected by both residents and staff at Christian City Assisted Living Center, which is operated by PruittHealth.
"Hudie's passion for providing quality residential care shows in his leadership," said Len Romano, President and CEO of Christian City. "He has dedicated his career to taking care of vulnerable people. This award was well-deserved," Romano said.
Langston was among the 20 graduates of GHCA's first Georgia Leader Program class in 2015.
Regarding the statewide award he received, he said, "I was totally surprised and appreciated the recognition in front of my peers."
Naming several PruittHealth leaders who positively influenced his career over the past two decades: Melvin Moses, Kevin Metz, Suzanne Gerhardt, Loretta Barnes, and George Hunt, Langston said, "Their leadership, mentorship and advice helped me to reach this point in my career, and I'm grateful to each one of them."
When asked about his leadership role, Langston responded, "Christian City is a God-centered campus with leadership support focused on helping staff members maximize their potential.
"Thus, we have a seasoned staff in the Assisted Living Center. When I am not on-site, I have peace in knowing that our residents are under the excellent care of our cohesive team.
"The staff sincerely cares about the residents as well as one another. They are passionate about their jobs and willing to go the extra mile, always keeping residents' best interest at heart," he said. "It is a joy and privilege to work here and serve here, because I'm in an environment where I'm being fed spiritually. My job helps me with my continued growth as a Christian," Langston commented.
Following the recent acts of violence in Charlottesville, CEO Len Romano spoke out about how love can make hate go away, saying, "I am hopeful that at Christian City we understand that God created us in His image and because of that we will treat everyone we meet as special and deserving of love."
Langston responded saying, "Love is the most powerful spiritual gift. Let's continue to spread it at Christian City and in our communities."
Faith has been at the forefront of Langston's life. He was a member of Destiny Metropolitan Worship Church in Marietta for 10 years where he served as the Host Team Coordinator and was named Volunteer of the Year in 2009.
He is now a resident of Norcross and member of Victory World Church where he serves as Assistant Team Leader of the nursing home ministry that provides spiritual services for residents at Meadowbrook Health and Rehab.
"Each Sunday, we facilitate a church service for the residents and do one-to-one visits," he said. Langston was named Volunteer of the Year again in 2014.
From high school athletics to church volunteer and Administrator of the Year, Langston is no stranger to awards and accolades. When asked what's next in his list of aspirations, he said, "These rewards are nice, but my real rewards come from God."
At age 45, he wants to focus more on family and take time to enjoy life. "I want to eliminate stressors as much as possible, be around like-minded people, have a sense of peace, and be a blessing to others," Langston said.
Christian City was established 52 years ago when the first cottage for abused and abandoned children opened on Valentine's Day, in 1965. Today, there are more than 1,000 residents, both children and older adults, living at Christian City.
The campus includes the Children's Village, homes for active seniors, a thrift store, 200-bed skilled nursing and rehabilitation center, 150-bed assisted living center, and two memory care units. For more information or to learn more, call 770-964-3301 or visit christiancity.org