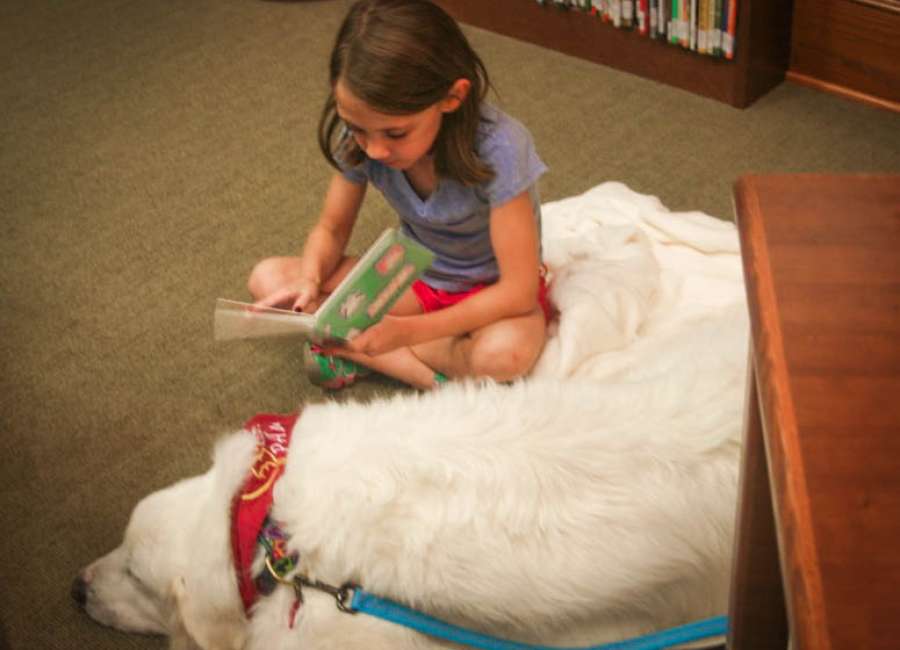 Children practiced their reading skills at the Carnegie Library in downtown Newnan on Wednesday by reading to man's best friend: a dog.
The Reading Education Assistance Dogs (R.E.A.D.) program improves children's reading and communication skills by employing a powerful method of reading to an animal, according to www.caringpaws.org. The R.E.A.D. companions are registered therapy animals who volunteer with their owner/handlers as a team, going to schools, libraries and many other settings as reading companions for children.
CAREing Paws is a registered affiliate R.E.A.D. group. Reading Education Assistance Dogs is a program of Intermountain Therapy Animals Inc., of Salt Lake City, Utah.
The "CARE" in CAREing Paws, which stands for Canines Assisting Rehabilitation and Education. CAREing Paws Inc. is a local group of registered therapy teams in Georgia that conduct visits in places such as nursing homes, hospitals, libraries and schools.
The Carnegie has been hosting the program since 2012, according to library personnel.  
Pam Kemp was at the Carnegie on Wednesday afternoon, allowing children to read to her Great Pyrenees therapy dog, Lola. Lola is registered with the Alliance of Therapy Dogs and the R.E.A.D. program.
Kemp and Lola provided 15-minute, private reading exercises for students in first through third grades. The students were able to read out loud to Lola to practice their reading skills in a low-stress atmosphere.
"Studies have shown that reading to pets helps children improve their reading skills," Kemp said. "Pets are not judgmental."
Children are able to bring their own book or use a book from the library.
Joyce Robins brought her second-grade grandson, Colton Thompson, to read to Lola.
Thompson brought a book he purchased from his school's book fair recently titled "Dog Man: Tale of Two Kitties."
"I think it will really help him with his reading," Robins said. "He did a great job reading today."
The second-grader said he enjoyed reading to Lola.
According to the CAREing Paws website, some of the documented benefits of therapy with animals include lowering of blood pressure and heart rate, increased relaxation and a tendency to forget about pain and limitations. A research study almost 30 years ago found that when children get nervous, especially when talking to others, their blood pressure can rise very high, but that if a dog joins the scene, blood pressure will go down very low, whether the child and dog are sitting quietly together or whether the child is reading to the dog.
Registration is free, but is required to participate in the program. Call the Newnan Carnegie Library at 770-683-1347 for more information or to register or visit www.newnancarnegie.com
The program is usually held the fourth Wednesday of every month from 3:30-4:30 p.m.