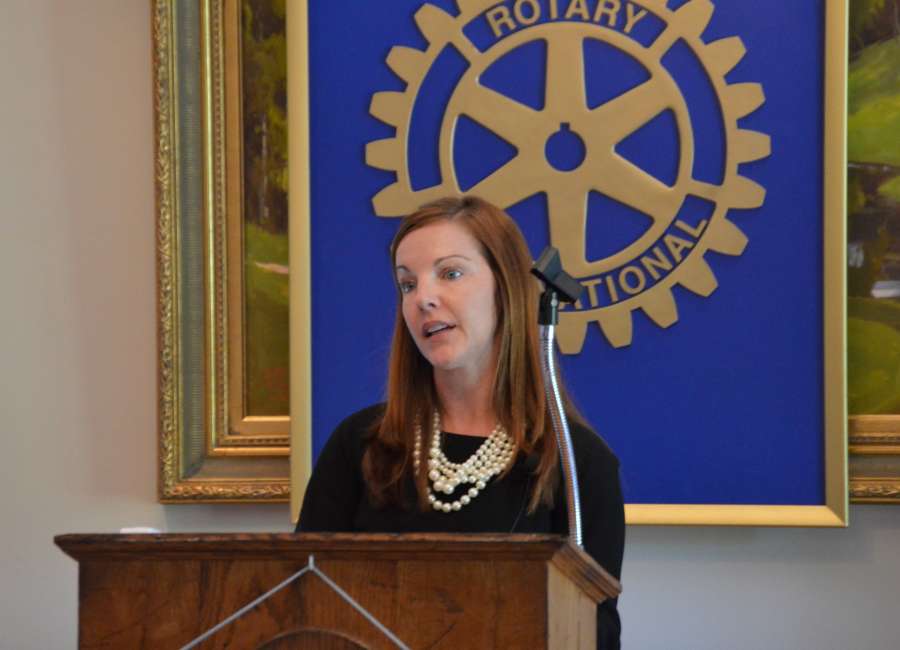 From its beginning with drug court, Coweta's accountability court program has expanded to four courts: drug, DUI, veterans and family.
The goal of the court is to help treat the underlying issues that cause a person to have problems with the law, instead of simply punishing offenders.
"For me we're improving the quality of life, stopping the cycle," said Jennifer Barnett, coordinator of Coweta's accountability courts program.
Barnett spoke to the Newnan Rotary Club about the programs. The presentation included a video of several accountability court participants talking about the changes in their lives.
"This gave me everything I needed," one man said in the video.
Barnett said court workers pride themselves on hearing participants say things like, "We found self-worth."
Drug Court is for Cowetans facing felony sentences related to drug use. DUI Court is for DUI repeat offenders. Veterans Court is for veterans of the U.S. Armed Forces who are charged with crimes, and Family Dependency Treatment Court is for families who have active "dependency" cases involving their children at the Division of Family and Children's Services.
The Veterans Court is in need of veterans to serve as mentors to participants. The goal is to match each participant with a mentor from the same branch of service.
Accountability courts are "alternative sentencing." The program is at least 12 months for misdemeanors and at least 18 months for felonies. A particular participant might be in the program longer.
"Most of our participants would be serving time – some several months, some 10 years or so," Barnett said.
The accountability courts are a "rigorous, structured, judicially supervised outpatient treatment center," she said.
"We inundate them with treatment."
Participants go to group therapy three times a week in the beginning, and have individual counseling to resolve trauma. "Most of the people we deal with have suffered childhood trauma. Many grew up in families that were impoverished, abusive, neglectful," she said.
There are psychiatric education classes, parenting classes, budgeting and financial planning classes, nutrition classes, and the like, she said.
Participants also have to do community service, and are drug and alcohol tested several times a week. They go to court twice a month in the early stages. If a participant messes up – failing a test, not coming to court, etc., there are sanctions. Sanctions can be extra days of community service or can be days in jail. When participants do well, they are rewarded with things such as gift cards.
"We consider it a holistic treatment program. We're not just treating the substance abuse, we're not just treating the addiction. We want them to give back to the community, we want them to pay taxes and pay child support and be productive."
"For us to be able to rebuild our lives – that is the goal," Barnett said.
For typical felony crimes with prison sentences, recidivism rates are 70 to 80 percent, Barnett said. For DUI Court, the rate is 8 percent and for Drug Court, it's 25 percent.
Twenty-five percent is "still high, but compared to the 75 to 80 percent, the numbers are really good," Barnett said.
"Worst-case scenario, if our participants do relapse, do re-offend, we're saving our county millions of dollars," she said. Participants pay regular fees as part of drug court, and those fees on top of the savings of not having to incarcerate participants, save the county and state a significant amount of money.
DUI Court saves Coweta $80,500 a year, Barnett said. The 50 drug court participants would cost approximately $912,000 a year to house in prison, she said.
In addition, participants are required to have at least a GED, and if they don't have one, that's the first step. After that, participants are required to have a job or be in school. "We try to get them to go to tech school or university and further their education," she said.
For every dollar invested in accountability courts, Barnett said, the return on investment is equal to $27.
Accountability court staff take families on "sober living trips." She's gone with families on their first-ever trip to a museum. Families also go on trips to the zoo and Braves games.
They get to see babies born free of drugs.
"That is our goal, to continue stopping that cycle, saving taxpayers money and hopefully changing the lives of the people we serve."
There is always a need for volunteers to help out with the court programs. Veteran mentors are especially needed, and volunteers can help with things such as GED preparation and community projects. Donations of gift cards and other incentives for participants are also welcome.
For more information, call 770-683-0205.