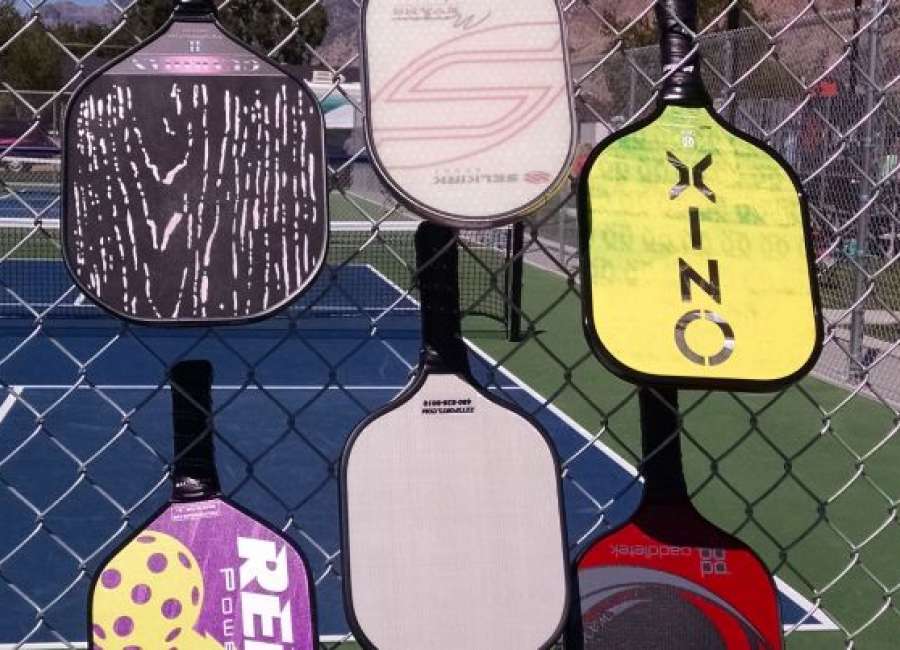 Former tennis players in Coweta are starting to play another sport- Pickleball.

Pickleball is a sport that combines tennis, badminton and pingpong, and is played by two to four players using paddles and a plastic ball with holes, on either an indoor or outdoor court about one-third the size of a standard tennis court, according to www.extramile.thehartford.com, a website with information on topics of everyday life, like home improvement, health and wellness, new technologies, and car-related subjects.
Pickleball is appealing people in their 50s, 60s and 70s who used to play tennis or are looking for an activity that offers good aerobic exercise. It's not as strenuous as traditional racket sports and gives players the chance to socialize during the game.
The beginning of Pickleball
The game was first invented in 1965 on Bainbridge Island, Wash., when three dads decided to use Wiffle balls when playing badminton. The men lowered the badminton net and made some fabricated paddles from plywood, according to www.extramile.thehartford.com
Pickleball can be played with either two or four players. The size of the court is 20×44 feet, which is the same as a double badminton court.
Pickleball in Coweta
Carl McKnight with Coweta County Recreation Center on Temple Avenue said the center has hosted Pickleball for a couple of years at the recreation center. There are two courts inside the gym and tennis courts outside of the gym have also been equipped with lines for Pickleball.
The game can be played Monday through Friday, beginning around 9:30 a.m. until around 1 p.m most days. Membership at the recreation center is $50 per year or $5 per walk-in.
Dan Fielder began playing a about a year ago when introduced to the sport by a neighbor. He said he plays a couple times a week.
"I like the competition, but it's also great for hand and eye coordination and reflexes," Fielder said. "It gets you in shape and the people are great. It's great exercise."
Fielder said everyone tries to play their best and the women are really good at the game. Fielder recommends anyone who wants to play to get with a friend and come and observe to learn the game.
"There are Pickleball clubs all over," Fielder said.
Susan Perkins was once was an avid tennis player, but had to quit playing because of injuries. She found out about Pickleball and has been playing every since.
"I come at least two days per week," she said. "It gets the heart rate up quite a bit, but it's very social. We've probably met about 30 new friends from Pickleball. We travel to LaGrange and Peachtree City to play, and sometimes they come here."
Perkins said her husband, Billy, has been hosting introduction classes for new players  since the beginning of August and has two more classes on Monday, Aug. 21 and Monday, Aug. 28 from 6:00-7:00 p.m. She said the classes are free and a source of information for anyone to new the game.
To register for the class, call the recreation center at 770-254-3750.
"This is game is suitable for all ages and sizes," Perkins said. "We have as many as 18 people here on some days to play. We usually play to either nine or 11 points and if there's a tie, the winner must win by at least two points."
Phyllis Graham said she plays at the recreation center often and loves the camaraderie.
USA Pickleball Association
The first known pickleball tournament was held in 1976, according to the USA Pickleball Association. USAPA was organized in 1984, and by 1990, pickleball was being played in all 50 states. The sport continued to spread as it became increasingly popular in senior athletic events in the early 2000s.
Although the sport is now more than 50 years old, it's grown rapidly over the past decade. The USAPA estimates that more than 2.46 million people now play the game nationwide and there are nearly 4,000 known places to play, up from fewer than 50 places in 2003.
Coweta Pickleball players participated in the First Annual Doc Holliday Shootout Pickleball Tournament in Griffin Aug. 12-13. Perkins said several players won medals.