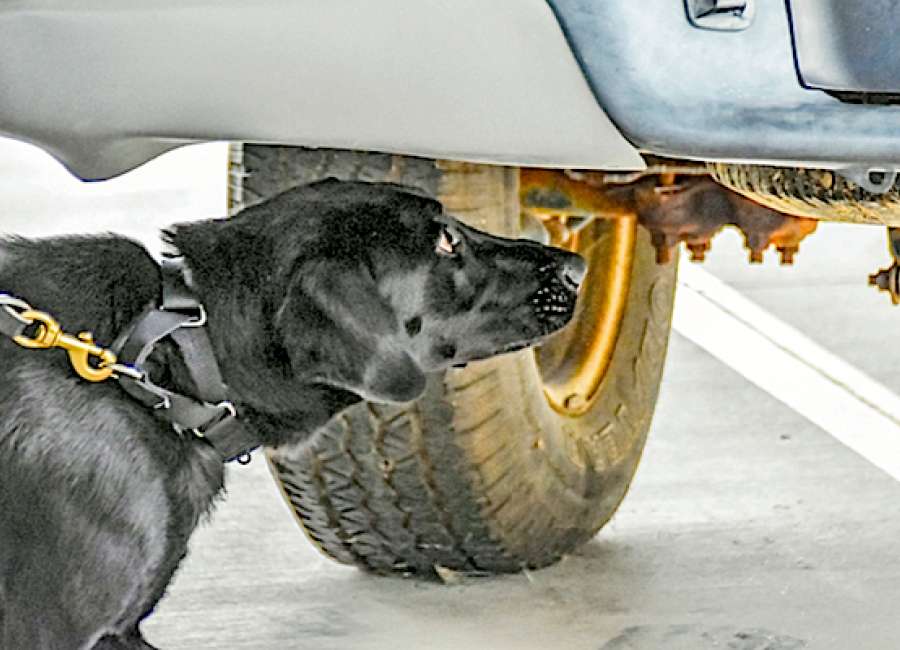 Nestled inside International Park off Highway 34, a variety of beagle and Labrador retriever canines from across the country travel to Newnan to train at the United States Department of Agriculture (USDA) National Detector Dog Training Center.

The dogs utilized by the USDA aren't typically looking for bombs and drugs, but are on the hunt for harmful plant pests and keeping foreign animal disease from entering the country.
The training center provides a state-of-the-art learning environment for training detector dogs and their handlers to help safeguard American agriculture by preventing pests and agricultural diseases from entering the United States through airports, international borders, postal facilities and cargo areas.
The facility incorporates environmentally conscious features in accordance with the Leadership in Energy Environmental Design certification by the U.S. Green Building Council.
The Newnan facility sits on almost 18 acres – a far cry from their previous home in Orlando that sat on just 2.5 acres.
The Orlando facility held a single training room, 35 kennels and kept just nine members on staff. Now, the facility hosts eight training rooms, 80 kennels and approximately 26 staff members.
Trainer James Mason came along from Orlando. Prior to his role as a training specialist for the USDA, Mason worked as a trainer for bomb dogs at the Atlanta Police Department and also with the MARTA K-9 unit.
Mason said beagles and beagle mixes are the agency's preferred breed of dog at the airport because of their keen sense of smell, non-threatening size, high food drive and gentle disposition with the public.
The ages of those in training range between 1 to 3 years old and are required to have a friendly personality.
The USDA began its detector dog program, "Beagle Brigade," at the Los Angeles International Airport back in 1984 where a single beagle was trained to sniff out plants and animal products in luggage and carry-on items arriving on international flights.  
By 1990, there were three locations set up for training in New York City, Miami and Livermore, Calif. In 1997, the training was consolidated to a single facility in Orlando before moving to Newnan 12 years later.
"The majority of our dogs actually come from rescue shelters or from families willing to donate them," Mason said. "Once we get them, they have to sit in quarantine for medical and temperament. After 14 days, they come to main kennel where they begin their training."
Trainers like Mason judge a prospect's reaction to public places and crowds of people. The dogs are then evaluated by a veterinarian where they are tested for heartworms and undergo blood work. X-rays of the hips and spine are rated. All dogs are vaccinated and spayed or neutered.
The beagles and beagle mixes are trained to work in airports, while Labs and Lab mixes go to work on borders, in cargo warehouses and in postal facilities. Occasionally, Jack Russell terriers are recruited to work in Guam finding brown tree snakes.
"They never actually see the snakes," Mason said. "We train them exclusively on smell."
In 2000, USDA started using larger dogs outside the passenger environment by employing Labs. This launched the "Border Brigade" on the Mexican and Canadian borders, and "Cargo Brigade" in the Customs and Border Protection's cargo inspection facilities at airports and seaports.
Depending on the working environment, the dogs are trained to give a response by pawing to indicate the presence of an agricultural product. Regardless of the behavioral response, treats and positive praise from their handler is the reward that increases their proficiency, Mason said.
The beagles are initially trained to seek out five core odors – apple, citrus, mango, beef and pork. Later, their detection skills may be modified depending on their home port.
Non-target food items such as chocolate and cheese are placed in luggage to help trainers keep beagles from responding to their favorite treats.  
Inside the training facility, a massive amount of luggage is utilized to help simulate the environment of an airport, including a conveyor belt. The majority of donated luggage comes from Goodwill or The Salvation Army along with a large amount of clothing.
Several of the dogs currently in training are heading back to the United States/Mexico border where they'll be put into action.  
However, many of the center's graduates have gone down to Florida to help eradicate the growing population of the giant African land snail, which is considered to be one of the most destructive snails in the world.
It's known to consume at least 500 different types of plants and can pose serious health risks to humans, according to USDA.
In 2015, Florida was awarded more than $7 million in a federal grant to help eradicate the threat, including the use of detector dogs that are specialized to find the snails.
USDA dogs have also been trained to find Asian longhorn beetles, Mediterranean fruit fly larvae and even worked in the Chesapeake Bay wetlands helping to eradicate nutria, an invasive semi-aquatic rodent, from the Delmarva Peninsula.
Mason said there will always be new challenges for the dogs that come through the facility, but believes they're always ready to rise to the challenge.
"Dogs like these, they just love to work," he said. "It makes them happy."
And while the center is always on the lookout for new candidates, they occasionally offer beagles, beagle mixes and some large breed dogs for adoption. These are dogs that have not met their training requirements but would make wonderful pets.
Mason urges anyone interested in donating or adopting to contact them at 770-254-2523.
****
Clay Neely: clay@newnan.com, @clayneely