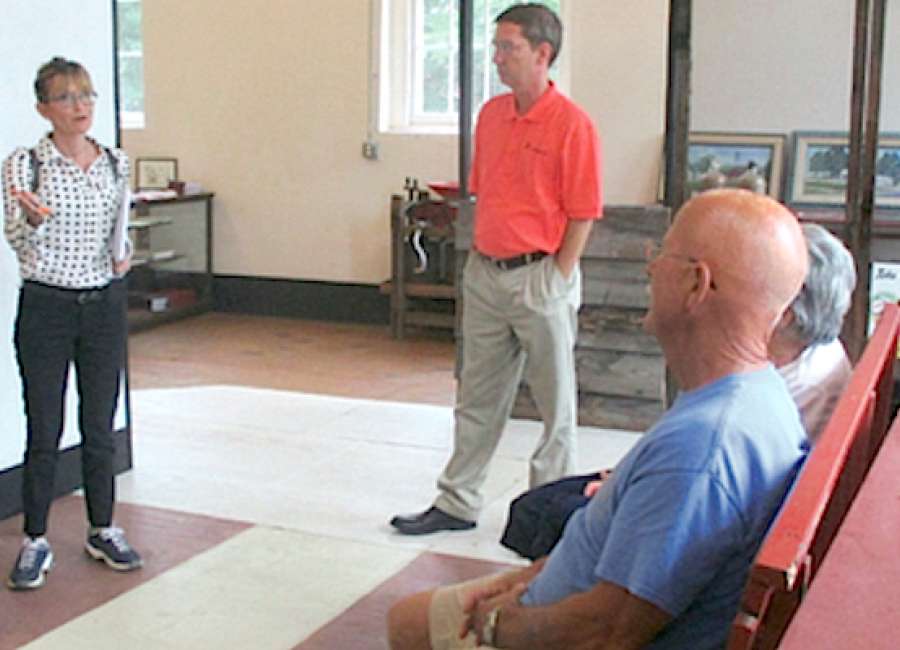 A tourism development team, organized by the Georgia Department of Economic Development, visited Coweta County from Monday through Wednesday – looking at options for growing tourism.

Cindy Eidson of GDEcD was the team leader. She comes from a Coweta family and was once Newnan's Main Street director. She said 44 tourism development team visits have taken place around the state and noted communities where teams have visited can apply for grants from the state.
A tourism development team visit in neighboring Meriwether County was the precursor to grants that are helping to put butterfly gardens and murals in Meriwether's towns. Eidson said a community meeting will be held somewhere in Coweta when the team's written report is done.
The team gathered Monday morning at the Newnan Centre where they talked with local officials. Following a working lunch, they visit the historic courthouse, Oak Hill Cemetery, the African American Alliance Museum and the Walter B. Hill Community Center in Turin, which was built as a Rosenwald school for black children during the Jim Crow era.
There also was a stop at the new Leroy Johnson Park, which is under construction in Senoia.
Tuesday began with a breakfast, followed by a visit to the Chattahoochee River, the Brown's Mill Battlefield, Sprayberry's Barbecue for lunch and then the McRitchie-Hollis Museum and Children's Connect Museum.
Late Tuesday the group headed to Moreland for an overview of tourism projects and tours of  the Hometown Heritage Museum in the Moreland Mill and the nearby Erskine Caldwell Birthplace and Museum.
The team had dinner at Nic & Normans in Senoia on Tuesday and finished up their tour Wednesday with a breakfast at the Coweta County Fairgrounds. The breakfast featured a panel discussion on local events with Gail Downs and Suzanne Helfman of the Senoia Downtown Development Authority, Michael Frnka from Turin and Courtney Harcourt of Main Street Newnan.
In addition to Eidson, members of the tourism development team were Holly Winner, Presidential Pathways Travel Association; Rebekah Snider, GDEcD; Tina Lilly, Georgia Council for the Arts; Corinne Thornton, Georgia Department of Community Affairs; Rebecca Clopp, West Point Welcome Center; Lativia Rivers, Columbus Visitor Center; Jeanne Cyriaque, heritage tourism consultant; Randi Greene, GDEcD; and Jenny Robins, Georgia EMC.