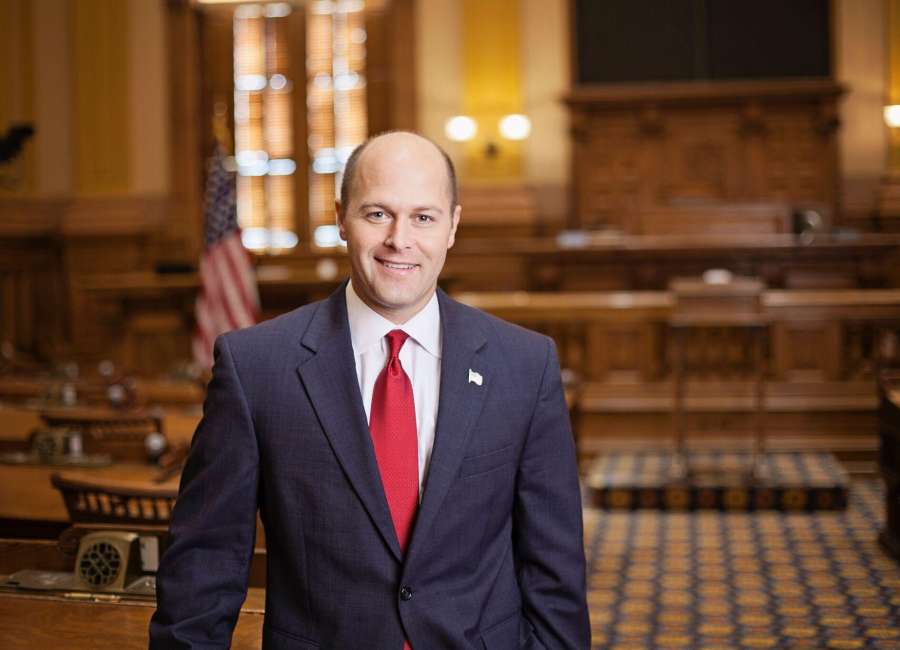 "This must be the sick and tired of being sick and tired crowd."
The remark by state Rep. Brad Raffensperger, candidate for secretary of state, from the platform struck a chord with attendees at the Georgia Republican Assembly on Saturday. There was a smattering of applause across the crowd of about 250 at Orchard Hills Church.
The GRA is not officially affiliated with the state Republican Party, but local Republican leaders were there, and there was no shortage of Republican candidates asking for votes.
There was a chord of dissatisfaction with the status quo that ran through the meeting. Audible murmuring could be heard during mention of vetoes of Republican-passed bills by Gov. Nathan Deal, himself a Republican. Numerous speakers talked about passing a religious liberty bill, offering school choice and protecting gun rights.
The banner in the center of the flag-decked stage read "GRA – Georgia Republican Assembly – The Republican Wing of the Republican Party."
The religious liberty bill came up several times, from candidates and during a panel discussion featuring State Sen. Marty Harbin and activists Dave Baker, Tanya Ditty and Jane Robbins.
Brant Frost V, chairman of the Coweta County Republican Party, is first vice president for the Georgia Republican Assembly and took a lead role in the meeting at Orchard Hills. State Rep. David Stover and Mike Crane, a former Coweta state senator, were present for the assembly gathering.
State Sen. Hunter Hill, a candidate for governor, had a strong following at the assembly. Dozens of Hill signs lined the roadway and driveway leading to the church. When he stepped to the podium, signs in support were waved by members of the audience.
"There is so much more we can do to move the conservative agenda forward and help the state meet its full potential," said Hill, a West Pointer who served in Iraq and Afghanistan.
Hill said he advocates smaller government and the elimination of state income tax. "It's obviously not easy or it would have already been done."
He also advocated school choice and staked out an anti-abortion position. "We have to protect the unborn. We have to move the needle closer to conception," he said.

Hill also said that, as governor, he would deny state funds to any sanctuary city offering aid to undocumented immigrants.
Lieutenant governor candidates David Shafer and Rick Knox spoke in the afternoon. "Through the past 15 years, I have been the conservative workhorse in the Georgia legislature," Shafer, a state senator, said.
Knox was a particularly outspoken candidate – criticizing federal judges, advocating state's rights and stating that he is for protecting Confederate monuments but against "the white trash who are in white robes and tote swastikas." He quipped, "Harmony is for glee clubs."
A moment of contention came when Baker suggested medical marijuana is simply a door to legal marijuana cultivation and sale. When he mentioned state Rep. Allen Peake, the Macon Republican who has pushed for broadening of medical cannabis rules, there was considerable applause.
Robbins, of the American Principles Project, said state efforts to pass religious liberty laws seek to provide protections on the state level that exist in federal law. She said 31 states have statutes, but Georgia does not.
If there is a law, "it doesn't mean the plaintiff wins," Robbins said. "It means the plaintiff gets his day in court."
Harbin said a bill is in the rule committee, awaiting further action.
Harbin also noted President Donald Trump has signed an order to protect religious freedom. "It's time for Georgia to do the same."
Sessions were held in the auditorium of the church, while an adjacent room was used for display tables and a barbecue lunch. Several candidates had tables, as did the John Birch Society, the Southern Crescent Young Republicans, the Faith and Freedom Coalition, Fair Tax Inc., Concerned Women for America, Georgia Right-to-Life and Americans for Prosperity.
One table – with a life-sized cutout of Trump – offered Trump-Pence memorabilia. Another display offered information critical of the Common Core curriculum.