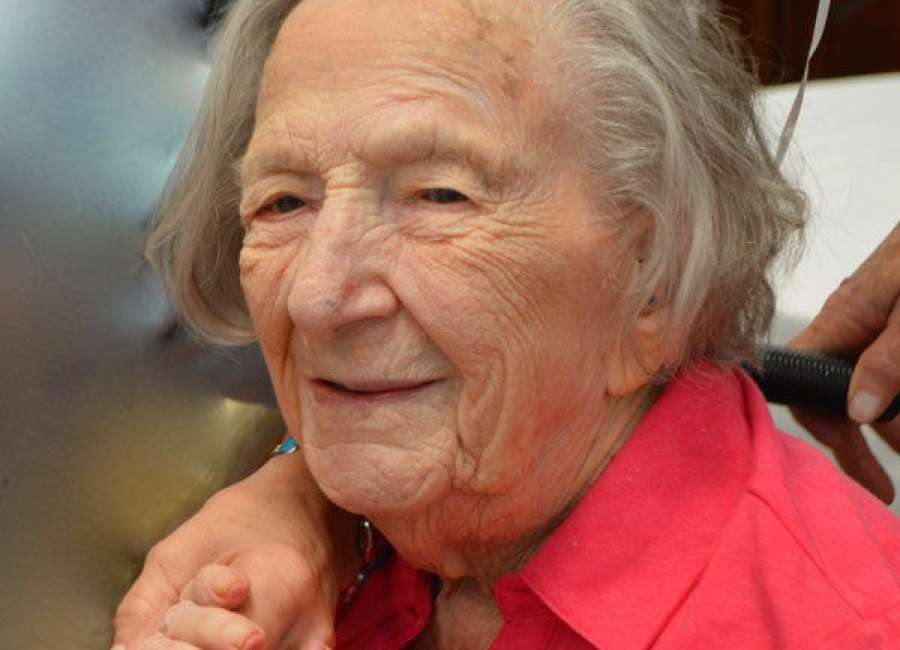 BY DIANE WAGNER
ROME NEWS-TRIBUNE
ROME, Ga. -- Supercentenarian. That's the word for Ila Sewell-Jones of Rome — the oldest Georgian — who turned 114 years old Monday.

The Gerontology Research Group lists Sewell-Jones among the 44 living people who are validated to be 110 or older.
She's currently at No. 12 worldwide. The oldest is Violet Brown of Jamaica, at 117. Women from Japan, Spain and Italy also are among the top 10, and Delphine Gibson of Pennsylvania has Jones beat by just four days.
More than two dozen family members gathered to visit Sewell-Jones on Saturday at the Manor House Assisted Living Center. Her oldest grandchild, Mary Ila Blake of Knoxville, Tennessee, said her grandmother was too tired to interact much at the party.
"We enjoyed seeing each other and celebrating her," Blake said. "She ate cake, ice cream, punch, coffee and watermelon, but she didn't really wake up."
It's markedly less energy than Jones had a year ago, but she's still essentially healthy, Blake said, and enjoys having her family around.
"My father and mother go down every three to four weeks, and her son lives there in Rome," Blake said. "Last time my parents went down, they walked her outside. When she's awake her cognitive ability is intact, and her sense of humor."
Sewell-Jones was born Aug. 21, 1903, in a two-room log cabin in Lumpkin County. She grew up to be a teacher, first at Cave Spring Consolidated School in 1930, then later at the Georgia School for the Deaf and Cedartown High School.
As Ila Sewell, she raised a family in Cave Spring, and her son Paul Sewell Jr. still lives in Rome. Her husband died when her kids were grown, and she remarried and moved to Pasadena, Texas.
Blake said they'd visit about twice a year, hit the beach at Galveston and get shrimp for a feast on the way home.
"She was always a figure in my life, and she was very active" Blake said. "When I visited her, she wanted me to roller skate and she took me to the rink, which not everyone did at that time. She bought me and my brother skates; she'd take us to the pool and get in with us. And she was very active with her step-grandchildren."
Even at 80, Sewell-Jones was ready to try new things. When the couple moved into a lake retirement community, she got certified to take care of the community septic system. And at 102 she was still writing poems and letters to her family. Blake still has the Valentine Sewell-Jones made for her son, who was 12 at the time.
"She always ate very healthy; she loved to garden, loved her fruits and vegetables," Blake said. "And she was very adaptable. I think that's one of her big secrets. She didn't wallow in bad things that happened to her. She got up to see what she could do."
Blake said her parents visited Sewell-Jones again Sunday before leaving to come home. She still didn't open her eyes, but she enjoyed eating the grapes that they brought for her.
"And when they asked her how she was feeling, she answered, 'Wonderful,'" Blake said.