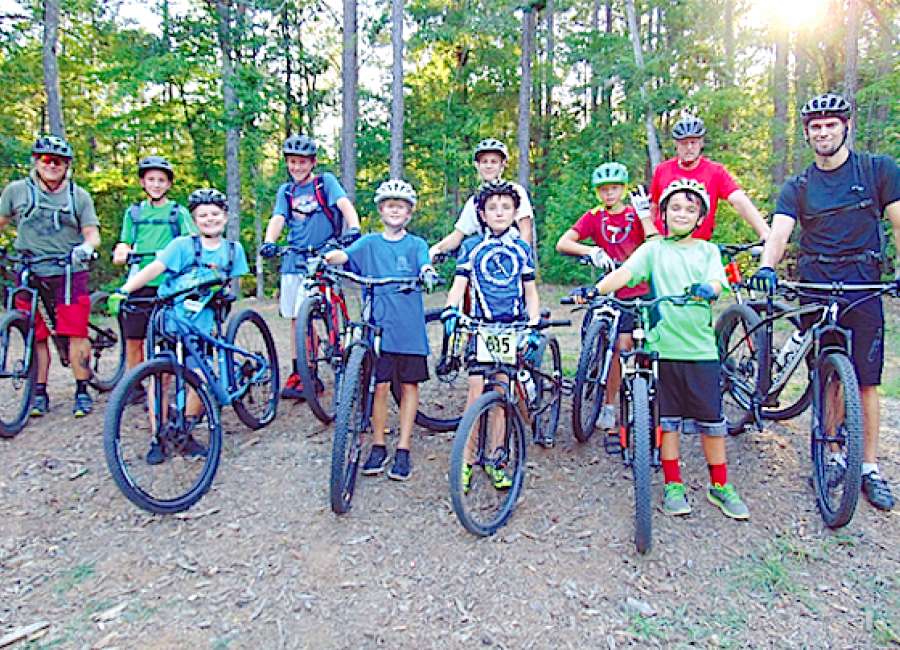 There's a youth sport that begins in the fall, has the kids wearing helmets, and has them navigating on dirt and grass for long stretches of time.

No, it's not football — it's mountain biking.
The Coweta Composite Mountain Bike Team is a youth cycling program based in Coweta County whose sole mission is to get young people in Coweta and the neighboring counties to ride — and race — mountain bikes.
"Our goal was to create a school-environment sport to get the area middle school and high school kids on bikes and get them active," said Coweta Composite head coach Tim Ulinski, who works full time at UPS. "It's a great sport and it's great to see young people active, racing other competitors and having fun at the same time."
Coweta Composite competes in the Georgia Interscholastic Cycling League (GICL) and overall it's a part of the National Interscholastic Cycling Association (NICA). Both of these organizations were organized in 2013 to provide youth development programs for middle and high school students through cycling.
"The beauty of Coweta Composite — and bike racing in general — is that it's a good sport if the big three of football, basketball or baseball is just not for certain kids," Ulinski said. "They get to compete on a team, and they get the bonus of doing something that's quite adventurous but safe at the same time."
Coweta Composite — a first-year team — is for boys and girls from the sixth through 12th grades who will participate in various GICL mountain bike races throughout the state. The first of the five morning races this fall is slated for Sunday, Sept. 10, at Road Atlanta in Braselton. The race courses vary in length depending on the age of the riders — they can be as short as six miles or as long as 15 miles for the older kids.
The Coweta Composite team practices for these races every Tuesday and Thursday evening on the race trails at Cochran Mill Park in Palmetto. These practices prepare the kids for the races, as the dirt trails are surrounded by trees, twigs and a few rocks as well, said CC team director Dan Miller.
"We will take the younger kids for about six miles and the goal is to get them up to eight. The older kids are riding for eight miles and we want them to get as high as 15 before the first race," said Miller, who works full time at Delta.
Ulinski, who has been cycling since he was a child, has his two sons Chris, 15, and Jake, 11, on Coweta Composite and says he is happy to be able to stay home. He said when there was no team in the county, he had to travel all the way to Columbus to get his kids on the Columbus Bike Racing Team, which is led by David Moore of Go Nuts Biking.
"David saw I was traveling to Columbus so much, so he asked me why I hadn't started a club in Newnan," Ulinski said. "I thought that was a great idea. And that's how Coweta Composite was born."
Ulinski, along with help from Miller and assistant coach Kent McMullen, established Coweta Composite in January 2017 and the volunteers have seen the team grow to the 13 registered youth riders they have today.
"It's been a collaboration of regular people in the community trying to help the kids learn the sport and have fun," Ulinski said. "People might think mountain biking and cycling overall is an elitist sport because of the prices of the bikes. But we're an all-exclusive team. We will even provide donated loaner bikes for those kids who want to race but don't have bikes."
He said volunteers are always welcome, especially sweep riders. A sweep rider is an adult who is the last person to follow the kids on the trail in a particular practice and he or she will be the last person to exit the trail, making sure no rider is lost on the course.
Ricky Hartfree, 11, has been on Coweta Composite since it was created and said he enjoys it.
"I like going fast and having fun on a bike. This is a fun sport with a little bit of adventure and that's what I like," Hartfree said. "Racing other people is cool, too."
Anyone interested in information about Coweta Composite is asked to contact the coaches at cowetacoachtim@gmail.com, cowetacoachdan@gmail.com and cowetacoachkent@gmail.com.