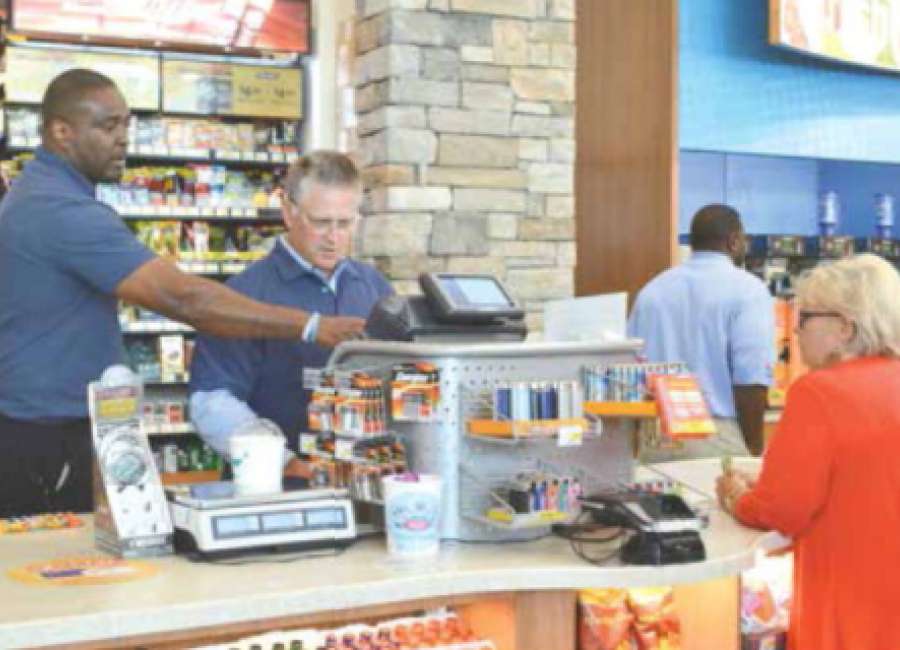 Some customers at the Newnan RaceTrac store were served by an unusual cashier Wednesday afternoon – Congressman Drew Ferguson.
Ferguson, who was elected in November to serve Georgia's 3rd District, spent about 10 minutes ringing up customers at the store. He also visited East Coweta High School where he met with civics students and with representatives of Communities in Schools.
RaceTrac is headquartered in Georgia and has had several congressmen come to visit stores and get behind the cash register, said Billy Milam, president of the company.
It's one thing to go to Washington and talk to your representatives, Milam said. But it's different when congressmen come to the district and spend time in the store. "We give them about three minutes of training," Milam said. It shows the legislators what the day-to-day experience is like.
"We came today to learn about one of our really important to corporate citizens in Georgia, RaceTrac," said Ferguson. "To learn what they do, what their employees go through, meet some of their employees and understand the investment they have made in the state of Georgia and the investment they have made in the community."
Ferguson said he learned a lot in his few minutes behind the counter and it gave him a new perspective.
He was hoping a customer would buy beer or cigarettes so he could card someone, but it didn't happen, Ferguson said.
Ferguson said that the ECHS students were sharp and well-informed.
"We had a good, long Q&A session," he said. "They asked good, solid, in-depth questions. They had an understanding of issues that was pretty deep," he said. "Students are rightfully concerned about their future, and they want to make sure that the folks that are serving in Congress are doing a great job."
Ferguson said his meeting with Communities in Schools helped him really understand the positive impact the organization is having on graduation rates and the quality of education in Coweta.
"I think the word needs to get out on how important Communities in Schools is and the impact it has," the congressman said.