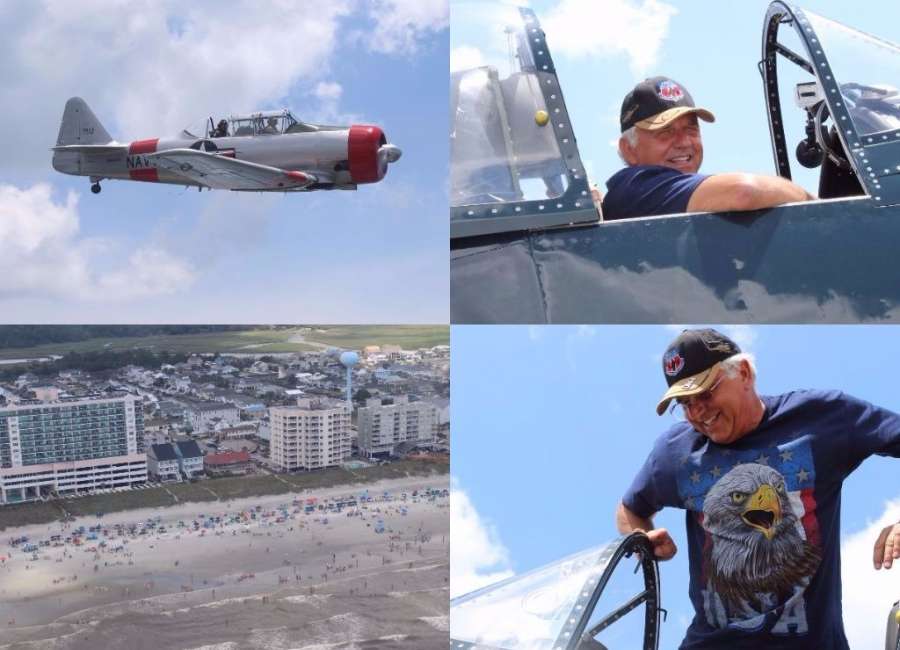 By JUSTON LEWIS

juston@newnan.com
I was high. Extremely high if you want to know the truth. Approximately 5,000 feet off the ground.
On Independence Day, I received the opportunity to cover the eighth annual Salute from the Shore event. It's a flyover that spans the beaches of the Carolinas. The invitation came from Grantville businessman Jim Sells, who got his invitation from a friend who was unable to participate in the show.
We started out from Falcon Field in Peachtree City. There we loaded onto a Douglas DC3 made in 1939. Once aboard, we traveled for about two hours to Myrtle Beach.
We landed in Myrtle Beach and watched in awe as numerous pilots and planes arrived for the last-minute flight details. There was a T6 Texan, and a North American P51 and a Curtiss C46 – and of course the Douglas DC3 that'd we had arrived in.
By 1 p.m. we were back in the air and started the flyover. It gave me a different perspective. Looking down and seeing the little dots on the sand, I realised that sometimes you have to stop and enjoy the moments like this.
It was during this nostalgic moment when I came down with motion sickness, and I went down hard. I puked up most of my lunch and sat in my seat dizzy from the shaking of the plane.
Luckily Jim had bags on the plane for that very situation. As I sat there recovering from my spell, I still felt grateful. Grateful not only for that opportunity but for the blessing that The Times-Herald has been.
When I started my summer internship, I never knew what to expect. My daily commute to Newnan is about 90 miles round trip, give or take. I kept an open mind, and I was blessed with amazing and eye-opening experiences.
Once the show was over, we headed back to Peachtree City. I knew that this was a great opportunity but in reality this entire summer has been a great opportunity. So, I thank Jim Sells for the invitation to experience July 4 in the air – and for keeping barf bags handy.
And I thank the NTH staff and family for being kind and guiding as I enter my final week here. I've learned, made mistakes, and had the chance to grow as a journalist and a person. For that I am grateful to The Times-Herald.