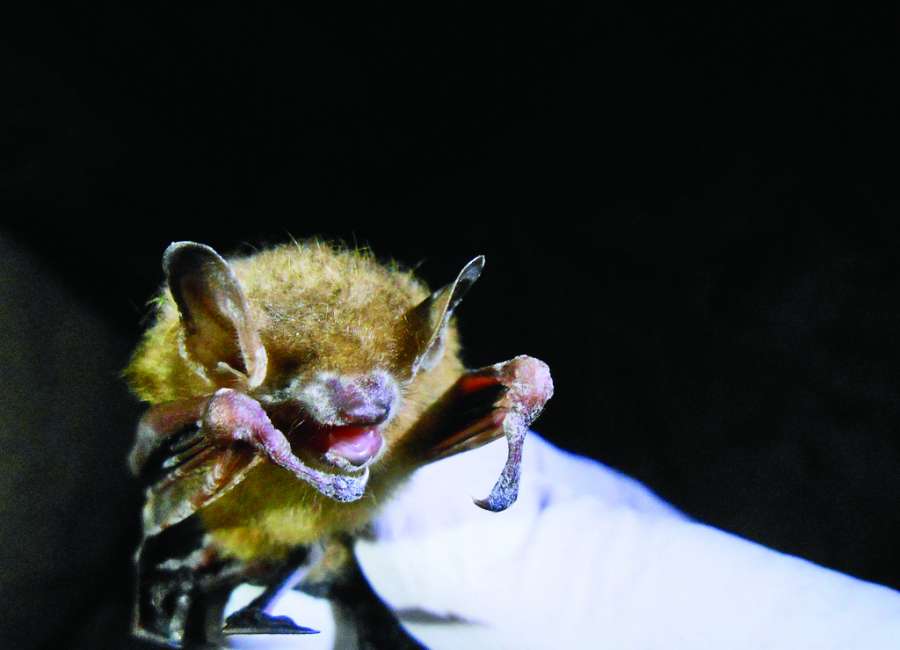 By Tommy Culkin
The Clayton Tribune
CLAYTON, Ga. — A fungal infection has decimated Rabun County's bat population, and if it's not soon stopped, a once-prominent species could go extinct, experts warn.
Just a few years ago, Northeast Georgia was home to thousands of bats. In a relatively short amount of time, however, that number has plummeted.
Georgia's bat population has dropped dramatically due to an emerging disease known as White Nose Syndrome. In the past seven years, the population of affected bat species has fallen by approximately 94 percent, said Trina Morris with the Georgia Department of Natural Resources Wildlife Resources Division. In Rabun County, the decline has been even more pronounced, at roughly 97 percent.
WNS derives its name from a distinctive fungal growth around a bat's muzzle and wings that develops during hibernation. The growth forces bats out of their winter slumber, causing them to starve or freeze to death.
"This is a very steep decline, and it's not something bats are able to easily recover from," Morris said. "Bats reproduce slowly, generally have one or two pups a year, and mortality is fairly high. So we don't expect a rebound any time soon."
The disease affects cave-dwelling bats, such as tri-colored bats, Southeastern bats, brown bats and eastern small-footed bats, said Blue Ridge District Ranger Jim Wentworth.
In Georgia, the most impacted species is the tri-colored bat. Historically, tri-colored bats have been the most abundant species in Northeast Georgia. That's no longer the case.
Each year, the Georgia DNR surveys local caves. From 2010-13 — before WNS entered Georgia — the number of tri-colored bats observed in Rabun County hovered right around 5,000, with only slight variance. However, WNS hit the state in 2013, and the next year, the number fell to 3,472. An even steeper decline was seen in 2015, when the number fell from 3,472 to just 554. When Rabun's caves were surveyed in 2017, only 152 tri-colored bats were alive.
Morris and Wentworth agree that if the rapid decline is not stopped soon, an extinction of tri-colored bats is a serious possibility.
"It's wild to me that a species that used to be so prevalent could soon become extinct, but I feel that's where we're headed," Morris said.
Although the fungus starts in caves, the fungal spores become airborne after growing on bats, causing it to spread at a nearly incalculable rate, Morris said. Humans also play a part in spreading the disease, as they can carry and disperse the spores after caving or hiking in impacted areas. Humans also likely brought the disease to America in the first place, Morris said.
The fungus was brought to North America from Asia, and was first seen in the states in 2006. The next year, it had spread to three more states. By 2010, the syndrome had spread to 12 states and Canada. As of this year, the disease has taken hold in 33 states.
Due to the integral role humans have played in spreading WNS, the DNR has taken efforts to study and combat the disease.
"By taking swabs of the fungus and studying it, we've been able to understand how the fungus moves through the country, and when it manifests, and just things like that," Morris said.
In addition to research, scientists have been working with Kennesaw State University to develop a treatment.
Having just implemented the treatment for the first time, it's too soon to tell if it is effective, Morris said. However, she said it gave promising results during lab testing.
Now, the scientists will return to the lab and continue to modify the treatment.
The treatment is a mist dispersed into caves. It isn't designed to cure WNS, but to stop the spread of the fungus.
The steep decline of bats has wide-reaching effects on the ecosystem, Wentworth said. Insect populations have exploded due to a lack of predators. This in turn has had damaging effects on Georgia's crops, as insects now feast relatively unchecked. However, he said it's difficult to quantify the impact, since it's nearly impossible to count insect populations or measure the exact impact on crops.
"Bats contribute millions, if not billions of dollars worth of free pest control," he said.
Morris said there are small steps everyone can take to reduce the spread of WNS.
"Georgia has a lot of people who enjoy caving, but please avoid places where bats are hibernating in the winter," she said. "Also, if it's a cave where you think the fungus is growing, it's best to avoid it. But if you do go into caves, remember to thoroughly clean yourself and your clothes so that you don't help spread spores."