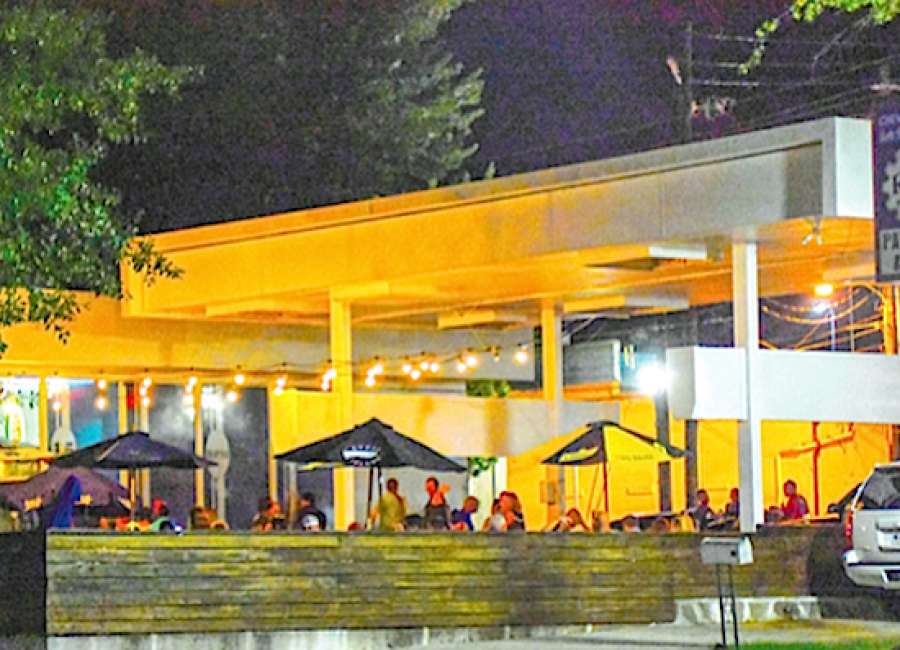 Outdoor entertainment venues in downtown Newnan are prompting the city council to take a new look at existing noise laws.
Over the last few years, two popular downtown restaurants have converted old garages into new places for people to enjoy food and entertainment al fresco. RPM Full Service Patio Pub & Grill and The Bays at The Firestone have expanded the possibilities for customers looking for outdoor dining, with bay doors that open to patio seating. 
Located in the heart of downtown Newnan, both venues have seen success with combining food and drink with live entertainment. However, the change hasn't been popular with some longtime residents in the immediate area, also known as the Central Business District. 
For 26 years, Dr. Michael Rayburn has been living and practicing dentistry in his historic home on 22 Jackson Street.
Directly across the street from his home is the RPM Full Service Patio Pub & Grill, owned by Joe Rizzo. The business is located in the former Chevron service station at the corner of Jackson and  Madison Streets.
In September of 2014, the Newnan Board of Zoning granted Rizzo a variance to allow more outdoor seating at his restaurant.
His restaurant hosts 1,836 square feet of outdoor seating, including a patio and a deck, and 1,146 square feet inside. The variance was needed because, under the city's ordinances, outdoor seating areas can only be 25 percent as large as the indoor seating area.
Rizzo told the board of zoning appeals the restaurant wouldn't be a dedicated live-music venue, but there would be live music on occasion. There was no public opposition voiced during the hearing and the request was approved.
During his initial research period before moving forward with RPM, Rizzo said he reached out to Rayburn on three separate occasions and said if there were any red flags with him or any other nearby residents, he would have moved on from the idea immediately. 
"I told him, this is what I'm bringing – late nights, motorcycles, people laughing and acoustic shows," Rizzo said. "He told us that he'd be our best customer, and that if he could sleep through the sirens that come down Jackson Street, we'd be a breeze."
After opening the pub, Rizzo said things changed.
"He was never fine from the get-go," Rizzo said. "Now, he's making me out like I'm an outlaw when he's the one living inside the front of his business in a commercial district located on a busy thoroughfare."
While live music remains a predominantly Friday and Saturday event for both RPM and The Bays at The Firestone, the weekday noise from trivia nights, karaoke, DJs and open mics remain a regular issue for Rayburn.
"There is nowhere to go in my house to escape," he said. "Their soundtrack is now our soundtrack."
After one late-night confrontation over a year ago, the two haven't spoken since. To date, Rizzo maintains that Rayburn is the only resident who has openly complained to him about any kind of noise issue.
"Should I put a 'No screaming, laughing or right to pursuit happiness' sign on my patio? It's a good-time emporium with a good mix of people," Rizzo said. "If you choose to live in your business and you're living in part of a commercial district, you have to understand that it's going to expand. That's just how it is."
After many evenings of listening to the entertainment across the street, Rayburn went to the city council to try and get some answers about his rights as a property owner. 
 
The alcohol ordinance prohibits sound from an establishment being heard more than 100 feet from the building after 10 p.m., according to Police Chief D.L. "Buster" Meadows.
The city is updating the noise ordinance to cover the entire city, and not just establishments with an alcohol license. It would establish quiet times in residential districts and the Central Business District and establish a maximum decibel level. 
However, Rayburn isn't exactly sure why the current noise laws aren't sufficient and worries updated rules might legislate a business owners' right to make noise.
"If we establish levels of noise that are permissible, where will we establish them?" he asked. "The city manager said we have to accept an increase in the noise level. Simply because he's there, it has to be louder than it used to be?"
City Manager Cleatus Phillips said Rayburn's issues with RPM got the city looking at different examples of communities to determine ways to regulate noise. 
"We found that if you regulate it as a general nuisance, there are no standards or thresholds, so it's subjective to the responding officer which is what we have right now," he said. "It's difficult to put police in that subjective area."
The other way is by prohibiting certain activities past a certain time, such as leaf blowers before 7 a.m. and loud music after 10 p.m. – all regulated by decibel readings and time restrictions.
"You can't capture every kind of scenario, and you can't regulate every kind of activity that occurs," Phillips said. "We're trying to strike a good balance."
In the proposed revision, the city would not allow any noises in the central business district that exceeds 65 decibels between 10 p.m. and 7 a.m. as measured from the source of the noise to the property of the complaining party. Sixty decibels is about the amount of noise made by the outdoor unit of an air conditioner and 70 is equal to a vacuum cleaner.
The decibel readings would also give officers a good way of determining if a noise is excessive, Phillips said. 
However, the new policy isn't set in stone just yet. The city is still collecting findings to make changes to the draft and will eventually present it to the council. However, the mayor may call a special workshop to give it more attention due to its complexity, according to Phillips.
"We are planning to run a few (decibel-level) tests next week to hopefully confirm or modify the DB numbers in the draft," Phillips said. 
Rayburn said his biggest concern is the 65 decibel level after 10 p.m. – citing that when dealing with decibel readings, 65 is a 50 percent increase from 60, which is considered the level of a normal conversation. 
"If the city doesn't do something, we're going to have more of these copycat businesses," he said. "Those are the only two businesses you can hear anything from."
Since opening The Bays at Firestone, owner Linda Bridges Kee said she hasn't received any noise complaints. Like Rizzo, she also closes her bay doors at 10 p.m. in an effort to be be considerate, she said. 
"Newnan has come a long way, and I know both Joe and myself have made a conscious decision to be good neighbors and buffer the noise," she said. "But when you live in a commercial district, you have to have a reciprocal relationship with all your neighbors."
For Kee, living downtown is a decision that comes with expected nuisances. She recently moved from Summergrove to downtown Newnan and said she knew what she was getting into when making the decision. The pulse of a thriving downtown isn't always inaudible, she said.
"It's no different than the street sweepers that come through at 4 and 5 in the morning," she said "I can't imagine Joe creates more noise than one of those machines. So, if you're tolerant of that, be tolerant of the businesses who are paying the taxes that improve your community." 
In the meantime, Rizzo said he's balancing the need to offer entertainment against his desire to keep down the noise level.
"I'd love to save those entertainment expenses and just see who shows up, but you have to be competitive," he said. "If I don't compete as hard as I can every day, I'll lose because there are so many venues in this town."
"If they have to shut me down, I guess they'll shut me down, but I've put everything into this business," he said. "But he's been the only person who has an issue with me, and I can't figure out what else to do to make him happy without cutting my own throat."
****
Clay Neely: clay@newnan.com, @clayneely