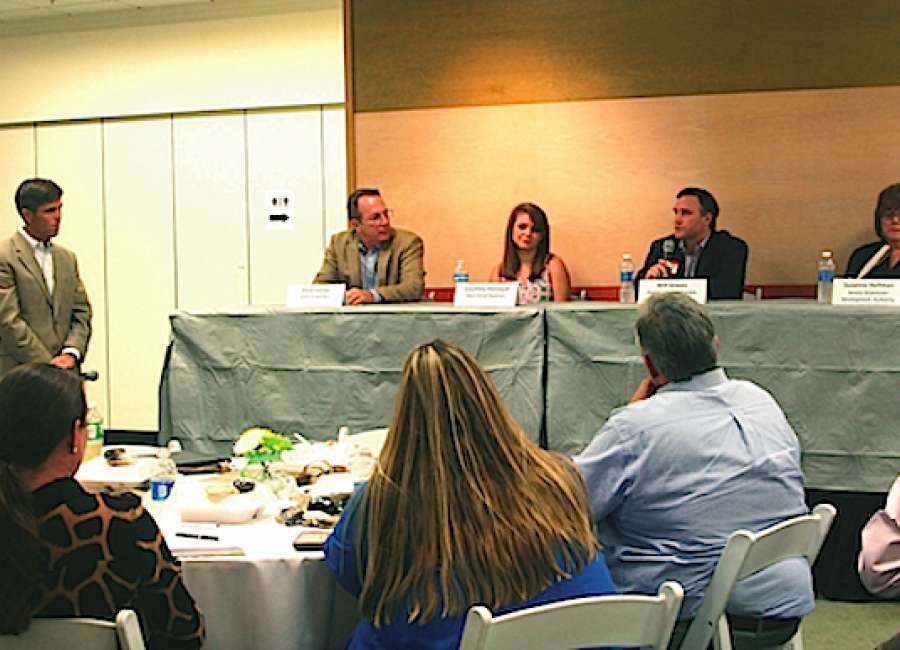 Brick and mortar stores are not dead, and historic downtowns such as downtown Newnan are drawing crowds, according to a retail/downtown industry panel.
 
The Newnan-Coweta Chamber hosted a State of Commerce/Retail Lunch on Wednesday, at the former Jos. A. Bank store at 376 Newnan Crossing Bypass in Ashley Park.
 
A panel discussion was moderated by City of Newnan Assistant City Manager Hasco Craver. Panel speakers included Ashley Park General Manager Mark Curran, Senior Project Manager Retail-Commercial Guy "Mill" Graves with Electric Cities of Georgia, Senoia Downtown Development Authority Chairman Suzanne Helfman and Main Street Newnan Manager Courtney Harcourt.
 
The chamber's popular State of Community Lunch Series began last year with programs that focused on local government, education and health care. A program earlier this year focused on economic development, so chamber leaders decided it was time for a focus on Coweta's growing retail sector.
 
Local economic strength is helping area shoppers keep retail options that are slipping away in other parts of Georgia and the country as major national chains close underperforming stores.
 
Earlier this year, three major chains announced multiple store closings – JCPenney, HHGregg and Gander Mountain – JCPenney is the only retailer of those three that will remain open locally. 
 
Graves said that although it is being portrayed that brick and mortar is going downhill, he said online sales only accounted for 8.5 percent of retail sales last quarter. He said big retail chains are beginning to invest in technology and how to make purchasing more convenient for the customer. 
 
"They're trying to react where they see the industry going," he said. 
 
Graves said stores may focus more on consolidating to give more attention to stores that are doing well. 
 
"The story that isn't being told is that 'Class A' shopping centers such as Ashley Park are doing well," he said.
 
Graves said "Class B", "C" and "D" shopping centers are those that are older with very little investment, while "Class A" shopping centers have lighting, parking and look nice with very little vacancy.
 
"Brick and mortar is still pretty strong in 'Class A,'" he said. "Online will still be incorporated in shopping experience."
 
Newnan is well-positioned in the retail scene, according to Craver. He said that while a store like Kroger will usually draw mainly from its immediate neighborhood, Newnan also has stores like Dick's Sporting Goods, and a shopper from nearby Troup County will make the drive here just to shop at Dick's since their county doesn't have one.
 
Craver previously noted that millennials now outnumber baby boomers, and he said this sometimes-criticized group is actually a positive one for retailers since they are known for desiring "authentic" experiences that are readily available in a place like Coweta County. A millennial might not care to visit a chain like Ruth's Chris Steak House in Atlanta, but they value the fact that they can actually have a conversation with the chef at a place like Meat 'N Greet in downtown Newnan, Craver said.
 
Harcourt agreed, saying that millennials are shopping online or shopping for something specific.
 
"What they want in return is more than just a product," Harcourt said. "The whole idea of an experience and the sense of place and social responsibility is important to them, such as buying something that is very expensive, but knowing it will benefit a foundation or charity."
 
Harcourt said many downtown merchants support local charities and foundations.
 
In regard to downtown Senoia, Helfman said parking in downtown Senoia was not a problem 10 years ago. Helfman said that zombies and the film industry have helped the downtown area grow, along with being featured in Southern Living's Idea House in 2010.
 
Senoia will debut its newest business district, the Barnes Street Marketplace, Thursday, June 29 from 5-7 p.m in downtown Senoia with an open house. Helfman said residential lofts have also been added to the downtown district.
 
Harcourt added that having a variety of businesses and tenants in downtown areas helps each business thrive by bringing in a different product or service.
 
Graves said downtown districts are growing across the state with entrepreneurs opening up different types of shops. 
 
As far as Ashley Park, Curran said the shopping center is striving to be "more open-minded and creative," to attract more types of businesses. Curran said there could be more mixed-use type of buildings.  
 
"Consumers are becoming more focused on entertainment, services and  restaurants, " Curran said. Curran said the shopping center is making room for businesses and is very busy with leasing.