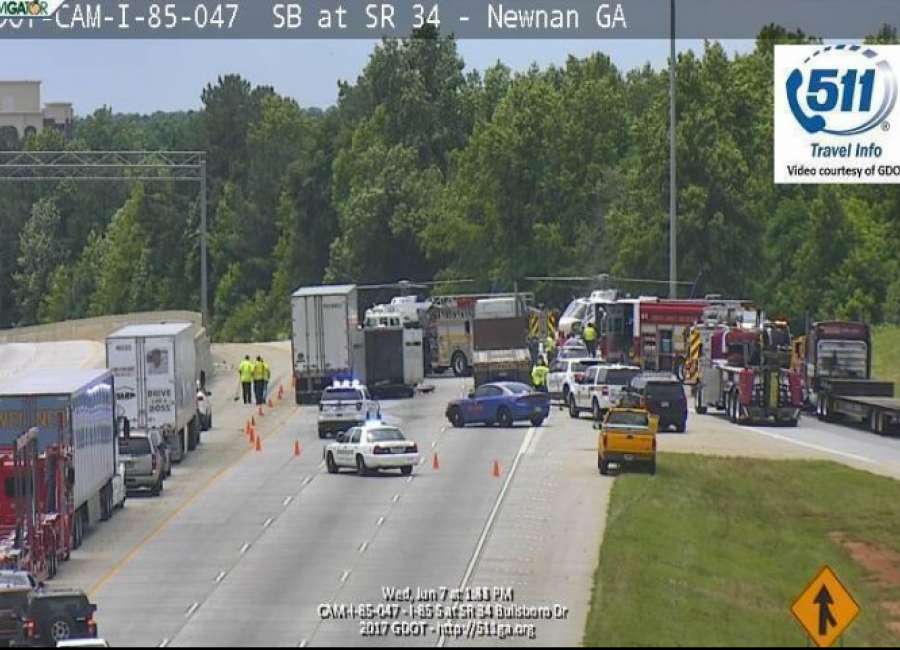 Two occupants of a wreck on Interstate 85 were alert and conscious before they were flown by separate helicopters to Atlanta hospitals Wednesday, officials said. 
The crash occurred around 12:30 p.m. when the driver of an F-350 pulling a trailer of livestock struck a tractor-trailer truck while changing lanes, according to Trooper Bryce King with the Georgia State Patrol.
The F-350 crossed over the middle lane and became wedged underneath the trailer being pulled the larger truck, King said. Members from Coweta County Fire Rescue were able to remove the F-350 from under the trailer by using a winch cable.
The two passengers, ages 7 and 15, were able to get out of the truck without any assistance. However, the 29-year-old male driver had to be extricated by rescue workers, according to King.
All three occupants are Kentucky residents.
The driver of the F-350 and his 7-year-old passenger were flown by air ambulance to Grady Memorial Hospital and Egleston Children's Hospital in Atlanta, while the 15-year-old was taken by ground to Grady to be evaluated for minor injuries, King said.
The driver of the tractor-trailer was unharmed.
Also unharmed were the livestock being transported by the F-350, King said. The animals were taken by Southern Crescent Equine, a local veterinary clinic and stables, that will care for the animals until the owner can arrange for their transfer.
Traffic was closed on the interstate highway only for several minutes to allow access for both helicopters. An emergency lane was used until all lanes reopened at 2:30 p.m.
****
Clay Neely: clay@newnan.com, @clayneely