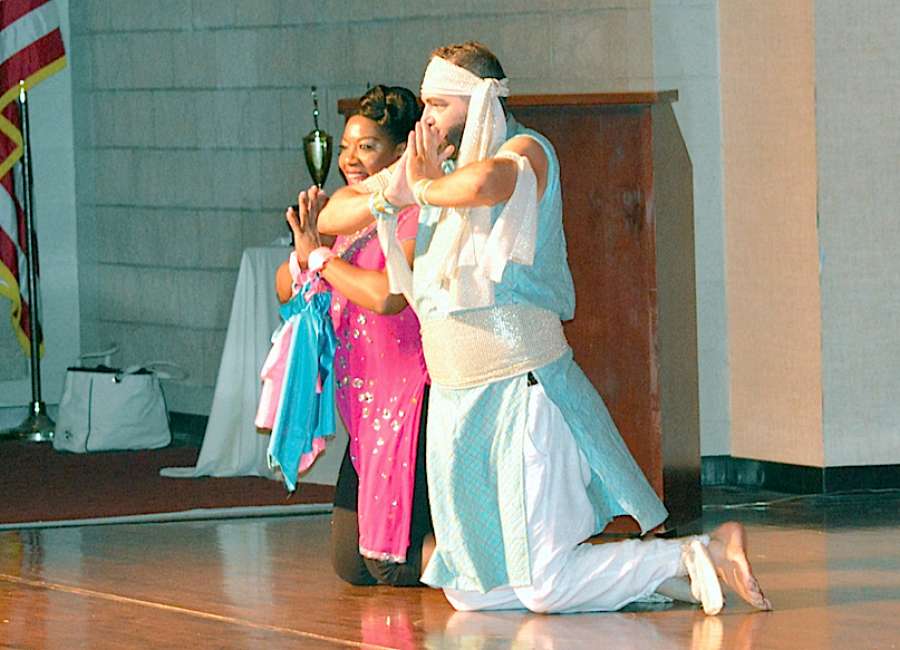 – By MADELINE SCHINDLER, madeline@newnan.com
Newnan resident Timothy O'Flynn has experienced many life-changing events throughout his life, but nothing could have prepared the former Coweta Dancing Stars competitor for the potentially life-altering injury he sustained while working locally as a server and bartender. 
 
O'Flynn, a veteran who once served as U.S. Army Chinese Interrogator, may be best known in Coweta County for his performance with dancing partner, Dr. Tia Guster, in the 2016 Coweta Dancing Stars. The couple was presented with the local competition's People's Choice Overall Winner award for their on-stage skills.  
 
Not long after the competition, O'Flynn was back to work bartending and already considering returning to participate in the local charity dance tournament in the upcoming 2017 competition. Then, in August 2016, O'Flynn was pressure-washing on the job when he fell from a six-foot ladder. 
 
O'Flynn became unsteady on the tall ladder, and in an effort to keep himself upright, the bartender jumped from the high step. 
 
"It was about six or seven feet up," O'Flynn explained. "I kind of jumped, and the way I landed on my feet shattered one heel and fractured the other." 
 
A co-worker rushed the local bartender to the nearest emergency room where O'Flynn was informed of the extent of his injuries. It wasn't until nearly a full week later, however, that he was able to consult with a specialist. 
 
At the initial consultation, O'Flynn was given the frightening news that he "would be lucky to walk within a year." 
 
Faced with the possibility of serious medical intervention and long-term rehabilitation, O'Flynn was treated for pain and began to discuss treatment options with a specialist at Georgia Bone and Joint, a Newnan orthopedic center. O'Flynn was informed that a new ankle and foot doctor would be joining the Newnan team and might be just the specialist he needed. 
 
Dr. David J. Heinsch, a Georgia native and recent graduate of the University of Pennsylvania, met with O'Flynn the following week. After examining O'Flynn's injuries, Heinsch determined that the former dancing star had suffered two bilateral calcaneal (heel) fractures. The trauma, Heinsch noted, was a severe and often life-altering injury. 
 
According to Heinsch, calcaneal fractures generally occur when someone has fallen off a ladder or other height and landed on their feet, as was the case with O'Flynn.
"The calcaneus (heel bone) has a thin cortex. It's more like an eggshell," said Heinsch. "Calcaneal fractures  have a debilitating impact on life. It's really very life-altering." 
The injury can often take six months to a year to recover, the specialist explained. "And, even with treatment, patients have residual pain," Heinsch said. 
 
The specialist noted he has seen 10 cases of calcaneal fractures in just this year. But, by far, O'Flynn's was the worst the doctor had encountered. 
O'Flynn underwent surgery on his shattered right heel. 
"The goal for this operation was to restore the integrity of  the joint to make it anatomically correct," said Dr. Heinsch. O'Flynn's left heel was fractured in two areas, but could be treated without surgery. 
Following medical treatment, Newnan's HealthSouth Rehabilitation Hospital worked with O'Flynn through intensive physical therapy. The therapy was provided at no cost.
HealthSouth's Chief Executive Officer Ilona Wozniak received word about the dancing star's injury and treatment plan and offered O'Flynn free physical therapy at the Newnan rehabilitation facility.  
O'Flynn said he was surprised and humbled by the support he received. "I'm very fortunate in the help and support of family and community," said O'Flynn.
O'Flynn completed the recommended physical therapy and continues to see Heinsch for follow-up appointments during his recovery. 
"I see (O'Flynn) every three months to assess his recovery and to ensure the success of the bone's repair," the physician said. "He continues to improve."
 
O'Flynn has high hopes of competing in the 2018 Coweta Dancing Stars competition.  
"I  started practicing for this year, but it was a little too much too soon," O'Flynn explained, noting that it was not a physical ability that kept him from dancing, but merely a hectic schedule. 
Today, O'Flynn is back at work and "doing very well," he said.
 
"The fact that I'm walking and able to move around is a blessing," O'Flynn said, and noted that in truth, he "can't be too upset about what's happened," because of the connections he has made and the support received from the local community. 
 
(Maggie Bowers contributed to this story.)